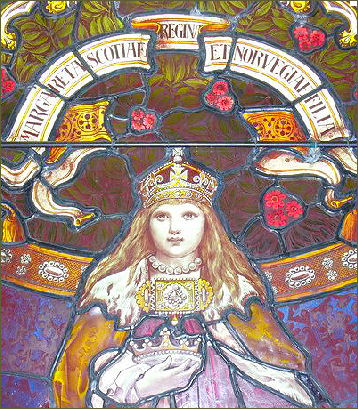 864: Margaret, Maid of Norway
Heir and Uncrowned Queen to the Scottish Throne
Born: 9 April 1283, Tønsberg Municipality, Norway
Died: 26 September 1290, St. Margaret's Hope, South Ronaldsay, Orkney, Kingdom of Scotland
Margaret's death at such a young age paved the way for Robert the Bruce to become King.
Margaret was Scotland's first queen regnant, and yet very very few have ever heard her name. She died before her eighth birthday, and never managed to set foot on the land she was said to rule.
Margaret's claim to the Scottish throne descended from her grandfather, Scottish King Alexander III, who himself had taken the throne at the age of eight. One of Alexander's daughters would marry the King of Norway, and these were our Margaret's parents. Unfortunately, Margaret's mother died in childbirth, bringing Margaret into the world.
Margaret became the heir to the Scottish throne following the death of her uncle in January 1824. Now Alexander's only heir was his twenty-month old granddaughter Margaret, living off in Norway. Alexander attempted to have more heirs by marrying the following year, however, in 1286, more tragedy would befall the Scottish royal family. Alexander was found dead after falling from his horse in a storm. His new wife was pregnant at the time of his death, but the queen either miscarried or gave birth to a stillborn child. Either way, Margaret was now queen.
Margaret was three years old at the time, and within weeks of her grandfather's death, The Bruces and other Scottish nobles had begun their attempts to seize the throne, but most Scots backed Margaret's claim and the others were held in check for a time.
By 1289, the Norwegians and English courts (and possibly the Scots, no one is certain) had settled on an agreement. Margaret would marry the heir to the English throne, Edward of Caernarfon (the future Edward II of England), within the next twelve months. This was decided to help secure the Scottish royal line, and also because Alexander had hoped the Scottish and English thrones would one day be ruled by one man.
By March of 1290, a large gathering of Scots had agreed to the marriage alliance as well and wrote to the English telling them of their decision. Another group, known as the Six Guardians, were less easy with the idea, but agreed to go along with it at the time. It was decided that, though both Edward and Margaret were too young to be wed, they would be treated as such from the moment Margaret stepped foot on Scottish soil. Also, Edward would rule as King of Scotland from that moment as well. The final agreement signed between Scotland and England promised Scotland would be reigned independently and free of English interference; which was the main thing the Six Guardians had worried about all along.
Margaret set sail for Scotland in September of 1290. Her ship was blown off course by severe storms, and she was finally able to land on the island of Orkney. Margaret died there, in the arms of her bishop.The cause of death given was severe seasickness. Margaret's body was returned to Norway, and she was laid to rest beside her mother.
Sadly, Margaret's death as a child allowed for an imposter to crop up ten years later. When Margaret's body returned to her father, the King of Norway, he identified it before she was buried. In 1300, a woman appeared in Bergen, Norway, claiming to be Margaret, still alive. This random woman was convicted of being "The False Margareth" and burned at the stake the following year, 1301.
Margaret was the final ruler of Scotland's House of Dunkeld. The dynasty began in 1058 with Malcolm III Canmore. Margaret's death ended not just a dynasty, but also created the beginnings of the Scottish Wars for Independence, where thirteen different men would stake claims to the throne. Peace in Scotland would not be found until Robert the Bruce was made victorious, and crowned King Robert I of Scotland. But even then, Scotland's history has been marred with frequent English intervention; culminating with the Treaty of Union which forced the two kingdoms into one Great Britain.
Badges Earned:
Find a Grave Marked
Located In My Personal Library:
History of Scotland: A Captivating Guide to Scottish History, the Wars of Scottish Independence, and William Wallace by Captivating History
Sources:
https://historytheinterestingbits.com/2015/09/26/the-maid-of-norway-scotlands-first-queen-regnant/
https://www.undiscoveredscotland.co.uk/usbiography/monarchs/margaret.html
https://www.britroyals.com/scots.asp?id=margaret
http://www.englishmonarchs.co.uk/dunkeld_12.htm
https://www.findagrave.com/memorial/9296935/margaret-maid_of_norway