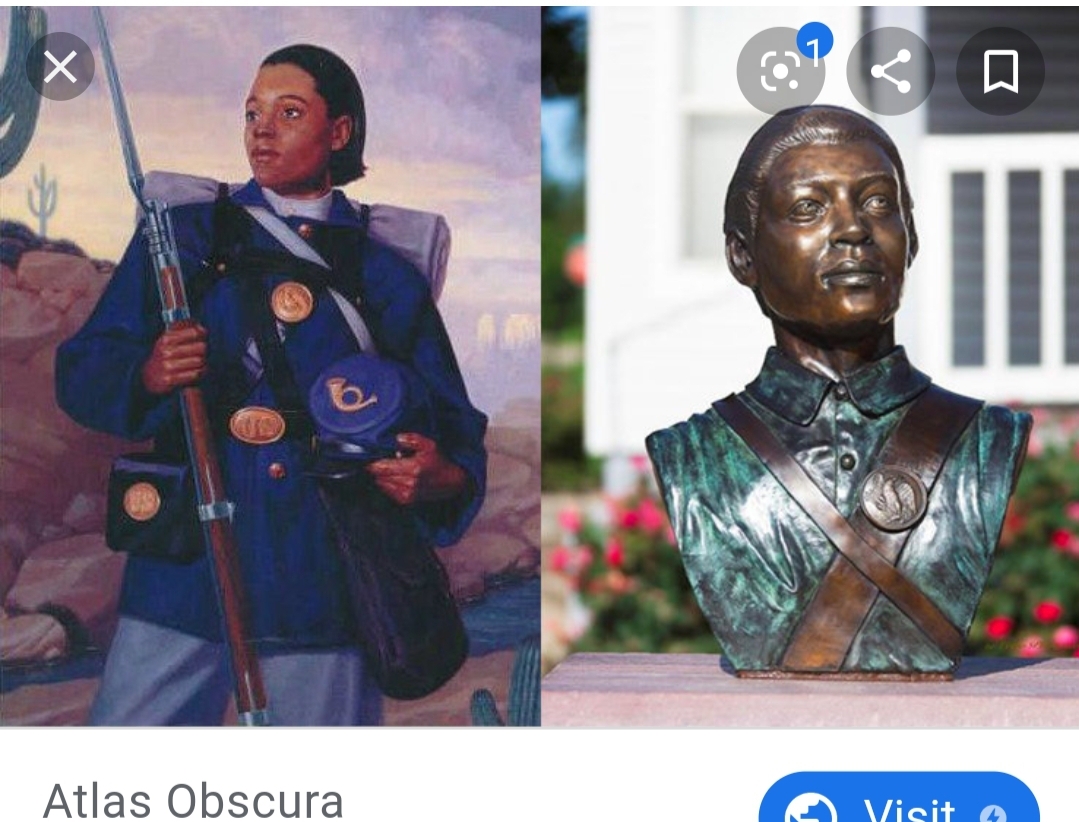 863: Cathay Williams
The First Woman to Enlist in the United States Army
Born: c.1844, Independence, Missouri, United States of America
Died: Sometime Between 1892 and 1900, Colorado, United States of America
Cathay managed to join up by enlisting as a man, William Cathay (Misspelled Cathey in Army Records). Some sources list her as the first woman period, while others state she was the first African American woman. I believe the distinction here is that Cathay was the first woman to enlist in the actual United States Army (by posing as man, the first woman to enlist as a woman wouldn't happen until 1917), but Cathay was also the first African American woman to enlist in any branch period. Hope that clears things up a bit.
Cathay's mother was a slave and despite her father being a freeman Cathay herself was legally classified a slave. She spent her early years working as a domestic for a wealthy landowner in Missouri.
In 1861, the town she lived in was captured by union forces and all the slaves were officially reclassified as "contraband" to be used as the Union soldiers saw fit. Usually this meant the slaves were pressed into service as laundromats, cooks, or to do other menial tasks. For a few years, Cathay served in these capacities, traveling the country during the War Between the States.
Cathay joined the Army when she was seventeen years old. During her two years of service she was hospitalized five times and still no one discovered she was a woman. The first hospitalization stemmed from Cathay contracting smallpox, which weakened her body and led to the other hospitalizations.
Cathay was medically discharged after two years and this is where Cathay claims it was discovered she was female. Though she never saw direct combat, Cathay is notable for having served with the regiment known as the Buffalo Soldiers.
The Buffalo Soldiers are remembered today as the United States Army's black regiments, who are most remembered for serving in the so-called "Indian Wars" and in the Old West. Cathay is the only known woman to have served with the Buffalo Soldiers in the Indian Wars and is actually the only known female Buffalo Soldier at all.
After her stint in the army ended, Cathay moved to Colorado. Though she got married, things didn't end happily ever after. Cathay eventually had her husband arrested after he stole a team of horses and Cathay's savings. Soon after, Cathay's story was published in the St. Louis Daily Times in 1876, making her a minor celebrity across the country.
Sometime around 1889 or 1890, Cathay sued for disability from the Armed Forces. By 1892 or 1893, it was known that her request had been denied (her lawyers only listed deafness when in reality she also suffered from neuralagia, had all her toes amputated from diabetes, and walked with a cane). It is believed she died soon after the amputations, but her exact date of death is uncertain. Wounded Warrior Project puts it anywhere from 1892 to 1900. The latter date is assumed because Cathay failed to appear on any Census roles from 1900 on.
Badges Earned:
Find a Grave Marked
Sources:
https://www.nps.gov/people/cwilliams.htm
https://newsroom.woundedwarriorproject.org/The-Only-Known-Female-Buffalo-Soldier-Cathay-Williams
https://www.army.mil/africanamericans/profiles/williams.html
https://www.legendsofamerica.com/cathay-williams/
https://www.findagrave.com/memorial/83966948/cathay-williams