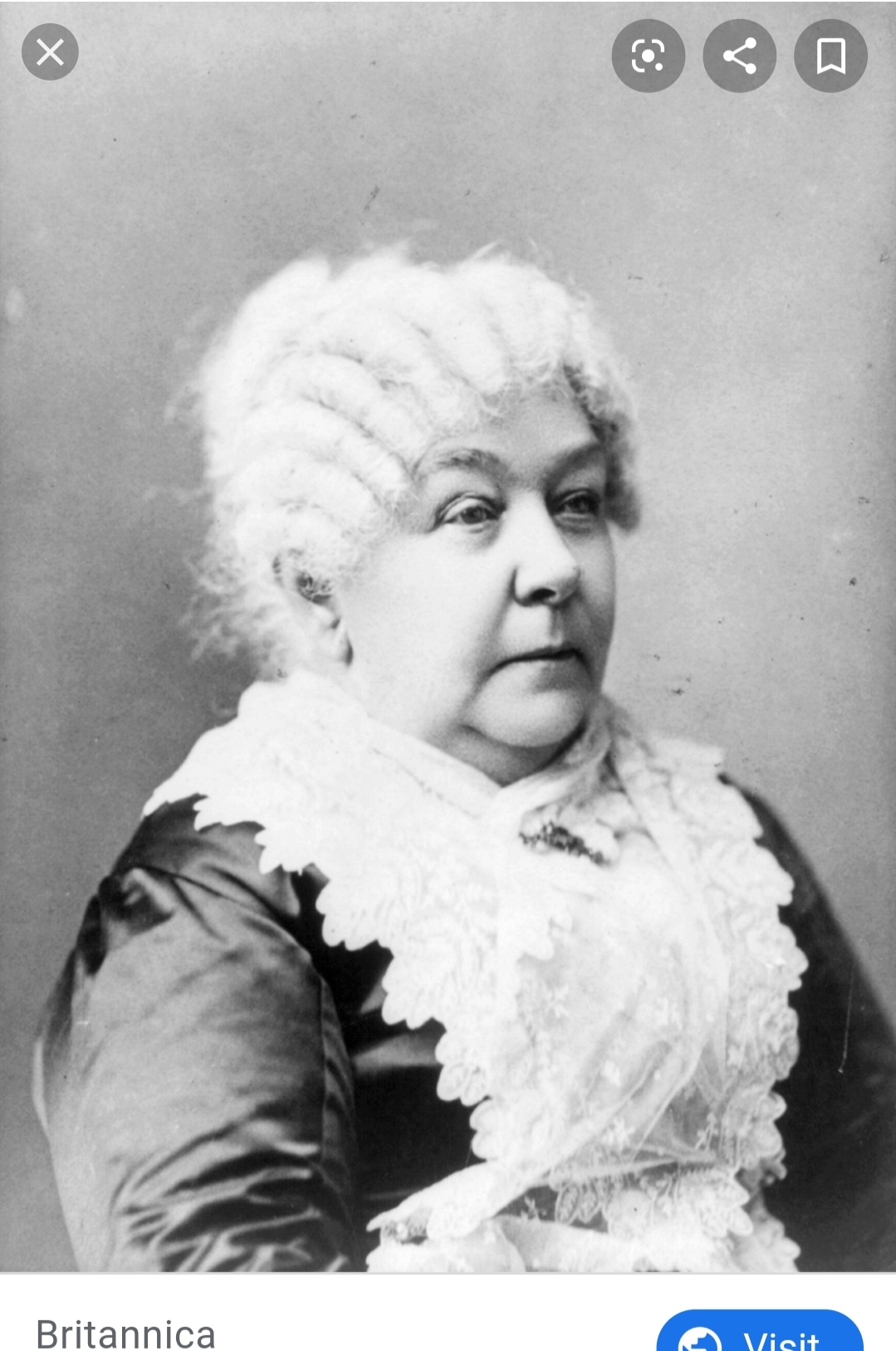 "I would have girls regard themselves not as adjectives but as nouns."
848: Elizabeth Cady Stanton
Social Reformer and Leading Figure in the Women's Suffrage Movement in the United States
Born: 12 November 1815, Johnstown, New York, United States of America
Died: 26 October 1902, New York City, New York, United States of America
Elizabeth did attend school and was well educated there but she also learned extensive legal knowledge from her father who went on to serve as a judge on the New York Supreme Court. He was also a slave owner.
Elizabeth started as an abolitionist alongside her husband. When they met, Henry was a member of the American Anti-Slavery Society; which included such esteemed members as William Lloyd Garrison and Frederick Douglass. Elizabeth fell hard for Henry, but in what can only be described as a perfect prelude to her future, Elizabeth insisted the word "obey" be removed from her vows. Her parents were obviously not pleased by the match, and so also against social norms, Elizabeth married Henry against their wishes.
Elizabeth's abolitionist activism was the perfect transition to her women's rights work; in which she eventually became instrumental in the gathering of the Seneca Falls Convention. This came about after Elizabeth met Lucretia Mott while attending an anti-slavery exhibition in London. Presented at the Seneca Falls Convention was Elizabeth's immortal "Declaration of Sentiments"; an expansion to the Declaration of Independence which added the words "woman" and "women" throughout. The goal of Elizabeth's declaration was to bring attention to the fight for women's suffrage across the United States. The document outlined eighteen specific grievances women in the US had against the federal government and men in general. The grievances included everything from the right to vote, the right to attain a college education, the ability to earn wages and own property without a husband or father's consent, being compelled to submit and be subject to laws passed without their consent, better rights for women in cases of divorce and child custody proceedings, allowing women more representation in church affairs, stopping women from being submissive and dominated by men, and even changing things so that women were no longer held to a different moral code than men.
As someone who owns a copy and has read the Declaration of Sentiments myself, I have say, even as a non-feminist like myself (I prefer egalitarian), the document is bada** and should be required reading in school.
Elizabeth was the first woman given the right to speak before the New York Legislature and used that ability to help pass the Married Women's Property Act of New York in 1848; the same year as the Seneca Falls convention.
Elizabeth mostly wrote speeches and documents as she stayed home with her seven children while Susan B Anthony (who was single with no children and now one of Elizabeth's closest friends and colleagues) was free to move around and deliver those speeches. They worked together for both the women's suffrage and temperance movements.
During the years the War Between the States raged, Susan and Elizabeth both advocated for the passage of the thirteenth amendment to the United States constitution. The thirteenth amendment abolished slavery in the country. Today, Elizabeth and Susan have both been criticized for their failure to support the fourteenth and fifteenth amendments, which both ensured the legal right of African American men to vote. The important thing to remember is Elizabeth and Susan would have supported the amendments, had they also ensured voting rights for women. But because the drafted amendments failed to deliver suffrage to the female population, Elizabeth and Susan turned their backs on them.
In the late 1860's, Elizabeth's views became more and more "radical." She was advocating for things like (gasp!) teaching women contraceptive measures to avoid becoming pregnant. Elizabeth also pushed for even more lax divorce laws and greater sexual freedoms. Her beliefs would also lead her to support Victoria Woodhull in her run for President of the United States.
Elizabeth eventually became the President of the National Woman Suffrage Association after she and Susan co-founded the group in 1869. They founded the organization after splitting from other suffrage advocates who advocated for suffrage on the state level as opposed to the national level. In 1890, the two sides found peace and reunited under the banner "the National American Women's Suffrage Association."
Elizabeth wrote the first three of the six volumes of the controversial Women's Bible. This work advocated for women to recognize church orthodoxy and masculine theology as a barrier to women being able to govern themselves. Elizabeth also advocated for a secular state through this work. The reason why Elizabeth was so seemingly anti-religious harkened all the way back to when she was sixteen. As a teenager, Elizabeth experienced severe religious teachings that emphasized the fiery pits of hell and so forth while attending a seminary school. To say the preaching left her with a bad taste in her mouth was an understatement.
But her writings weren't all religious based. Elizabeth also authored an autobiography and three volumes of the History of Woman Suffrage. She passed away eighteen years before women were given the right to vote.
Upon her death, Elizabeth asked her brain be donated to science to debunk the notion that men's brains had more mass than women's. Unfortunately, her children decided against her wishes.
Badges Earned:
Find a Grave Marked
Located In My Personal Library:
Revolutionary Women by Peter Pauper Press
After the Fact: The Surprising Fates of American History's Heroes, Villains, and Supporting Characters by Owen Hurd
America's Women: 400 Years of Dolls, Drudges, Helpmates, and Heroines by Gail Collins
Who Knew Women in History by Sarah Herman
The Book of Awesome Women: Boundary Breakers, Freedom Fighters, Sheroes, and Female Firsts by Becca Anderson
The Declaration of Sentiments by Elizabeth Cady Stanton
The Woman's Bible by Elizabeth Cady Stanton
Suffragists in Washington DC: The 1913 Parade and the Fight for the Vote by Rebecca Boggs Roberts
No Place for a Woman: The Struggle for Suffrage in the Wild West by Chris Enss
Victoria Woodhull's Sexual Revolution: Political Theatre and the Popular Press in Nineteenth Century America by Amanda Frisken
Notorious Victoria: The Life of Victoria Woodhull, Uncensored by Mary Gabriel
Sources:
https://www.womenshistory.org/education-resources/biographies/elizabeth-cady-stanton
https://www.history.com/topics/womens-history/elizabeth-cady-stanton
https://www.nps.gov/wori/learn/historyculture/elizabeth-cady-stanton.htm
https://www.findagrave.com/memorial/974/elizabeth-cady-stanton