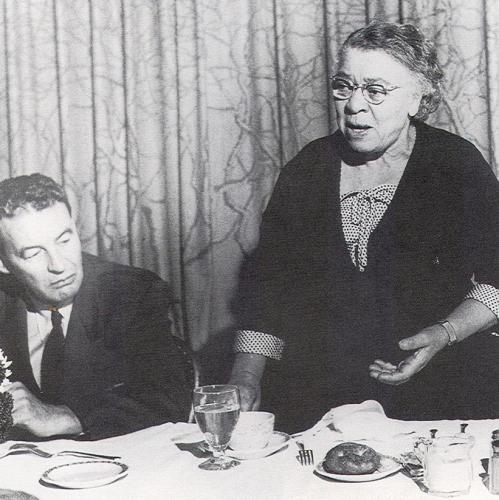 "I give you as my slogan in this campaign—'Let my people go.'"
844: Charlotta Bass
Newspaper Publisher and Politician
Born: 13 February 1874, Sumter, South Carolina, United States of America
Died: 12 April 1969, Los Angeles, California, United States of America
In 2020 news broke that Kamala Harris was the first African American woman to run for Vice President of the United States. Unfortunately for her and anyone else making this claim, they are all incorrect.
Charlotta was, in fact, the first woman of African American heritage to run for Vice President of the United States. She was also the first African American woman to own a newspaper in the United States and is remembered today for her long and hard fight for the rights of women and African Americans across the country.
Charlotta was the sixth of eleven children born in the deep south of the United States, only a decade after the end of the War Between the States. She first entered the newspaper business after moving to Rhode Island to live with her brother. After ten years of selling advertisements for the local black-owned paper, Charlotta moved across the country to sunny California. Soon after, she took control of another black-owned paper after the owner and editor passed away.
Charlotta would continue to run the paper until she retired in 1951. In 1912, she hired a man named Joseph to work as the editor of the paper; the couple later married. Charlotta used the paper to bring light and attention to African American issues like police brutality, the reality of the KKK, the horrific portrayal of African Americans in the film Birth of a Nation,and other things impacting their lives.
Charlotta was a proponent of patronizing black owned businesses and she advocated for the rights of women, immigrants, and African Americans. No surprise this means her life was threatened by extremists several times and the FBI under J Edgar Hoover opened a file on Charlotta for being a suspected communist.
After her husband died suddenly in 1934, Charlotta focused her attention on political activism. She began participating in movements alongside groups like the NAACP. Around the same time, Charlotta also founded the National Sojourner for Truth and Justice Club. The Club's focus was helping African American women find jobs in an economy plagued by the Great Depression.
In 1952, Charlotta was nominated for Vice President under the Progressive Party, which she had helped found after years of supporting the Republican Party. Though she knew she had no chance of achieving national office, Charlotta was hopeful her run would shed light on the issues she had fought so hard for. Her campaign slogan was, "Win or lose, we win by raising the issues."
Badges Earned:
Find a Grave Marked
Sources:
https://www.blackpast.org/african-american-history/1952-charlotta-bass-acceptance-speech-vice-presidential-candidate-progressive-party/
https://www.nps.gov/people/charlottabass.htm
https://www.pbs.org/blackpress/news_bios/bass.html
https://www.britannica.com/biography/Charlotta-Spears-Bass
https://www.findagrave.com/memorial/7125785/charlotta-amanda-bass