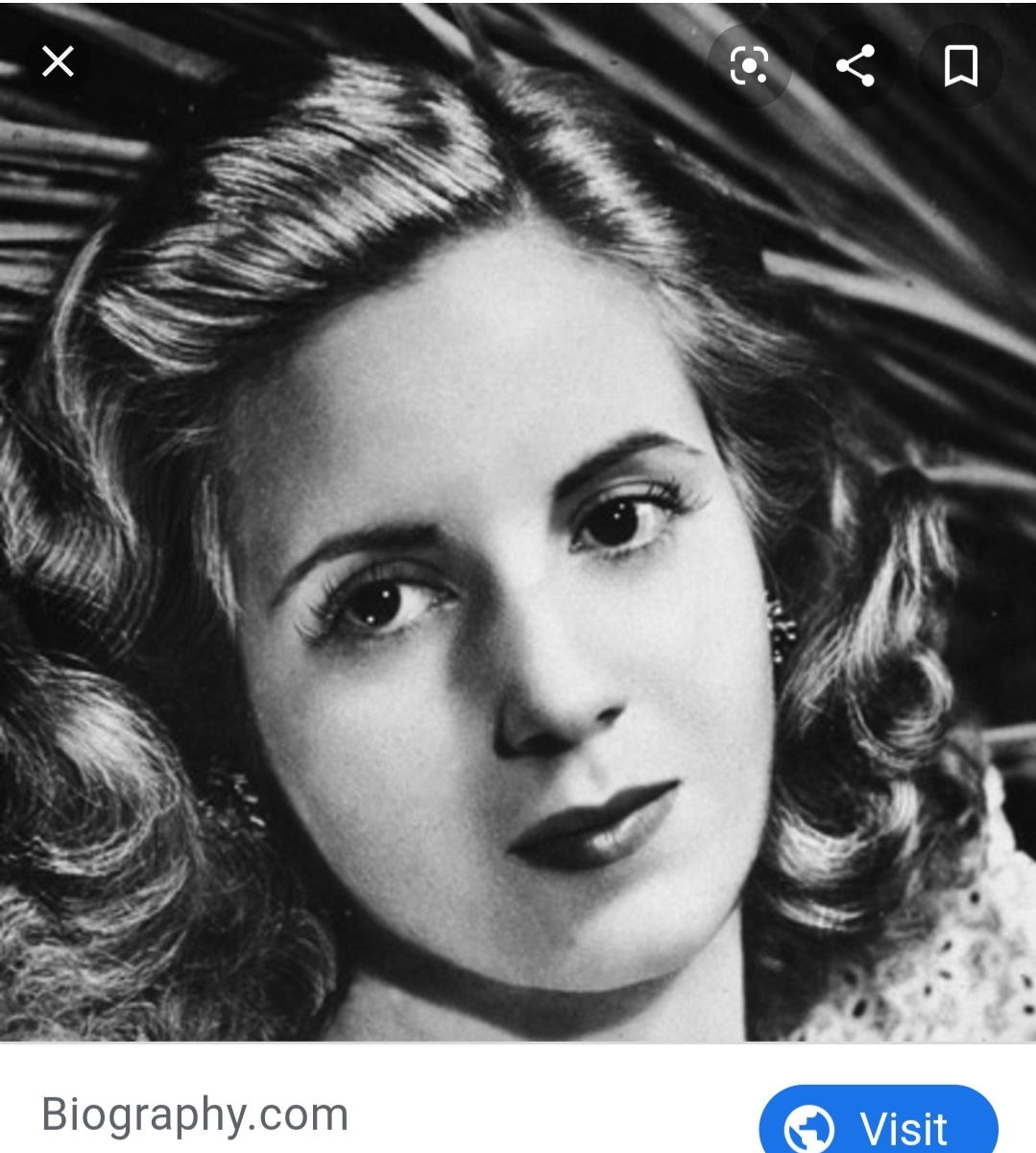 842: Eva Perón
Actress and First Lady of Argentina
Born: 7 May 1919, Los Toldos, Argentina
Died: 26 July 1952, Buenos Aires, Argentina
Original Name: María Eva Ibarguren Duarte
The people who supported her and her husband's regime called her "Evita." Eva's husband was Juan Perón, longtime president (or dictator, depending on your definition) of Argentina. Juan's third wife was Isabel Perón, the first female president of Argentina. Eva was his second wife.
You wouldn't think Eva would have become the most politically powerful woman in her country when she was born. Her parents were not married, and Eva's father was married to someone else and had another family. Eva grew up in harsh poverty, and her situation worsened when her father died when she was six. When Eva was fifteen or sixteen (sources differ), she moved to Buenos Aires in the hopes of becoming an actress. Her earliest performances were in radio.
Eva and Juan married in 1945. At the time, Juan was already a rising star in Argentinian politics and the leader of the country's new government. (Eva was twenty-four and he was forty-eight, by the way). However, he was ousted by some army and navy officers who did not agree with his policies. Juan was taken into custody but then released, and soon after he entered the presidential race. This is where Eva first began to shine herself. She was active in her husband's political campaigning and helped ensure he won the election in 1946.
Eva got women the right to vote, and opened schools, orphanages, hospitals, etc. She helped found the Peronista Feminist Party in 1949 and forced through compulsory religious teaching in all Argentinian schools. Eva was also, basically, the minister of health and labor. She visited schools and hospitals, hoping to eradicate malaria, leprosy, and tuberculosis. Eva also ensured numerous wage increases for union members; helping ensure the unions through their political support behind her husband. For these reasons, many people consider Evita to be one of the best and brightest moments in Argentinian history; however, not everyone actually loved her as much as popular assumption would have you believe.
Many of Eva and Juan's enemies were from the traditional, elite Argentinian society. Eva angered this group after cutting government funding to the Aid Society (Sociedad de Beneficencia). Instead, Eva created her own Eva Perón Foundation, which took most of its funding from the government's budget alongside "contributions" from the aforementioned unions and businessmen (though not all of these contributions were given willingly). Eva's foundation is how she funded and created the orphanages and schools mentioned above.
Another point that should be raised by any historian trying to show the complete story is this: Eva wasn't exactly innocent in regard to her husband supporting Nazis. As I'm sure anyone who has studied what happened to the Nazis at the end of World War II, you will know a flood of them headed across the sea to settle in Argentina. Juan and Eva may have gladly accepted gold from the Nazis in order to allow them to settle in their country. The gold had arrived in Nazi hands from victims of the Shoah. The evidence behind Juan knowing the backstory behind the money is much stronger than Eva knowing, but the point still stands. Juan allowed some of the most horrible people in the history of the twentieth century into his country, accepting money and bribes to hide them from the international community. For more information on this little tidbit from history, I encourage you to read the Washington Post article linked under this article's source heading.
Eva's supporters wanted her to run for vice-president near the end of her life, but by then she was already too ill from cancer. Though she received a nomination in 1951, the army forced Eva to withdraw her name from the running.
Eva's mission was to be the savior of the poor, and it's almost universally recognized by now that she held more power over the people than her husband ever could. If Eva hadn't died from ovarian cancer so early on, who knows how Argentinian history would have gone?
The year after she died, her followers tried to have her canonized. To fight back, her body was stolen by enemies of the Peróns and their followers in 1955. For sixteen years, Eva rested under a false headstone in Italy. In 1971, the Argentinian military returned her remains to Juan, by that time living in exile in Madrid.
Three years later, in 1974, Juan died while in office, having retaken the presidency in Argentina. By then he had also remarried, this time to Isabel Perón, his third wife and the first woman to serve as President of Argentina. In an effort to appeal to her husband's followers and shore up support for her presidency, Isabel had Eva's remains finally returned home to Argentina, where it was buried beside Juan in the presidential tomb. However, two years later, the government forced the bodies to be moved again. Eva was finally laid to rest in her birth family's crypt, buried under a layer of concrete so that no one could ever move her again. To learn more about her body's journey through the years, check out the video from Caitlin Doughty, "Ask a Mortician" linked in this article.
As previously mentioned, some claim Evita is the most beloved woman in Argentinian history to the Argentinian people; however, the truth is not so black and white. Like all political movements, Eva is loved by some and hated by others. Perónism, as the political movement they started is named, is still a huge party throughout the country. In October of 2019, for instance, the Perónists were able to retake the presidency in Argentina. To celebrate, a massive portrait of Eva was relit on one of the largest streets in Buenos Aires, after political rivals had blacked it out previously. Eva will never be erased from Argentinian history, and the many emotions the name Evita conveys will never truly die.
And in case you're wondering, yes, the famed Broadway play Evita is a semi-biographical musical based on her life. The most well-known song is the iconic "Don't Cry For Me Argentina." In 1996, Warner Brothers released a film version of the musical, and Madonna covered the well-known song as well as playing Eva in the film.
In 2020, TIME announced their "100 Women of the Year" Campaign, listing one woman per year for every year from 1920 to 2019. Eva was selected to represent 1946, the year she became First Lady of Argentina.
Badges Earned:
Find a Grave Marked
Located In My Personal Library:
In Praise of Difficult Women: Life Lessons From 29 Heroines Who Dared to Break the Rules by Karen Karbo
Historical Heartthrobs: 50 Timeless Crushes From Cleopatra to Camus by Kelly Murphy
Lost Bodies by Jenni Davis
Time Magazine's 100 Women of the Year (Eva appears in the 1946 article, "Eva Peron")
Who Knew? Women in History by Sarah Herman
Sources:
https://www.britannica.com/biography/Eva-Peron
https://www.history.co.uk/biographies/evita
https://time.com/5793530/eva-peron-100-women-of-the-year/
https://www.evitaperon.org/part1.htm
https://www.washingtonpost.com/history/2019/07/08/activists-slam-ocasio-cortez-sanitizing-eva-pern-was-evita-nazi-sympathizer/