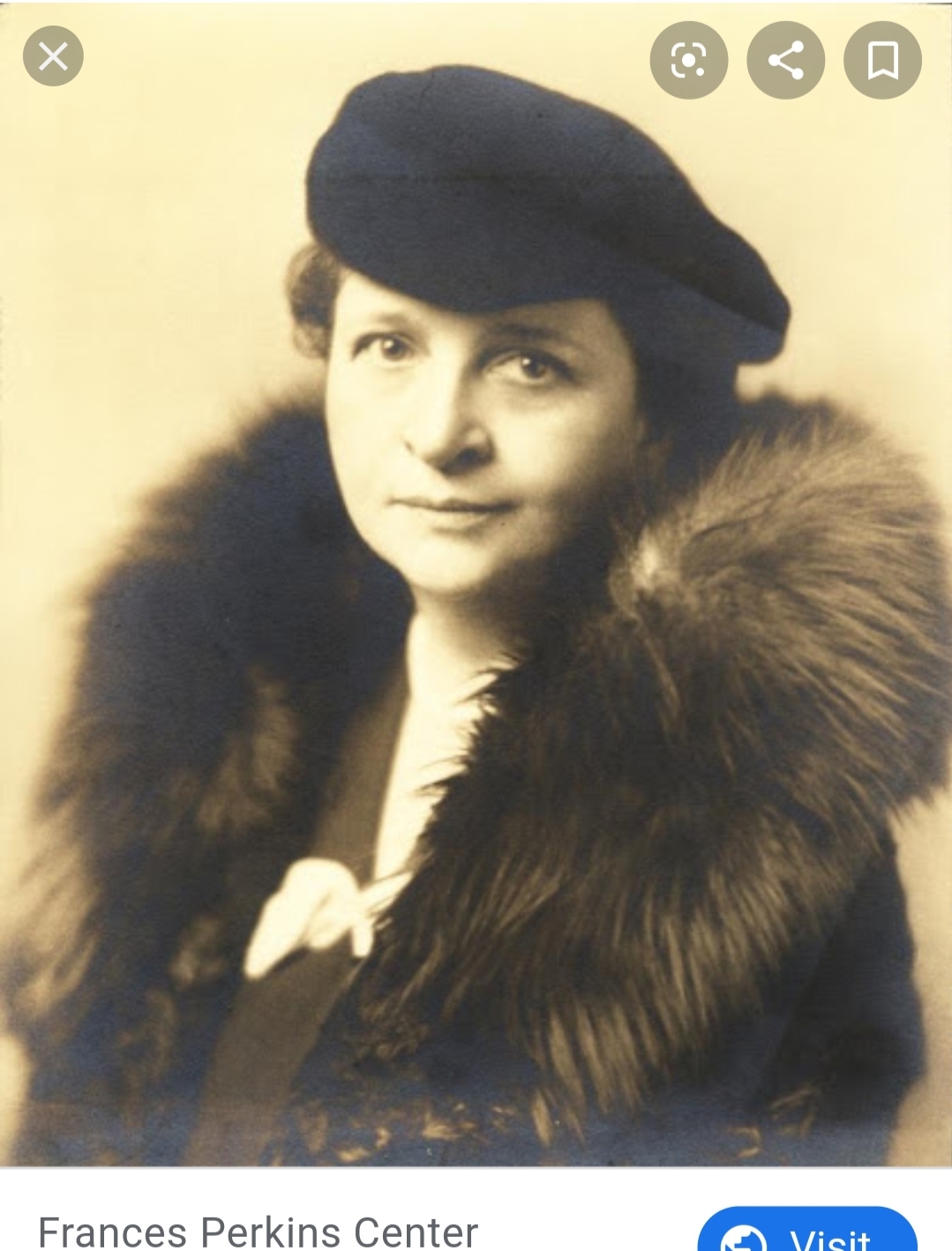 "The people are what matter to government, and a government should aim to give all the people under its jurisdiction the best possible life."
839: Frances Perkins
The First Woman to Serve in a United States Presidential Cabinet
Born: 10 April 1880, Boston, Massachusetts, United States of America
Died: 15 May 1965, New York City, New York, United States of America
Original Name: Fannie Coralie Perkins
Full Name: Frances Perkins Wilson
Frances's first job in 1907 took her to Philadelphia, where she worked to crack down on pimps and drug dealers who targeted and preyed on immigrant women for cheap labor. So yeah, she was a bit of a bada**.
Frances earned a master's degree in 1910 and in 1911 she began her first job in government regulation and safety. She had previously also worked as a teacher and a social worker. Her parents had raised her to be a conservative housewife or stick with teaching, but Frances had other plans.
Frances was the kind who didn't stand out too much in a crowd. She never wore makeup and was most often seen wearing a tricorn hat and navy suit. According to one source, she began to take notes on her male coworkers and left them in a file labeled "Notes on the Male Mind."
Long before Frances became an employee of the federal government, her path was set in stone after witnessing the Triangle Shirtwaist Factory Fire. Frances would later proclaim that day was the day the New Deal was born. In all, 146 women and girls died after three floors of the factory caught fire. After the fire, Frances became executive secretary of the citizen's Committee on Safety for the state of New York.
In 1918, with the women of New York able to vote in their state for the first time, Frances campaigned hard for her friend and lobbying ally, Al Smith. After Al won the governorship, he appointed Frances to the New York State Industrial Commission. This appointment made Frances the first woman in New York State to be appointed to a government position and the highest paid woman to hold public office in the United States. Her annual salary was $8,000. Ten years later, New York elected a new governor, Franklin D Roosevelt. Roosevelt asked Frances to become the state's Industrial Commissioner, and soon she was seen as the foremost state labor official across the country. Its no surprise Roosevelt would soon ask for her to take on another task.
In 1932, now President Roosevelt appointed her to his cabinet as Secretary of Labor. She served until 1945 and was instrumental in nearly all of the New Deal Legislation. Frances also oversaw the implementation of a minimum wage and the maximum amount of hours allowed per workweek. Frances also worked to push for unemployment benefits and a law to make it illegal for children under sixteen to enter the workforce. She even oversaw the drafting of the Social Security Act before working to reform the Department of Labor.
Unfortunately, it wasn't always an easy ride of passing legislation and working for the good of the American people. Frances was, as already mentioned, the first woman to serve in a cabinet position. Not everyone was happy with Roosevelt appointing a woman and they made their positions known. In 1939, Frances also, unfortunately, became the first female cabinet member to have the threat of impeachment imposed upon her. This occurred after Frances refused to deport an Australian man who had lead a prolonged labor strike in San Francisco.
Frances resigned from the Cabinet two months after President Roosevelt's death. She was one of two cabinet secretaries to serve for the entirety of Roosevelt's presidency (twelve years). After leaving the West Wing, Frances worked until 1953 with the Civil Service Commission. She left government life behind completely that year, turning instead to work as a guest lecturer for Cornell University.
She was married and had one daughter. Both her husband and daughter had Bipolar disorder, and so Frances spent her entire adult life working to support them. Even into her eighties, Frances was continuing to lecture at Cornell.
Soon after President Roosevelt's death, Frances's memoir and biography of the man appeared on bookshelves. The Roosevelt I Knew was the first true biography written about the president and remains a staple for Roosevelt historians to this day.
Badges Earned:
Find a Grave Marked
Located In My Personal Library:
America's Women: 400 Years of Dolls, Drudges, Helpmates, and Heroines by Gail Collins
The Book of Awesome Women: Boundary Breakers, Freedom Fighters, Sheroes, and Female Firsts by Becca Anderson
Time Magazine's 100 Women of the Year (Alice appears in the 1933 article, "Frances Perkins")
Sources:
https://www.britannica.com/biography/Frances-Perkins
https://www.npr.org/templates/story/story.php?storyId=102959041
https://francesperkinscenter.org/life-new/
https://www.fdrlibrary.org/perkins
https://www.findagrave.com/memorial/9318940/frances-coralie-perkins