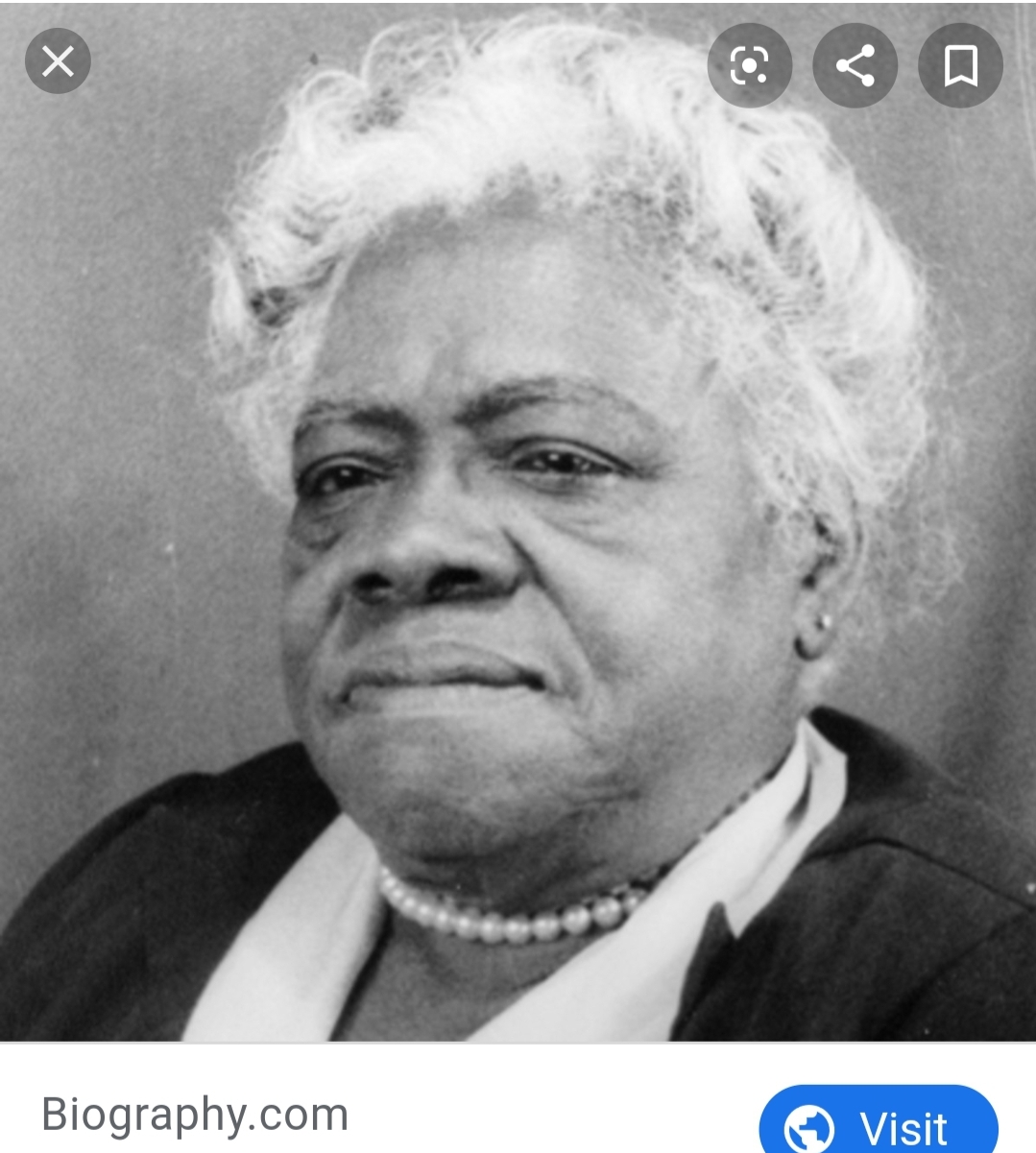 "The true worth of a race must be measured by the character of its womanhood."
831: Mary McLeod Bethune
Civil Rights Activist and Educator
Born: 10 July 1875, Mayesville, South Carolina, United States of America
Died: 18 May 1955, Daytona Beach, Florida, United States of America
Mary is most remembered for starting a private all black school in Daytona Beach, Florida. Some consider her the most influential African American woman in United States History.
Mary was one of the youngest of her parents' seventeen children. They themselves were former slaves; Mary being a part of the first generation of African Americans who were all free. Mary's parents worked for their former owners until they earned enough money to buy their own farm. By the time Mary was nine, she was able to pick 250 pounds of cotton a day.
Mary was very well educated and had envisioned serving as a missionary when going to school, but decided against it later on. Instead, she put her education to good use stateside.
Mary went on to become a teacher who believed the best way to help her people was to get them a better education, especially the girls. Her husband was also a teacher and they had one son together. Outside of her education and political work, Mary also oversaw the opening of a hospital to serve African American citizens and a life insurance agency.
After the dissolution of her marriage, Mary became determined to see her dreams of a school for African American children realized. Her Daytona Beach school was started with five pupils and $1.50 to its name; eventually morphing from a girls boarding school into a preeminent black college. Mary therefore became the first African American woman to serve as president of a United States college. Her school would set the tone and pave the way for many of the historic black colleges across the United States today. The school, which is still open under the name Bethune-Cookman College, enrolls approximately four thousand students.
After the passing of the 19th Amendment in which women were given the right to vote, Mary openly defied the KKK by teaching 100 African Americans to read and provided the money to pay the poll tax so both sexes could go to the booths and vote. The KKK marched on her college multiple times, threatening to burn down buildings and commit other violence if Mary continued to peacefully and legally get African Americans to vote.
Mary quickly entered the national attention by working on several different boards and advising five US Presidents (most importantly as Director of the Division of Negro Affairs of the National Youth Administration, whereupon she became the first African American woman to head a federal agency and the only woman in President Franklin Delano Roosevelt's "black cabinet"). Mary's work in politics alongside other African American leaders is largely seen as the reason why African American voters transitioned from voting for Republicans (the historical party of "The Great Emancipator" Lincoln to the Democrat party instead; hoping Roosevelt's New Deal policies would help disenfranchised African Americas. Mary was a good friend of Eleanor Roosevelt's and so its no surprise she supported FDR for the presidency.
Mary also worked in high ranking positions with the NAACP, the National Association of Colored Women, and the National Council of Negro Women. She was also an advisor on the board that created the Women's Army Corps (the WAC) and ensured therefore that the first women to serve in the US Army served in integrated units. Mary was also the only women of color to appear at the founding conference of the United Nations; appointed to serve there by President Harry Truman.
After her death, Mary became the first woman and first African American to be honored with a statue in a public park in Washington DC. Her final home is a National Historic Site and she has also been honored on a postage stamp. In 2021, a likeness of Bethune will be placed inside the National Statuary Hall representing the great state of Florida.
Badges Earned:
Find a Grave Marked
Located In My Personal Library:
America's Women: 400 Years of Dolls, Drudges, Helpmates, and Heroines by Gail Collins
The Book of Awesome Women: Boundary Breakers, Freedom Fighters, Sheroes, and Female Firsts by Becca Anderson
On Her Own Ground by A'Lelia Bundles
Time Magazine's 100 Women of the Year (Alice appears in the 1934 article, "Mary McLeod Bethune")
Whose Who in American History: Leaders, Visionaries, and Icons who Shaped Our Nation by John M Thompson, William R Gray, and KM Kostyal
Sources:
https://www.womenshistory.org/education-resources/biographies/mary-mcleod-bethune
https://www.nps.gov/mamc/learn/historyculture/mary-mcleod-bethune.htm
https://www.smithsonianmag.com/history/mary-mcleod-bethune-vanguard-more-than-50-years-black-progress-180975202/
https://womenshistory.si.edu/herstory/object/mary-mcleod-bethune
https://www.cookman.edu/about_bcu/history/our_founder.html