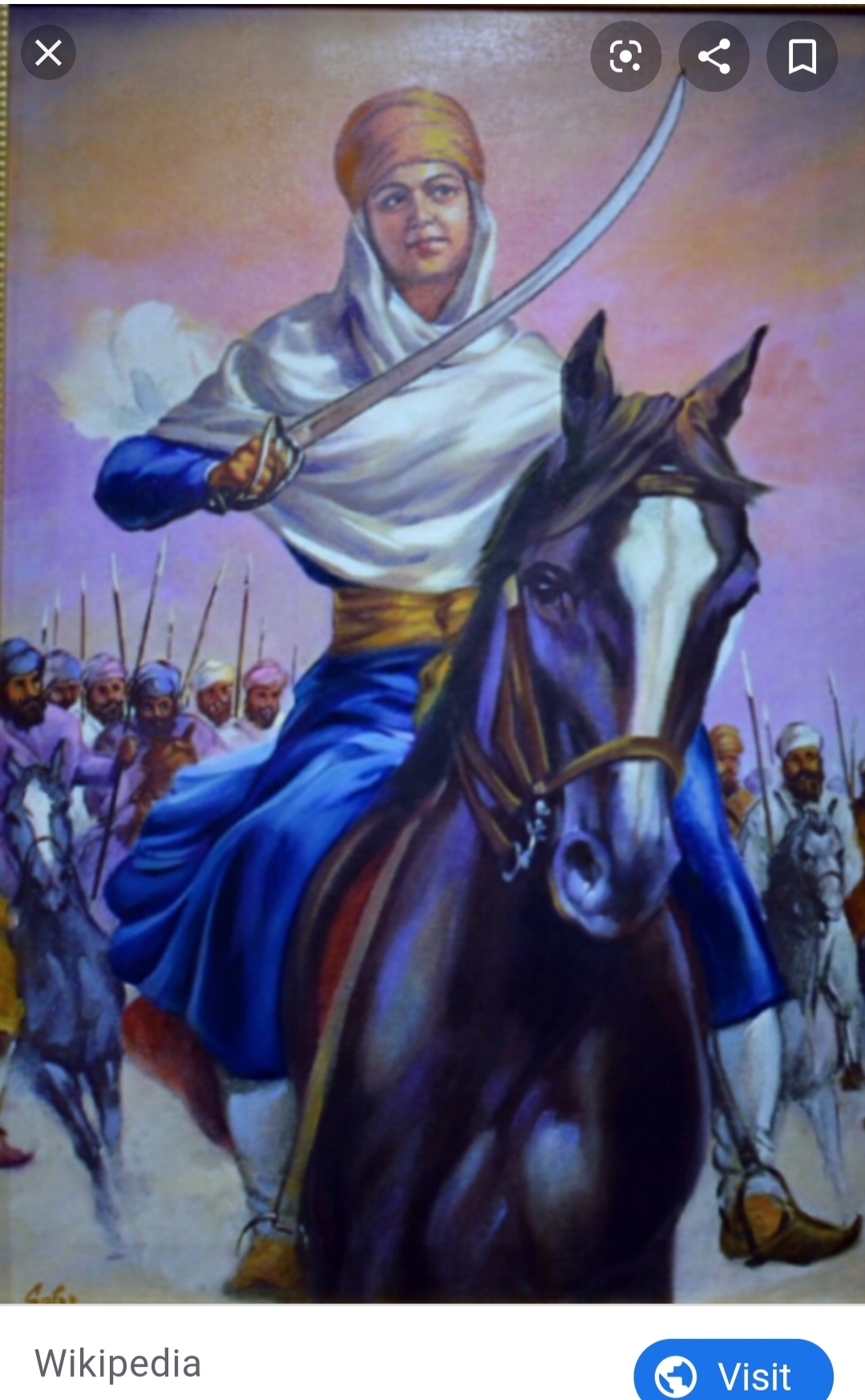 814: Mai Bhago
Sikh Saint who Fought the Mughal Empire
Born: c.1666, Jhabal Kalan, Punjab, Majha Region, India
Died: c.1750, Present-day Janwada, India
Also Known As: Mata Bhago Kaur or Mai Bhag Kaur
Mai's childhood was spent being educated by her dad on how to be a good Sikh, how to ride a horse, and how to kill anyone who pisses you off. You know, just normal father/daughter bonding activities. Mai had four brothers and was the only girl in her family. She was raised by her father to be faithful and devout to her Sikh religion and way of life. Luckily for Mai, the Sikhs viewed men and women as equals and refused to abide by the caste system already forming in the Indian Subcontinent by that time.
Mai became a Khalsa, or warrior-saint (as ordained by the leader of the Sikhs at the time, a Guru named Gobind Singh Ji). Three hundred years later and Mai is still considered a warrior and saint among her people.
After a year of brutal warfare from the Mughals forty of the Sikh deserted the cause and their religion. When Mai heard about this, she got women to replace them, made sure the other women denied these forty hospitality, and basically shamed them into coming back and rejoining the fight.
Then those forty died in battle against the Mughals with the only survivor being Mai. The battle was called The Battle of Khidrana or The Battle of Muktsar (depending on who you ask), and besides the fact that Mai was the sole survivor on her side, she also managed to kill a few enemy Mughals (the only source that names a number said there were 10,000 of them, but that's probably an exaggeration). Oh, and this happened in 1705.
After the battle she became the bodyguard of the guru and outlived him to a ripe old age.
Today, Mai is remembered for being the first woman in the Punjab to fight on a battlefield. Her spear and gun can still be seen in museums today, and her home has been transformed into a Sikh place of worship, or gurdwara (also spelled gurudwara.)
Badges Earned:
Rejected Princess
Sources:
https://www.sikhiwiki.org/index.php/Mai_Bhago
https://www.rejectedprincesses.com/princesses/mai-bhago
https://www.hindustantimes.com/punjab/know-mai-bhago-quoted-by-bbc-as-one-of-the-most-badass-women-in-history-punjab-sikh-international-women-s-daygolden-temple/story-DNwFYAc0j6uwDhiBGRTWXN.html