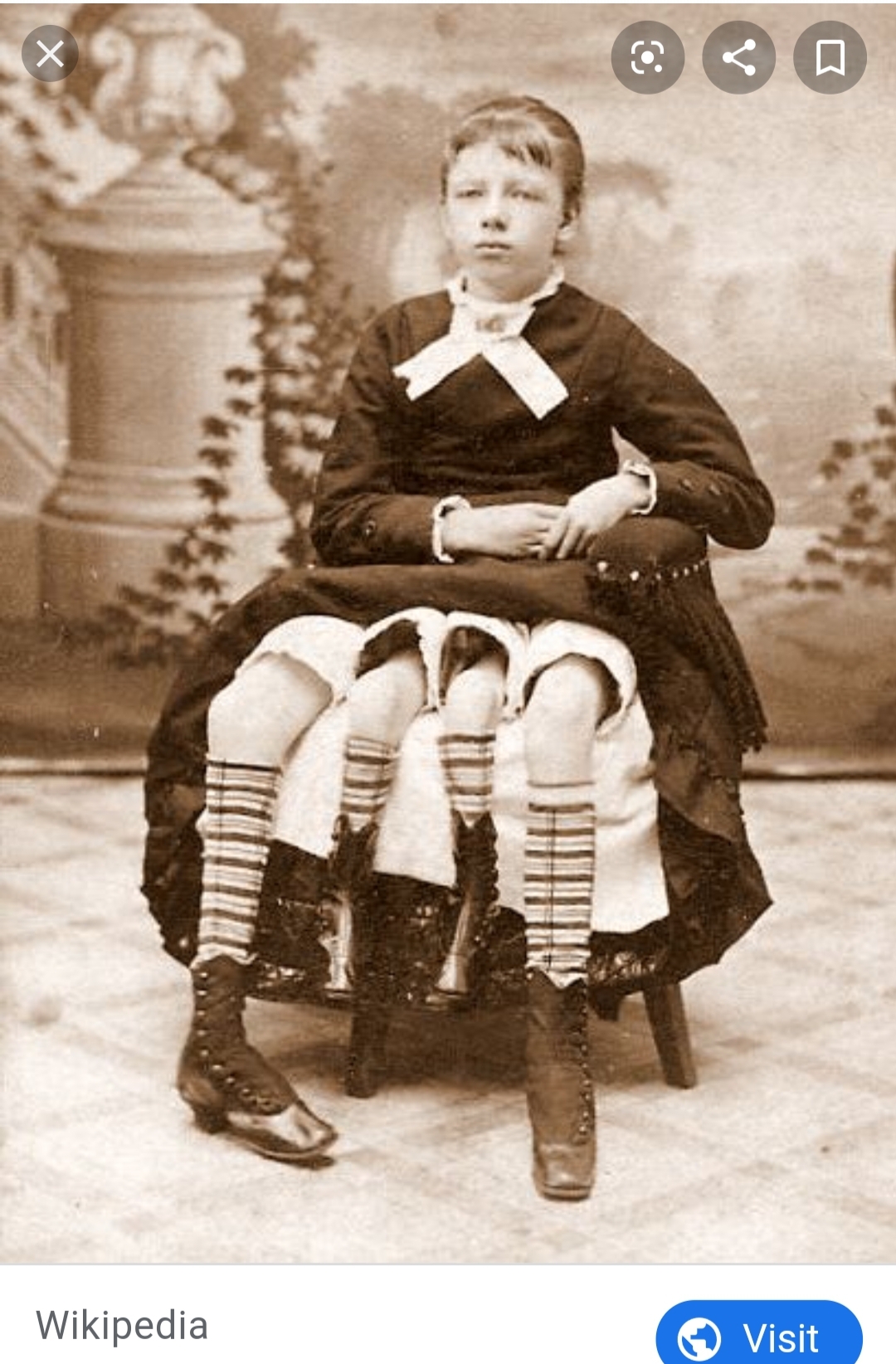 802: Myrtle Corbin
"The Four-Legged Girl From Texas"
Born: 12 May 1868, Lincoln County, Tennessee, United States of America
Died: 6 May 1928, Cleburne, Texas, United States of America
Original Name: Josephine Myrtle Corbin
Myrtle was born a dipygus; meaning she had two separate pelvises side by side from the waist down (including two sets of external and internal reproductive anatomical structures and four legs). Each smaller inner leg was paired with a larger outer leg. There are different forms of dipygus presentations, and sources differ on which exactly Myrtle had. Since she lived so long ago, there was no genetic testing or other ways of examining her like there would be today.
Myrtle had the ability to move the extra legs but couldn't walk on them, while the smaller feet had only three toes each. She also had a clubbed foot on one of her bigger legs, leaving her with one good leg out of four.
Most surprising of all, Myrtle was the only "oddity" in her family—her parents had seven other children, all of whom had no birth defects or other abnormalities.
Myrtle's father started showing her around when she was a month old, and when she was fourteen Myrtle started touring with Barnum and Bailey and later Ringling Brothers. Myrtle made so much money she retired when she was eighteen. At her height she was earning around $450 a week!
Myrtle later married and had four or five children (sources differ). There was a rumor some of the children were born from one uterus and some the other, and while this was never definitively proven, it is medically possible.
After she died, Myrtle's family had her casket covered in concrete, to deter any would-be grave robbers to come calling.
Badges Earned:
Find a Grave Marked
Sources:
https://allthatsinteresting.com/myrtle-corbin
https://briefly.co.za/39117-josephine-myrtle-corbin-4-shocking-facts-4-legged-woman.html
https://www.postize.com/four-legged-woman
https://www.findagrave.com/memorial/31675682/josephine-myrtle-bicknell