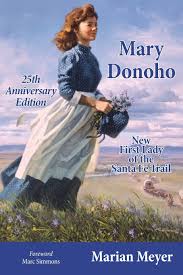 "I have no language to express my gratitude to Mrs. Donoho.  I found in her a mother, a sister to condole with me in my misfortune . . . a friend . . . who was continually pouring the sweet oil of consolation into my wounded and trembling soul." -Rachel Parker Plummer
759: Mary Donoho
The First Lady of the Santa Fe Trail
Born: 24 November 1807, Kentucky, United States of America
Died: 12 January 1880, Clarksville, Texas, United States of America
Mary earned this title after becoming the first American woman to arrive in Santa Fe, New Mexico over the Santa Fe Trail. The title was falsely attributed to one Susan Magoffin for a century, until a historian uncovered evidence in the 1990's that Mary had made the journey thirteen years earlier.
Mary's early life was spent traveling around the southern United States, before she married, aged twenty-four, in 1831 to William Donoho. The couple had six children together.
In 1833, Mary, her husband, their nine-month old daughter, and a troop of other traders and soldiers left Independence, Missouri on a wagon train. Once the couple arrived in Santa Fe, Mary and William had three more children. These children, Susan, Harriet, and James lay claim to be the first white children born in the New Mexico Territory.
During the time the couple lived in Santa Fe, Mary was often left by herself. William traveled for work, and Mary ran a hotel, on her own, to earn money to raise their children.
After the 1837 Revolt, in which tensions between New Mexican residents and leaders from Mexico in the territory increased, William and Mary packed their belongings and their children and moved to Texas. Traveling with them were three women who had been taken captive by the Comanche, including Rachel Parker Plummer, whose memoir later led to widespread attention towards the previously virtually unknown Native Tribe.
Upon arrival in Texas, they had two more children. The couple opened another hotel, and in 1842, their daughter Harriet died. Three years later, William too died. His death was doubly unfortunate in that he died intestate, or without a will, and Mary spent the next six years battling courts for the rights to his estate and their hotel.
Finally, in 1851, William's estate was settled. By that time, Mary's oldest daughter had married (on her fourteenth birthday) and another daughter had died. Despite the tragedies, Mary was free to run their hotel, and the place thrived under her leadership. Travelers far and wide recognized the hotel for its excellent accommodations, food, and atmosphere. However, tragedy continued. Another daughter married aged sixteen but died twenty months later of "puerperal developments", or childbed fever. Her infant son died soon after. Only four months later, Mary's final daughter, aged fifteen, also married. However, she also died in childbirth complications.
Mary outlived all five of her daughters, after her eldest died at the age of forty. Mary's estate was left to her sole surviving child, her son James. Determined not to bestow the same chaos on her sole remaining child Mary herself had inherited upon her husband's death, Mary had written up a nine page will before her death. Historians have noted her repeated use of the word "My" throughout the document. Mary left nothing to interpretation, and ensured that, even in death, she remained in control in an era when so few women had control of anything.
One of Mary's final wishes was for headstones to be erected for her five daughters and her husband, paid out of her estate. James obeyed his mother's wishes and ensured his family members would never be forgotten. Curiously, James chose to create the headstones for his sisters, all with their maiden name of Donoho, and left their deceased husband's out of the equation all together.
Five years later, Mary's son James returned to the city of his birth with his own family. However, they arrived by train, not ox-driven wagon. While there, James was interviewed for the story later titled "First White Child Born in New Mexico". It was this article that proved Mary was the first woman to undertake the Santa Fe Trail.
Badges Earned:
Find a Grave Marked
Sources:
https://www.legendsofamerica.com/mary-donoho/
http://kelleypounds.tripod.com/old/donoho.htm