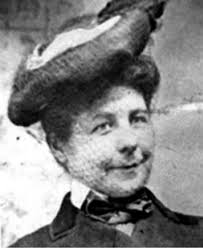 732: Mary Anderson
Invented and Patented Windshield Wipers
Born: 19 February 1866, Greene County, Alabama, United States of America
Died: 27 June 1953, Monteagle, Tennessee, United States of America
Her patent read, "Window cleaning device for electric cars and other vehicles to remove snow, ice or sleet from the window."
However, when Mary tried to sell her device to a manufacturing company in Canada, they refused to make it, citing the product had no practical value and was worthless. She filed her patent in 1903, and never made a dime off it, despite the fact that by 1913 nearly every car had a version of them installed. Her patent expired before she could ever convince anyone to use it.
Mary and her sister were raised by their mother after Mary's father died when she was four. Born onto a prosperous plantation, Mary's family was able to stay afloat thanks to the money the property brought in. In 1889, her family moved to Birmingham and built an apartment building.
When Mary was twenty-seven, she left home and moved to Fresno, California. While there, Mary operated a cattle ranch and vineyard. However, only a few years later, she returned to Birmingham to help care for her ailing aunt. Mary's aunt had a large collection of trunks no one was allowed to open until after she died. When the trunks finally were opened, gold and jewelry were discovered inside, allowing the family to live in comfort.
Mary created her windshield wipers after traveling on a snowy trolley car in New York City. Seeing the driver's frustrations and struggles with trying to drive through the snow inspired the invention, though as stated above, it never went anywhere for Mary. She spent the rest of her life managing the family apartment complex. Mary never married nor had children.
In 2011, she was posthumously elected into the National Inventors Hall of Fame.
Badges Earned:
Find a Grave Marked
Sources:
https://www.history.com/this-day-in-history/mary-anderson-patents-windshield-wiper
https://lemelson.mit.edu/resources/mary-anderson
http://www.encyclopediaofalabama.org/article/h-2553
https://www.findagrave.com/memorial/48980367/a-mary-anderson