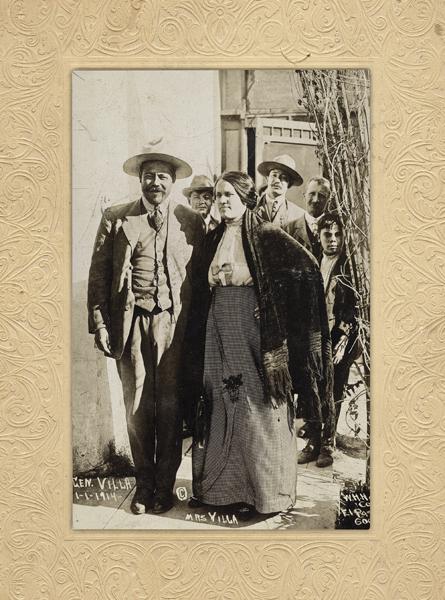 "Oh, I have no family of my own, but I have many families."
728: Señora Doña Maria Luz Corral de Villa
Pancho Villa's Wife
Born: July 2, 1892, San Andrés, Chihuahua, Mexico (Present-day Riva Palacio, Chihuahua, Mexico)
Died: 6 July 1981, Chihuahua City, Chihuahua, Mexico
Pancho Villa "married" multiple women throughout his life (some claiming as many as twenty-six), however, Maria Luz was the only woman who could produce a valid marriage certificate and was the first to claim to be Pancho Villa's wife. They had one daughter together, who died in infancy, which was heartbreaking enough on its own, but the fact that Pancho had other children with other women, and left Maria Luz to raise them, was even worse.
When Pancho was assassinated in 1923, Maria Luz became a widow at only thirty-one. She was also left in charge of an orphanage of around fifty children. The government seized one of her properties for not paying taxes, but left Maria Luz the mansion in which she welcomed guests for decades.
Maria Luz provided autographs and showed visitors through her museum of the Mexican Revolution. Some of the artifacts included old photos and weapons that belonged to her husband, and even the bullet ridden car in which he'd been assassinated.
Maria Luz spent the last six decades of her life staking her husband's legacy as a martyr of the poor. She herself earned a similar legacy after her death. Today, the museum Maria Luz opened and operated out of her own home is now owned by the Mexican Military.
Badges Earned:
Find a Grave Marked
Sources:
https://truewestmagazine.com/article/senora-dona-maria-luz-corral-de-villa/
https://www.cah.utexas.edu/db/dmr/image_lg.php?variable=e_ea_0592
https://www.geni.com/people/Maria-Luz-Fierro-Corral-De-Villa/6000000008692502255
https://www.chihuahuamexico.com/index.php?option=com_content&task=view&id=2407&Itemid=116
https://www.findagrave.com/memorial/138131624/maria-luz-corral