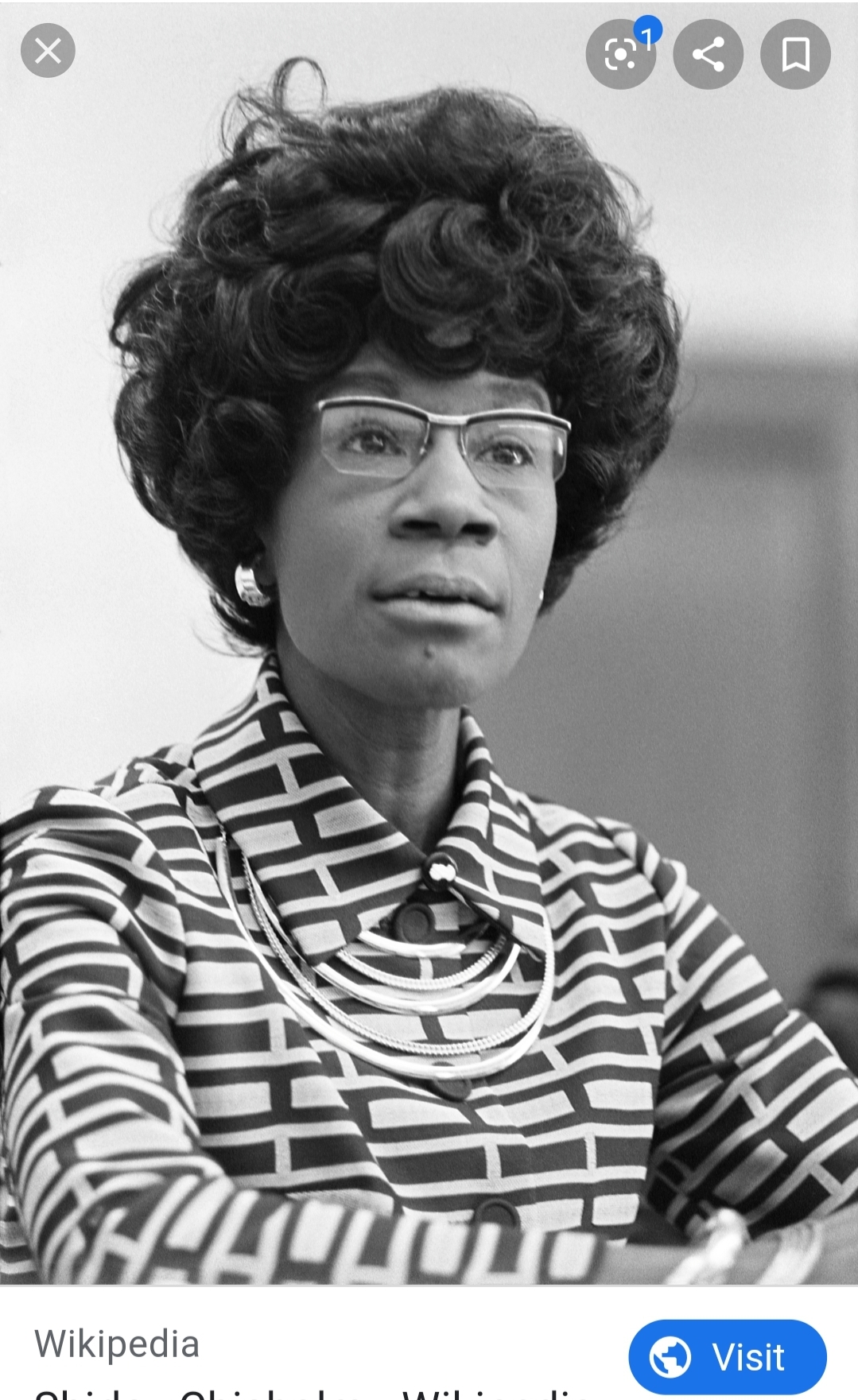 "I have no intention of just sitting quietly and observing. I intend to focus attention on the nation's problems."
714: Shirley Chisholm
Congresswoman and the First African American Woman to Serve in the House of Representatives
Born: 30 November 1924, Brooklyn, New York, United States of America
Died: 1 January 2005, Ormond Beach, Florida, United States of America
Shirley served New York's 12th District in the House of Representatives.
She held a master's degree from Columbia University, and before entering politics worked as a preschool teacher. She married a private investigator (though they later divorced) and by the 1960's was working for the New York Division of Day Care as a consultant.
In 1964, Shirley won her local election and became the second African American person to serve in the New York State Legislator. She spent her entire adult life focused on helping serve women and minorities. By 1968, Shirley had won her seat in Congress, and earned the nickname "Fighting Shirley." While serving, Shirley made history in the House by becoming the first black woman and second woman ever to serve on the House Rules Committee. She remarried that same year, this time to a man serving in the New York State legislature.
In 1972, Shirley ran for the Democratic Nomination for the United States Presidency and even visited her rival George Wallace in the hospital after he was shot five times in a failed assassination attempt. The visit was profound in that George, the Governor of Alabama, was openly racist. The attack left him paralyzed from the waist down for the rest of his life.
Shirley failed to win the nomination, but her run is notable for being the first woman and the first African American to seek the nomination from one of America's major political parties. She had managed to scoop up 10% of the delegates though, all the more impressive after considering her campaign was blocked by several powerful discriminatory groups and she had minimal funding to help boost her.
After retiring from Congress, Shirley became a teacher at Mount Holyoke College. She also helped found the National Political Congress of Black Women. After retiring to Florida, she declined the nomination to become the Ambassador to Jamaica.
In November of 2015, she was posthumously awarded the Presidential Medal of Freedom.
Badges Earned:
Find a Grave Marked
Located In My Personal Library:
The Book of Awesome Women: Boundary Breakers, Freedom Fighters, Sheroes, and Female Firsts by Becca Anderson
Sources:
https://www.womenshistory.org/education-resources/biographies/shirley-chisholm
https://history.house.gov/People/Listing/C/CHISHOLM,-Shirley-Anita-(C000371)/
https://www.biography.com/political-figure/shirley-chisholm
https://www.smithsonianmag.com/smithsonian-institution/unbought-and-unbossed-when-black-woman-ran-for-the-white-house-180958699/
https://www.findagrave.com/memorial/10211114/shirley-chisholm