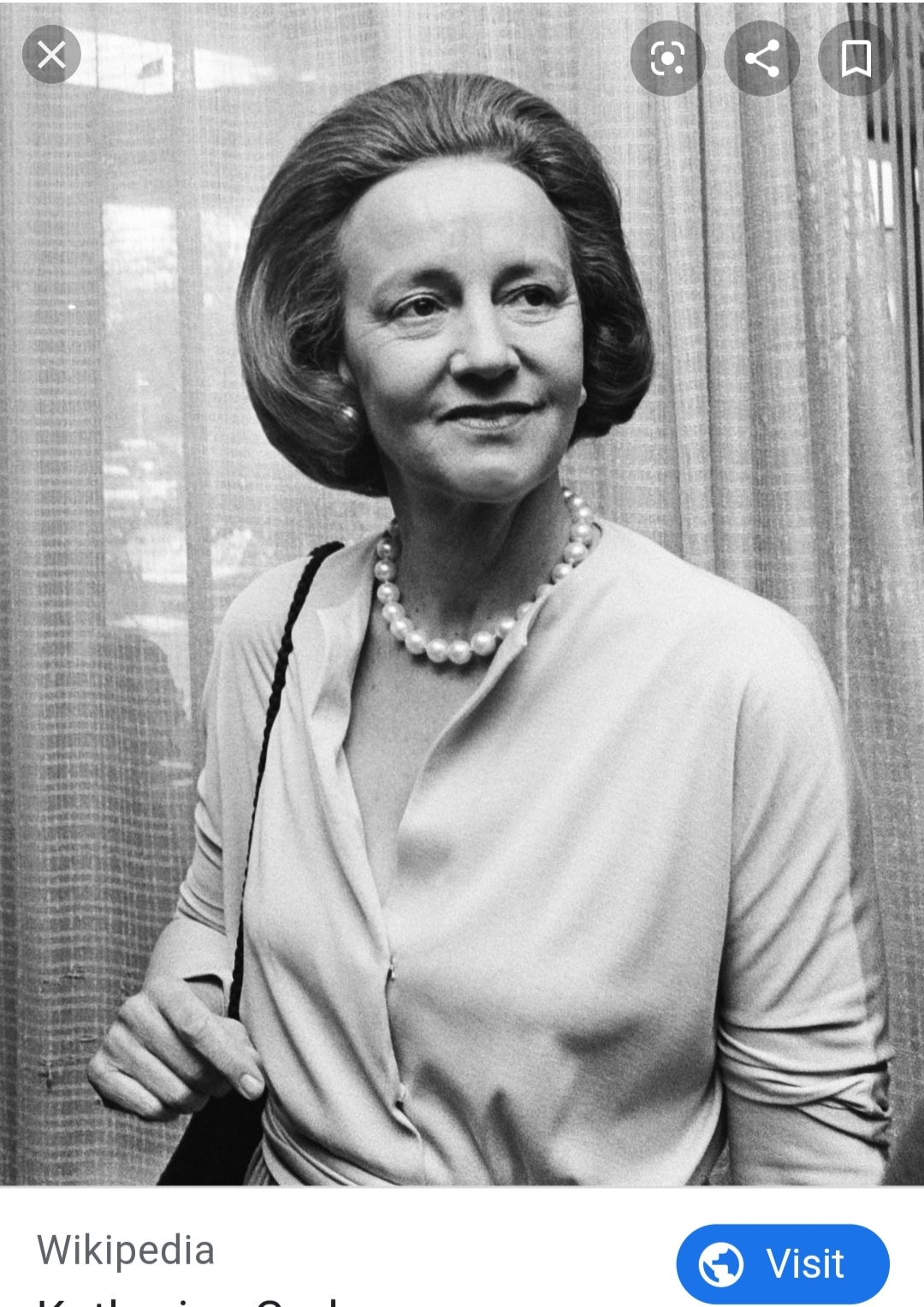 "The only thing I think any of us want, is to last as long as we're any good…And then not."
713: Katharine Meyer Graham
Former President of The Washington Post
Born: 16 June 1917, New York City, New York, United States of America
Died: 17 July 2001, Boise, Idaho, United States of America
Katharine's childhood was far from the normal, ideal, one we think of today. She was the fourth of five children and was more attached to her governess than her mother. When Katharine graduated from college in 1938, neither of her parents turned up to congratulate her.
Katharine's father bought the paper in 1933 and her husband became the publisher when he was thirty-one in 1946. Before her marriage, Katharine worked for various other papers as a reporter and editor. When she started working for her father's paper, he reportedly said if things didn't work out, she would be fired. After her marriage, Katharine left the workplace to focus on her family. By 1948, Katharine and her husband purchased the voting stock in The Washington Post from Katharine's father, however, Katharine's husband retained a higher percentage than Katharine because she was a woman.
Over the years, Katharine's husband became more and more controlling and mentally ill. Katharine paid all of their domestic expenses out of her own trust fund so her husband would be able to invest in other media interests with his paycheck. He began drinking and suffered a mental break in 1957 before returning to work. Eventually, Katharine learned not only that he was having an affair, but that he also planned to buy out her shares in The Post and force her out.
Instead of granting her husband a divorce and bowing out, Katharine fought back. She told her husband she'd grant him a divorce if, and only if, he gave her a majority share of The Post. Her husband refused, and became more and more mentally ill, eventually refusing all treatment.
Katharine took over running the Post completely after her husband committed suicide in a manic-depressive episode; leaving her to raise their four children alone. Under her leadership, the Post would become one of the most widely circulated and read papers across the country, but at the outset, Katharine's plan was to run the paper until her three sons were old enough to run it themselves. She hadn't considered her daughter a candidate, just like how she'd been excluded thirty years before by her own father. Eventually however, Katharine's friends convinced her to run it herself.
While she was running the paper, The Post published The Pentagon Papers. The Post acted only after The New York Times was placed under a temporary restraining order for publishing The Pentagon Papers, the first time in US history a newspaper was censured in that way by the federal government. The Post quickly obtained their own copy of the papers, and under Katharine's say-so, published them. Eventually, the Supreme Court would decide against censuring The Times and The Post. Eventually, the Post would also go on to break the story connecting the Watergate Scandal to the White House, proving Richard Nixon was behind the famous foiled break in. They continued to break the story and publish more details despite facing backlash and threats of intimidation from the Nixon Administration. This period of history was covered in the film The Post, the trailer for which I have linked in this article.
Katharine was the first woman to head a Fortune 500 Company, being named CEO in 1972. She remained in that position until 1991 and stepped down as Chairwoman of the Board until 1993, though she remained a board member. Her son took over both positions. Katharine went on to receive a Pulitzer Prize for her autobiography in 1998.
Despite being mostly retired, Katharine continued to work until her death. She was attending a business conference when Katharine slipped and hit her head on some concrete. She never regained consciousness.
In 2002, Katharine was inducted into the National Women's Hall of Fame.
Badges Earned:
Find a Grave Marked
Located In My Personal Library:
The Book of Awesome Women: Boundary Breakers, Freedom Fighters, Sheroes, and Female Firsts by Becca Anderson
The Oxford Encyclopedia of Women in World History Edited By Bonnie G Smith
Sources:
https://www.britannica.com/biography/Katharine-Graham
https://www.nytimes.com/2001/07/17/obituaries/katharine-graham-former-publisher-of-washington-post-dies-at-84.html
https://www.pulitzer.org/winners/katharine-graham
https://www.washingtonpost.com/wp-srv/metro/specials/graham/grahamtimeline.htm
https://www.womenofthehall.org/inductee/katharine-graham/