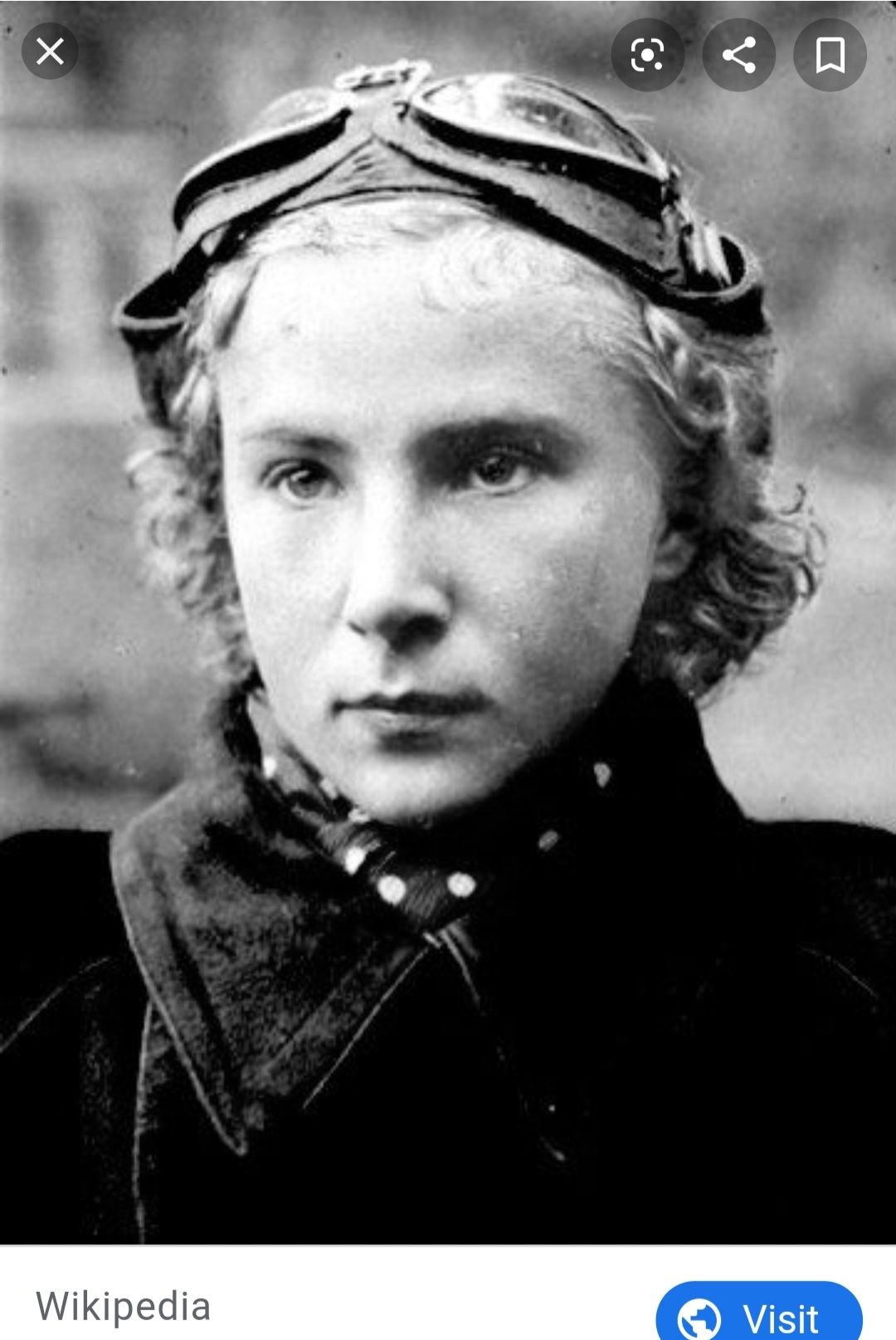 672: Lydia Litvyak
Soviet Air Force Pilot During World War II
Born: 18 August 1921, Moscow, Soviet Union (Present-day Moscow, Russia)
Died: c. 1 August 1943, Possibly Ukraine (See below for more details)
Lydia was called the White Rose of Stalingrad (also the White Lily).
She learned how to fly by age fifteen and was an instructor by eighteen.
Lydia entered the Soviet Air Force after being denied entrance by the first recruiter for not having 1,000 flight hours in her five-year career thus far; so, she went to the next recruiter up the street and said she'd flown 1000 hours. A few weeks later she was at boot camp.
Lydia was placed with other fighter pilots and flew in a Yak-1 (and anyone with any knowledge of aircraft history will tell you the Yak-1 left much to be desired).
Lydia became the first woman in military history to ever score a solo-aerial victory in combat shooting down a German fighter on her second mission ever. About ten minutes later she became the first woman to score two aerial victories when she shot down another pilot (this guy had earned the Iron Cross and demanded to know which pilot had bested him after he was captured by the Russians. After meeting Lydia, he was so stunned he offered her his gold watch and she replied she did not except gifts from her enemies).
The next day she shot down another fighter pilot for good measure.
Lydia was quickly given "Free Hunter" status which meant she could shoot down whoever whenever (think James Bond's license to kill). Lydia flew sixty-six more combat missions under this license earning a total of twelve solo kills and four or five assisted kills (although some sources change these numbers around a bit so use these numbers at your own discretion). In any case, hers were the most of any female fighter pilot ever.
In 1943, Lydia was last seen trying to outrun an enemy squadron and she disappeared for over forty years. In 1979, word came about that a female fighter pilot who had received a head wound and died had been buried in the town of Dmitrievka...in Shakhterski district Ukraine (from Wikipedia, linked below).
Examinations were done on the body to confirm an identity. The inquiry decided the remains did belong to Lydia Litvyak but controversy continues with some historians continuing to deny the body and state Lydia was taken prisoner by the Germans.
In 1990 she was posthumously awarded Hero of the Soviet Union status.
Badges Earned:
Find a Grave Marked
Located In My Personal Library:
Flying for her Country: The American and Soviet Women Military Pilots of World War II by Amy Goodpaster Strebe
Sources:
https://ww2db.com/person_bio.php?person_id=433
https://www.theparisreview.org/blog/2017/10/06/short-daring-life-lilya-litvyak-white-rose-stalingrad/
https://www.planeandpilotmag.com/article/upcoming-wwii-fighter-pilot-movie-highlights-lydia-litvyak-first-female-ace/#.XmrBdahKhPY
https://en.wikipedia.org/wiki/Lydia_Litvyak#Last_mission
https://www.findagrave.com/memorial/195310349/lydia-vladimirovna-litvyak