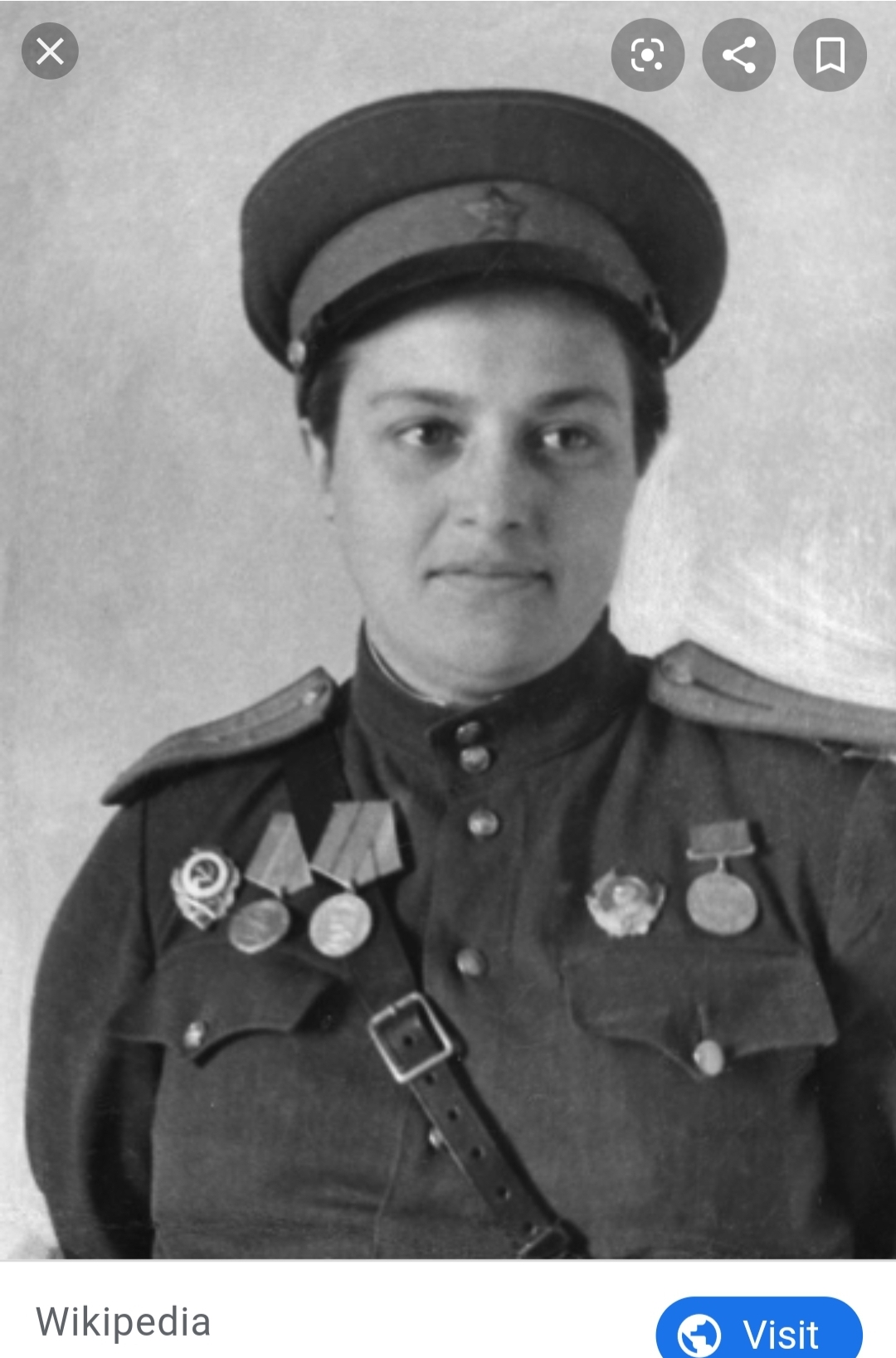 "I wear my uniform with honor. It has the Order of Lenin on it. It has been covered with blood in battle. It is plain to see that with American women what is important is whether they wear silk underwear under their uniforms. What the uniform stands for, they have yet to learn."
671: Major Lyudmila Pavlichenko
Sniper with 309 Confirmed Kills
Born: 12 July 1916, Bila Tserkva, Ukraine
Died: 10 October 1974, Moscow, Soviet Union (Present-day Moscow, Russia)
Her kill count makes her the deadliest female sniper in known history. And she did it in less than four years.
The Soviet Union used Lyudmila as a propaganda tool, putting her on a speaking tour across the United States in the hopes of getting the Americans more involved in the war effort at the start of World War II.
This tour would eventually lead to Lyudmila becoming friends with First Lady Eleanor Roosevelt. Lyudmila was the first Soviet citizen to be welcome as a guest of the White House. Unfortunately for Lyudmila, the American press cared less about her time fighting on the front lines and more about such vastly important things as: were women soldiers allowed to wear makeup at the front? Did you know your uniform skirt makes you look fat? Why aren't you wearing makeup now? Did you know you eat your food like a man? Do you use nail polish or curl your hair?
Yeah…we can look back on those reporters with a heavy sigh and a head shake to say the least.
By the time of the tour in 1942, Lyudmila had been wounded in battle four times and was suffering from severe PTSD, but she refused to stop fighting. Part of her PTSD was from her husband (or lover, the exact circumstances of their relationship are unclear) dying in battle despite Lyudmila trying to save him by dragging him from the field after he was wounded.
Lyudmila had spent her youth partaking in various sports in school and began attending universe with the hopes of being a teacher or scholar. To prove women were just as capable of men, she joined the sniper's school. When war broke out, recruiters tried to make Lyudmila a nurse or work in a factory, but she refused. Instead, Lyudmila agreed to execute two Romanians who were captured after being caught working for the Germans. Lyudmila didn't count their deaths in her official kill count because they were "test shots."
Needless to say, she was mustered into the Red Army's 25th Chapayev Rifle Division. Of her 309 confirmed kills, around 100 were officers. Eventually Lyudmila was engaged in sniper duels. In these instances, she was able to take out thirty-six snipers from the opposing side. The Germans began hoping to lure Lyudmila to their side, using loudspeakers to offer her an officer position and lots of chocolate. Lyudmila wasn't amused or swayed by the offers.
Lyudmila was finally removed from the front lines after her fourth wound. She sustained shrapnel to the face from a bomb, and the Soviets decided to make Lyudmila a trainer of other snipers. However, two months later she found herself in the United States for the aforementioned tour. Once she was done in the US, Lyudmila made a stop in the UK, continuing to advocate for more soldiers on the European front.
When she returned to the Soviet Union, Lyudmila was promoted to Major and given the commendation Hero of the Soviet Union, the highest honor bestowed in the Soviet Union. Lyudmila was also featured on a postage stamp.
After the war, Lyudmila returned to university and became a historian. She remarried and started a family. In 1957, fifteen years after Lyudmila toured the US, Eleanor Roosevelt arrived in Moscow. She fought hard and was eventually granted a visit with an old friend. Eleanor found Lyudmila living in a two-bedroom apartment in Moscow. After a moment of cool formality between the two women (and others watching), Lyudmila pulled Eleanor into a bedroom where they could speak in private, where they spent plenty of time getting caught up and chatting as old friends love to do.
Lyudmila is featured in the film Battle for Sevastapol, which was released in 2014. I have linked the trailer for the film, as well as a great YouTube video resource for Lyudmila's story as well.
Badges Earned:
Find a Grave Marked
Rejected Princess
Located In My Personal Library:
Who Knew Women in History? By Sarah Herman
Rejected Princesses by Jason Porath
Sources:
https://www.smithsonianmag.com/history/eleanor-roosevelt-and-the-soviet-sniper-23585278/
https://www.rejectedprincesses.com/princesses/lyudmila-pavlichenko
https://www.findagrave.com/memorial/11928656/lyudmila-pavlichenko