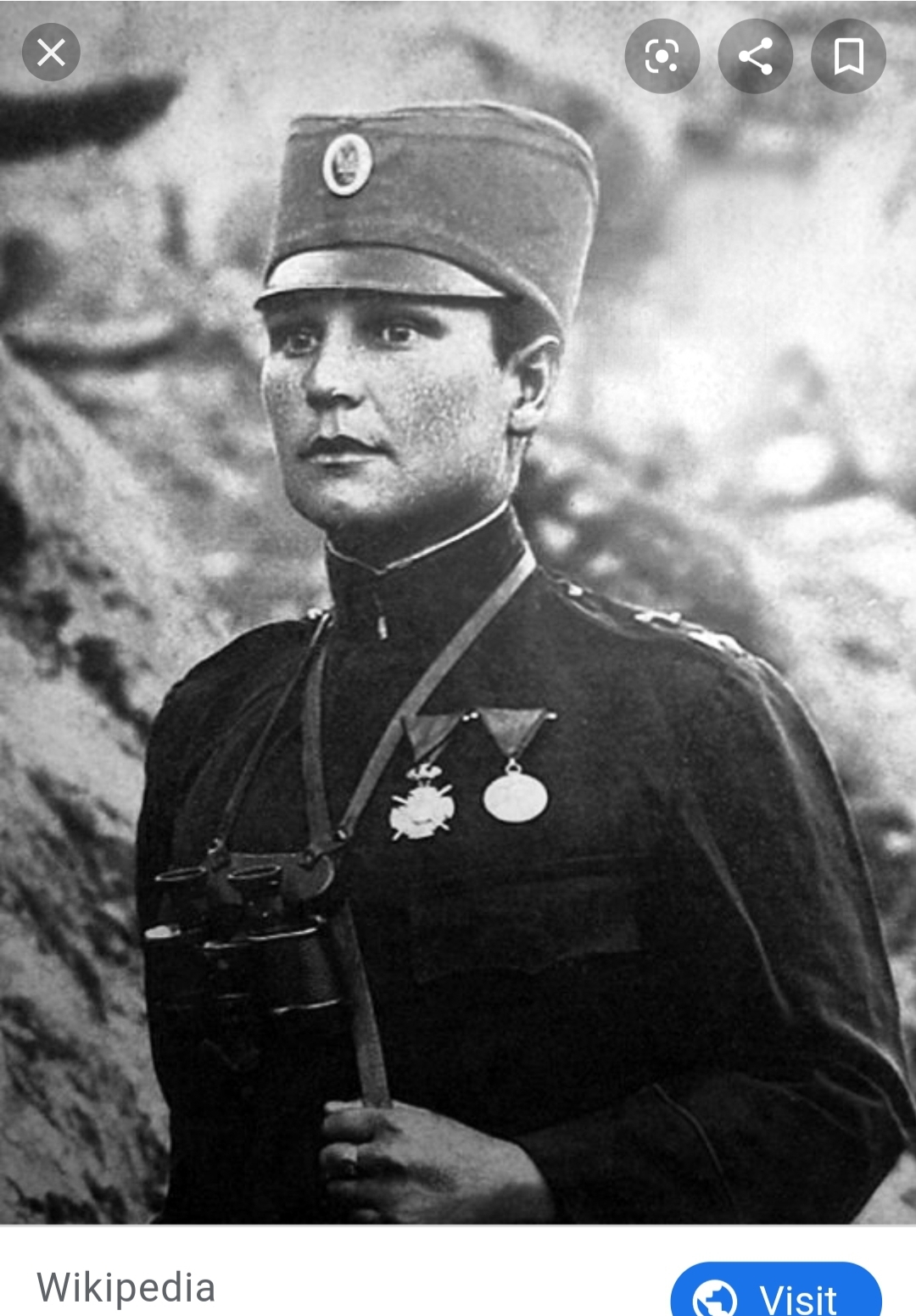 670: Sergeant Milunka Savić
Probably the Most Decorated Female Soldier Ever
Born: c.1892, Koprivnica, Novi Pazar, Serbia
Died: 5 October 1973, Voždovac, Belgrade, Serbia
Serbian Spelling: Милунка Савић
Milunka fought in the Balkan Wars and World War I.
In seven years, she fought in three wars on two continents.
Milunka received her country's highest military bravery award, twice.
Milunka was born in a village of less than twenty people. As of early 2020, the Google page for her village lists the population as twelve.
When her brother was called to fight in the Balkan War, Milunka took it upon herself to take his place. She cut her hair short and enlisted successfully. She was able to finish nine missions and pick up numerous awards and commendations before anyone realized her true gender. However, it was during the tenth mission that Milunka was wounded with shrapnel to the chest, and after it was discovered she was a woman, Milunka was ordered transferred to the nurse's division. An unamused Milunka refused to go. After an hour of refusing to move, Milunka's superiors gave in and sent her back to her division. By the end of the war, she'd managed to single-handedly capture twenty-three confused Belgian soldiers.
Milunka went on to capture at least fifty enemy combatants and two trenches during World War I and was the only female soldier of that war to earn the Croix du Guerre. She was also awarded the Legion d'Honneur, The Cross of St. George, the Medal of the Most Distinguished Order of St. Michael, and many others.
Milunka also served ten months in a German concentration camp during World War II. She'd been busy organizing clinics to provide aid to Yugoslav Partisans, which obviously won her no friends with the Nazis.
When French President Charles de Gaulle was inaugurated, Milunka was the only Serbian combatant from the first world war invited to attend the ceremony.
In the final decades of her life, Milunka adopted several children off the streets of Serbia and survived off a state pension. She also married and had a biological daughter. However, by the early 1970's, she'd been forgotten by her country and the world at large.
Milunka suffered a stroke and died penniless and alone in a suburb of Serbia's capital. After forty years, in 2013, Milunka's body was moved to the Alley of the Greats, where all distinguished Serbian war heroes and citizens are buried.
That same year a documentary about Milunka was released entitled Milunka Savic: Heroine of the Great War.
Badges Earned:
Find a Grave Marked
Sources:
http://thesrpskatimes.com/milunka-savic-the-tragic-story-of-the-most-decorated-woman-in-warfare/
http://www.serbia.com/about-serbia/serbia-history/world-war-one/milunka-savic/