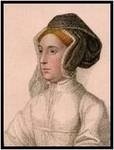 669: Elizabeth "Bessie" Blount
Mistress of Henry VIII of England
Born: c.1498, Kinlet Hall, Shropshire, England (Present-day Shropshire, United Kingdom)
Died: c.1540, England (Present-day United Kingdom)
Bessie was Henry's mistress for around five years. She previously served as maid of honor to Catherine of Aragon and was noted for her musical talents.
Bessie was one of eight children, although like most families from the time it is unknown what her exact birth year was or which order her siblings were born in. Very little is known of Bessie's early years and upbringing, but it has been supposed she was educated at home by her mother and other female relatives. The Blounts were devout Catholics, and so religious instruction would have been an important part of Bessie's education.
Bessie entered court life around the age of fifteen. The king would have been about twenty-three at the time of their first meeting. Although its not known when exactly their relationship developed into a sexual one, by 1519 Bessie had given birth to Henry's illegitimate son Henry Fitzroy—the only illegitimate child recognized by the king (he later became Duke of Richmond).
After the birth of Henry, Bessie would marry three times and had six more children. Her second child, a girl, was born before her marriage, and so its been suggested she may have been the king's as well; however, Bessie's husband claimed the girl as his own, along with two sons they had together.
Bessie's second husband was fourteen years younger than her, and so the match has been seen as one of love by historians. This pairing would produce three daughters.
When Henry Fitzroy was just seventeen, he died of either tuberculosis, pneumonic plague, or some other wasting illness. Bessie's thoughts on her son's death do not survive the centuries, but the heartbreak must have been immense.
Bessie is suspected to have died from either consumption or complications of childbirth around the age of forty-two.
Badges Earned:
Find a Grave Marked
Located In My Personal Library:
The Wives of Henry VIII by Antonia Fraser
The Other Tudors by Philippa Jones
The Creation of Anne Boleyn: A New Look at England's Most Notorious Queen by Susan Bordo
Sources:
https://www.tudorsociety.com/elizabeth-bessie-blount-by-sarah-bryson/
https://spartacus-educational.com/Bessie_Blount.htm
https://www.historyofroyalwomen.com/the-royal-mistresses-series/elizabeth-bessie-blount-mother-of-the-kings-son/
https://www.findagrave.com/memorial/101856985/elizabeth-clinton