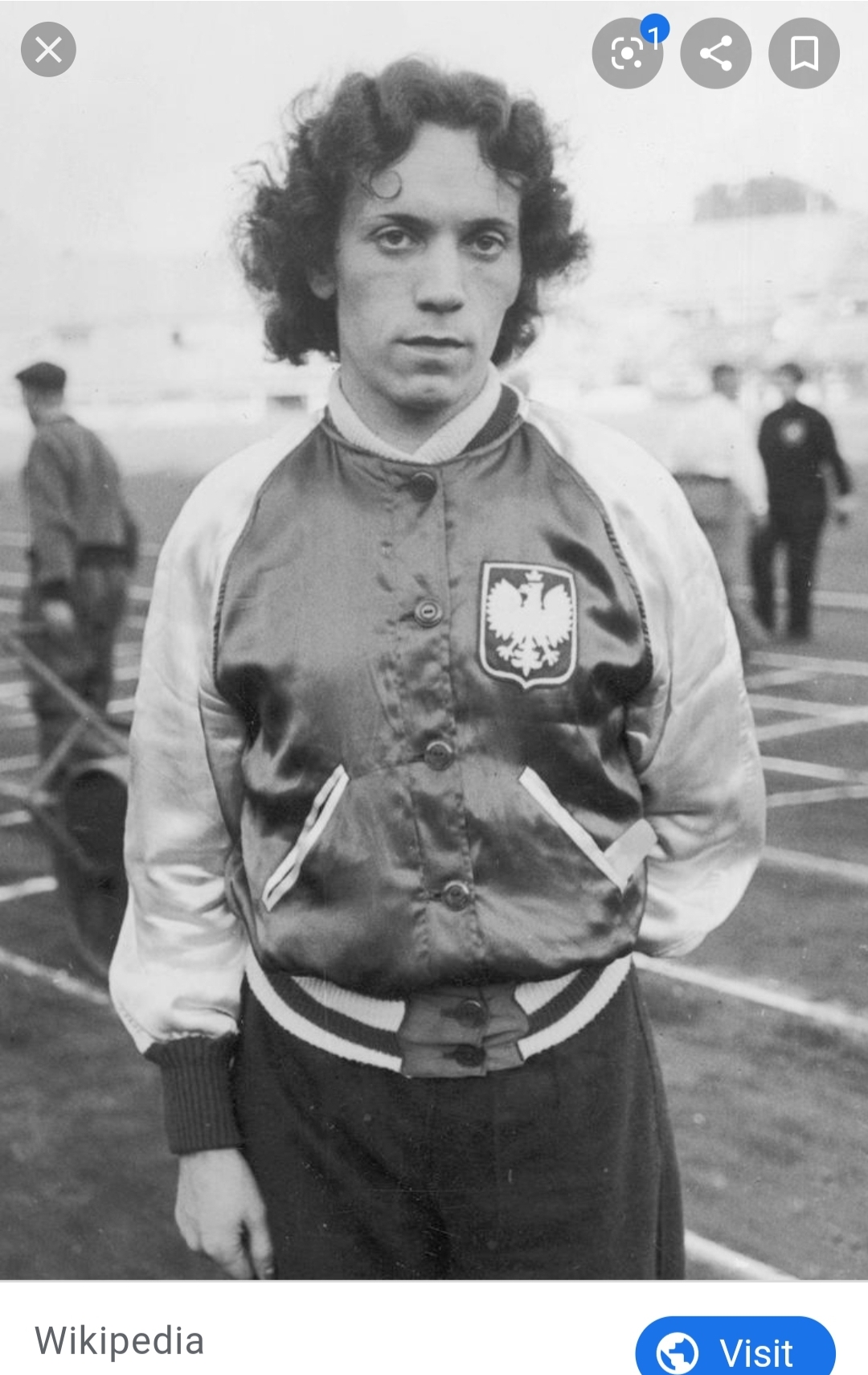 "I have competed five times for my native country, Poland, in Olympics and women's Olympiads. But my greatest ambition is to run for my adopted country, America, in the November Olympics at Melbourne, Australia."
648: Stella Walsh
Olympic Athlete With a Sad End to Her Story
Born: 13 April 1911, Poland
Died: 4 December 1980, Cleveland, Ohio, United States of America
Also Known As: Stanisława Walasiewicz
Original Name: Stefania Walasiewicz
Stella was born in Poland, but her family immigrated to the United States when she was a young girl. In high school she competed in track and field and found her passion. She also played for the boy's baseball team and several others.
In 1930, Stella beat the world record in the 100-yard dash. She was expected to win gold for the United States at the 1932 Olympics.
However, the Great Depression struck first. Stella lost her job and was unable to pay her way to the Olympics in Los Angeles, California. At that time, athletes were expected to pay their own way instead of relying on their country to get them places. Stella had to make a tough decision, and eventually she took a job at the Polish Consulate in New York. This job allowed her to compete at the Olympics, however, she competed for Poland and not the United States.
Her decision would spark backlash from various venues. Some blamed the United States for failing to support their female athletes. Others claimed Stella was betraying her new home country. Either way, Stella's naturalization as a citizen was delayed for fifteen years. Finally, in 1947, Stella was granted US citizenship.
In 1936, Stella would again compete at the Olympics for Poland. She won gold in 1932 and silver in 1936, losing to a rival from the United States. Stella's impressive strides led to nasty rumors and remarks, with some claiming she was secretly a man. This was compounded by the fact she stood six feet tall and had features that are seen as more typically masculine. Her appearance and athletic prowess led to her being called "Bull Montana" in high school.
After the 1936 games, Stella faded from the spotlight, but never stopped competing in various athletic competitions. In 1952, Stella tried to compete for the US at the Olympics but was barred because of a rule stating an athlete could only compete for one country in their lifetime. However, a loophole was soon discovered. A woman could compete for a second country if she married a man from that country. Stella soon married an American man twelve years her junior.
She tried out, but Stella failed to make the Olympic team. Stella and her husband separated a few months later, but never finalized their divorce. Stella attempted to try out again in 1960, but again failed to make the team. She was inducted into the US Track and Field Hall of Fame in 1975.
In 1980, Stella was murdered in a Cleveland Parking lot in a robbery gone wrong.
It was discovered at her subsequent autopsy that Stella had been born with Mosaicism—a genetic disorder that causes sexually ambiguous genitalia. Unfortunately, this discover sparked rumors and speculation against Stella all over again, harkening back to her days as an Olympic Athlete. Neighbors and friends claimed they had always known Stella was intersex, but that it didn't matter, she was always a woman. Her husband called her a freak of nature while in the same breath claimed they'd been intimate on occasions and that he'd never suspected anything was "wrong." Soon, the press started calling her "Stella the Fella." However, it is important to note Stella lived her entire life as a woman and nothing else.
Thankfully, the IOC (International Olympic Committee) ruled against rescinding any of Stella's medals after her death because of the gender controversy.
Badges Earned:
Find a Grave Marked
Sources:
https://www.britannica.com/topic/1932-Olympic-Games-The-Curious-Story-of-Stella-Walsh-1367962
https://www.mentalfloss.com/article/69911/how-olympic-sprinter-stella-walsh-nearly-lost-her-medals-because-her-autopsy