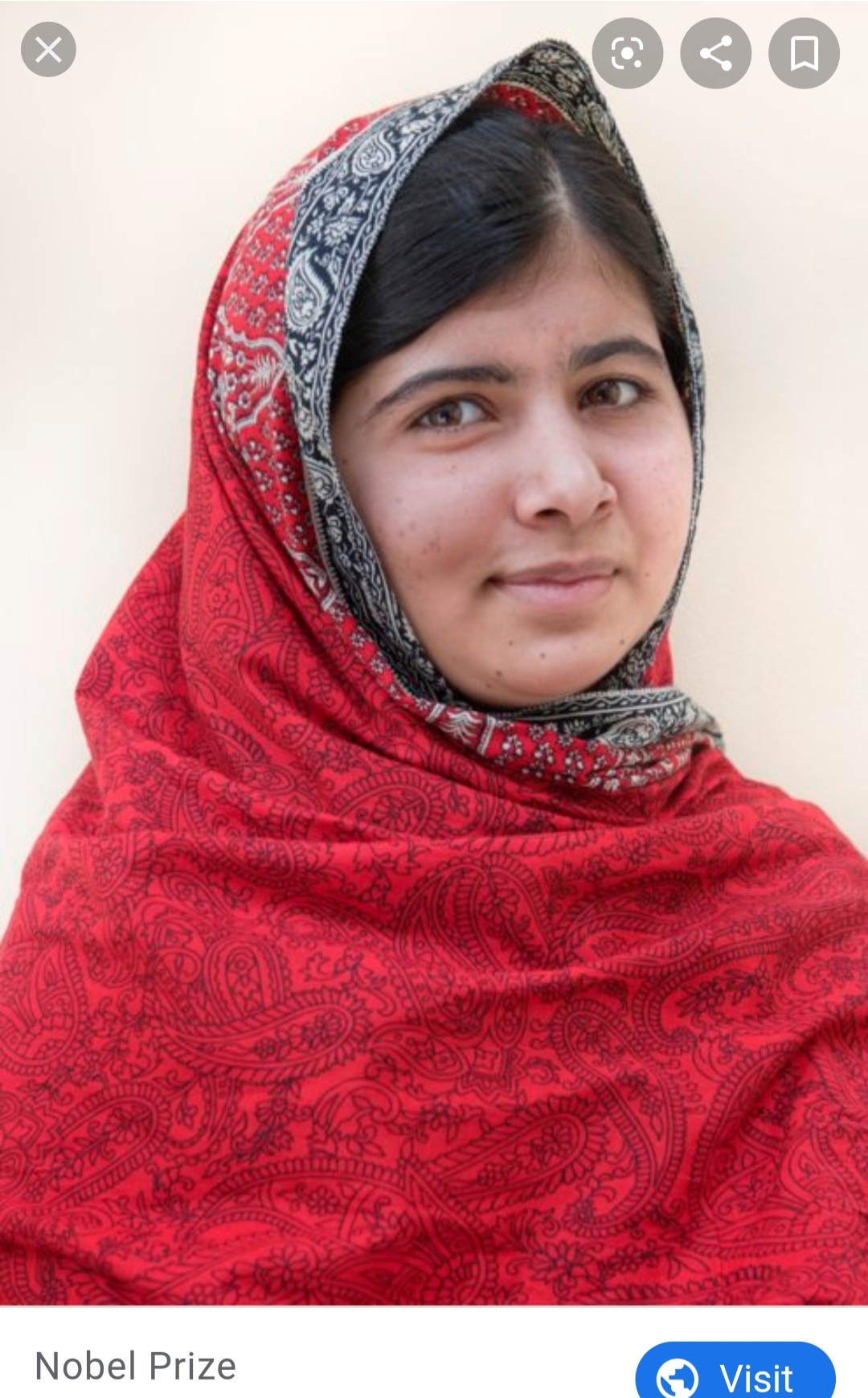 "This award is not just for me. It is for those forgotten children who want education. It is for those frightened children who want peace. It is for those voiceless children who want change."
616: Malala Yousafzai
Activist and Nobel Peace Prize Winner
Born: 12 July 1997, Mingora, Pakistan
Malala is also the youngest recipient of the Nobel—receiving it when she was seventeen years old.
Malala was raised in a small village in Pakistan, where her father worked as a teacher and ran a school for girls. Everything changed in 2008, when the Taliban took control of her village and closed the school.
When she was eleven, Malala started a blog for the BBC under a false name to chronicle what life living under the Taliban was like. Not only were girls barred from attending school, but the Taliban also enforced other harsh rules, like no longer allowing people to watch television or listen to the radio. They couldn't even dance or partake in other cultural activities.
Malala refused to take this new way of life lying down. She began speaking out across the country, advocating and fighting for the right for girls to attend school. By the end of 2008, the Taliban had destroyed over four hundred schools, and showed no signs of stopping. In 2009, Malala and her family became IDPs, or Internally Displaced Persons, by Pakistan's war against the Taliban, before being able to return home and continuing her activism.
When she was fifteen, Malala was shot in the head and shoulder by a member of the Taliban because of her activism. She woke up ten days later in a hospital in Birmingham, England. Incredibly she was still alive.
After her shooting, Pakistan introduced their first Right to Education Bill and a $10 Million education fund in her honor, but by then Malala and her family had relocated to the United Kingdom permanently. It was after months of rehabilitation and numerous surgeries that Malala was able to open Malala Fund, a charity that is dedicated to ensuring women can receive any kind of schooling they wish. Her goal is to ensure every girl can receive twelve years of quality education.
When she was eighteen, Malala opened a girl's school for Syrian refugees in Lebanon. In 2018, she began attending Oxford University. Malala has also published two books and worked on various documentaries.
Badges Earned:
Located In My Personal Library:
The Book of Awesome Women: Boundary Breakers, Freedom Fighters, Sheroes, and Female Firsts by Becca Anderson
Time Magazine's 100 Women of the Year (Malala appears in the 2009 article, "Malala Yousafzai")
Sources:
https://malala.org/malalas-story
https://www.nobelprize.org/prizes/peace/2014/yousafzai/biographical/