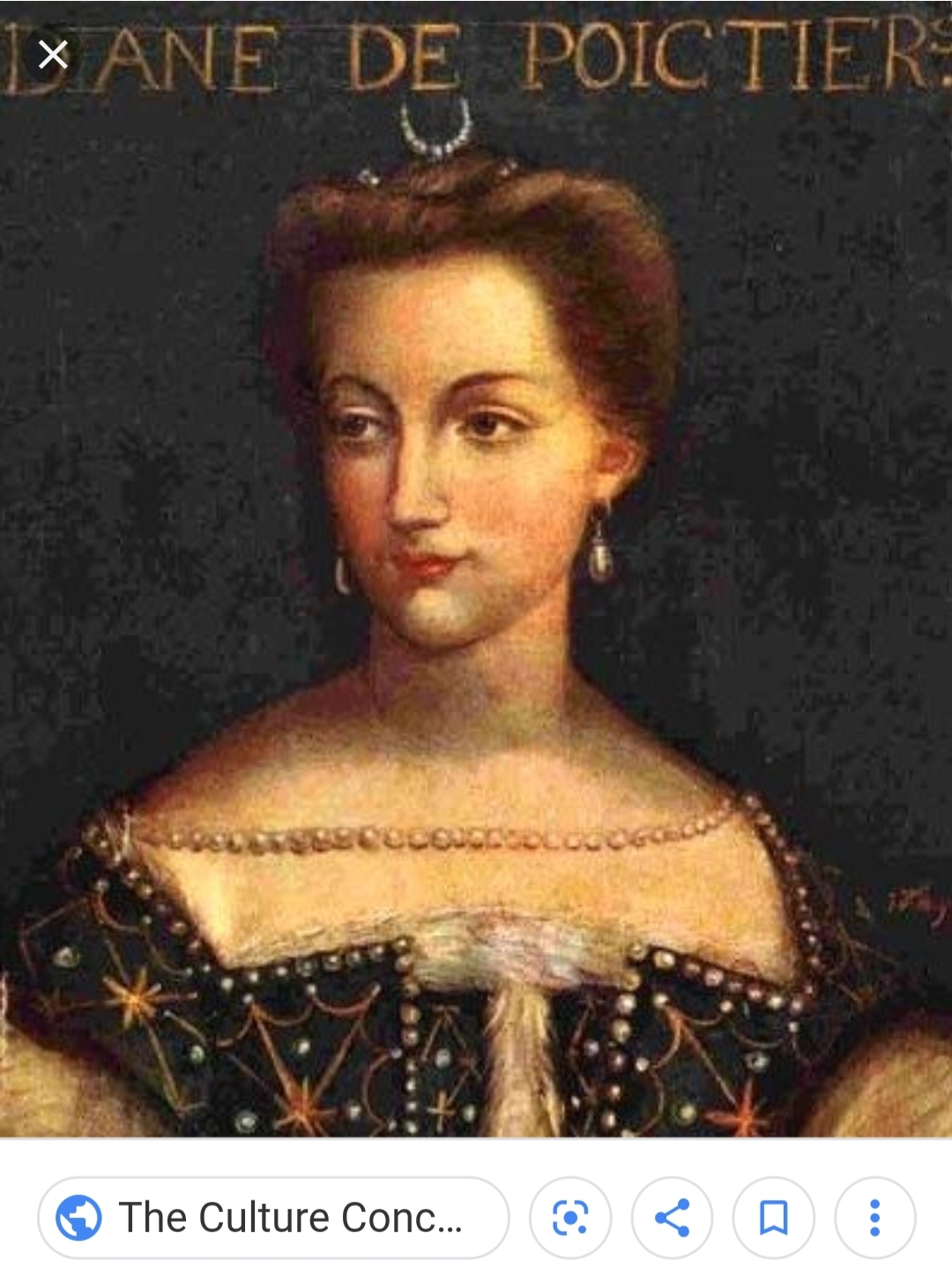 44) Diane de Poitiers
Mistresses Get it Done
Born: 9 January 1500, Saint-Vallier, France
Died: 25 April 1566, Anet, France
Mistress for Henry II of France.
She was basically queen without the title while the real queen (Catherine de Medici) was forced to the sidelines.
Diane was a patron to poets and the arts.
The king was twenty years younger than her yet madly in love with her. Diane was his mistress for around twenty-five years (with the relationship starting when Henry was between 16 and 18). The relationship became official and went public when the King was 19 and she 40.
They actually began to see each other when he was just a prince before he was even the heir (his elder brother died in 1536) and continued after his marriage and rise to the throne.
To be fair she had been married at the age of 15 to a man thirty-nine years older than her (she would have two daughters with her husband). Diane cared for the ten children the king had with his queen and used them and the youth of the queen (Catherine was 14 when she came to court) to control them better—with one of Diane's daughters being placed in charge of all the queen's staff.
Diane was the most powerful woman in France for twelve years, but the king was fatally wounded in a tournament, bringing her reign of power to an end. Catherine refused to let Diane in to say goodbye (even though the king was reportedly calling for her).
After the king's death the actual queen—Catherine—got her revenge by forcing Diane to give up the jewels Henry had given her and switch her beautiful castle to something much less grand. Diane retired soon after; it is said she died from repeatedly drinking liquid gold to keep her skin looking young.
Badges Earned:
Find a Grave Marked
Located In My Personal Library:
Sex With Kings by Eleanor Herman
Sources:
https://www.britannica.com/biography/Diane-de-Poitiers-duchesse-de-Valentinois
https://www.findagrave.com/memorial/8337141/diane-de_poitiers