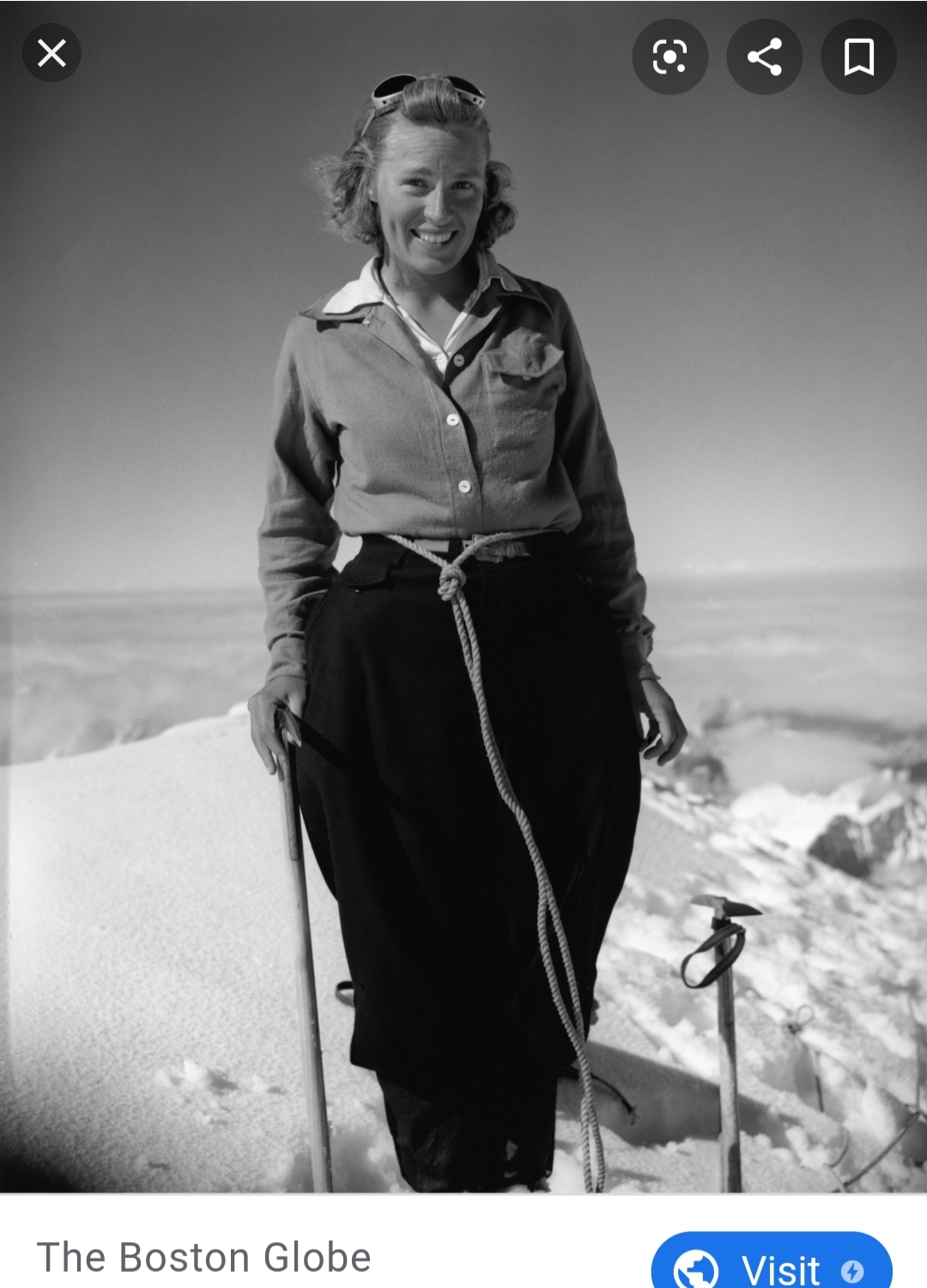 "I had no real feeling about being a pioneering woman on a serious Alaskan expedition. I only knew that as the only woman, I had to measure up."
421: Barbara Washburn
Mountaineer
Born: 10 November 1914, Massachusetts, United States of America
Died: 25 September 2014, Lexington, Massachusetts, United States of America
Barbara was the first woman to summit Mount Denali (in 1947—when it was still called Mount McKinley). Her famous climb, alongside a team of scientists, photographers, members of the armed forces, and other mountaineers (all men) was called Operation White Tower. Besides being the first woman to summit Denali, Barbara was also one of the first twenty people ever to reach the top.
Barbara said any woman was capable of climbing Denali or any other mountain so long as they had, "The desire to be uncomfortable."
Her husband was a mountaineer as well and got her into climbing in the first place. They met after Barbara applied to be a secretary at the New England Museum of Natural History, where Bradford, her future husband, worked as director of the museum.
Barbara and Bradford would go on to work on several other expeditions, including attempts to map Mt. Everest and the Grand Canyon, the latter of which took the couple seven years.
Barbara was a mother of three and also helped transform the Museum of Science in Boston into a world-famous institution. Her job was that of a reading specialist at an elementary school.
In 2001, Barbara published her memoir, The Accidental Adventurer.
She died a few weeks short of her 100th birthday.
Sources:
https://www.nps.gov/articles/dena-barbara-washburn-historic-ascent.htm
https://www.adventure-journal.com/2019/05/historical-badass-accidental-adventurer-barbara-washburn-2/
https://www.bostonglobe.com/metro/obituaries/2014/09/25/barbara-polk-washburn-accidental-adventurer-was-first-woman-ascend-mount-mckinley/87oRdiAZr8HDTaCFL1ramN/story.html
https://www.adn.com/alaska-news/article/barbara-washburn-dead-99/2014/10/08/