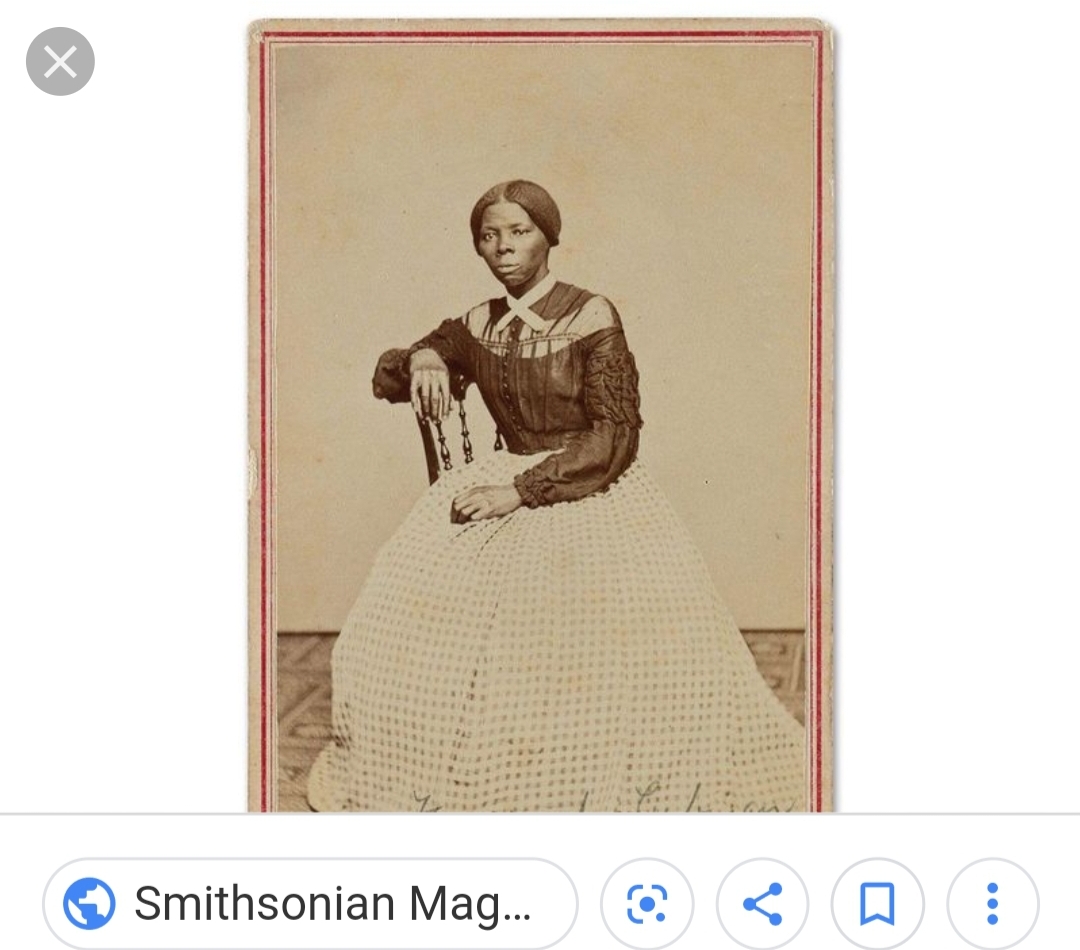 "When I found I had crossed that line [to freedom], I looked at my hands to see if I was the same person. There was such a glory over everything; the sun came like gold through the trees, and over the fields, and I felt like I was in Heaven."
223: Harriet Tubman
Union Spy During the War Between the States
Born: c.1820, Dorchester County, Maryland, United States of America
Died: 10 March 1913, Auburn, New York, United States of America
Original Name: Araminta "Minty" Ross
After being born into slavery Harriet escaped and then frequently returned to the South to free family members and many others; leading them across the Underground Railway as a conductor. She is credited with guiding somewhere between sixty and three hundred slaves to freedom (none of the sources seem to be able to agree).
During the war she worked as a spy, cook, and several other roles for the Union Army. She is remembered as being the first woman to lead an armed expedition during the war.
After the war she worked as an advocate for former slaves and the elderly, alongside giving speeches for Women's Rights; remaining devoutly religious throughout her life.
In later life she would undergo brain surgery to try to help with a head injury she'd sustained as a teenager.
In 1895, after years of struggle, she was granted an $8 per month pension on account of her HUSBAND's service in the war (yes, I'm serious). In 1899 she was granted a one-time payment of $20, which true is better than nothing, but still, seriously?
Harriet died from pneumonia, having never learned how to read.
In 2016 the US Department of the Treasury announced they would be replacing Andrew Jackson with Harriet Tubman on the $20 Bill however the project has seen multiple delays.
A Hollywood biopic is set to be released on 1 November 2019. You can view the trailer to the left.
Badges Earned:
Find a Grave Marked
Located In My Personal Library:
Revolutionary Women by Peter Pauper Press
Warrior Queens by Antonia Fraser
After the Fact by Owen Hurd
Uppity Women Speak Their Minds by Vicki Leon
Where Are They Buried? How Did They Die? by Tod Benoit
Don't Know Much About History: Everything You Need to Know About American History but Never Learned by Kenneth C Davis
The Book of Awesome Women: Boundary Breakers, Freedom Fighters, Sheroes, and Female Firsts by Becca Anderson
Legends & Lies: The Civil War by Bill O'Reilly and David Fisher
Whose Who in American History: Leaders, Visionaries, and Icons who Shaped Our Nation by John M Thompson, William R Gray, and KM Kostyal
Sources:
http://www.harriet-tubman.org/
https://www.womenshistory.org/education-resources/biographies/harriet-tubman
https://www.battlefields.org/learn/biographies/harriet-tubman