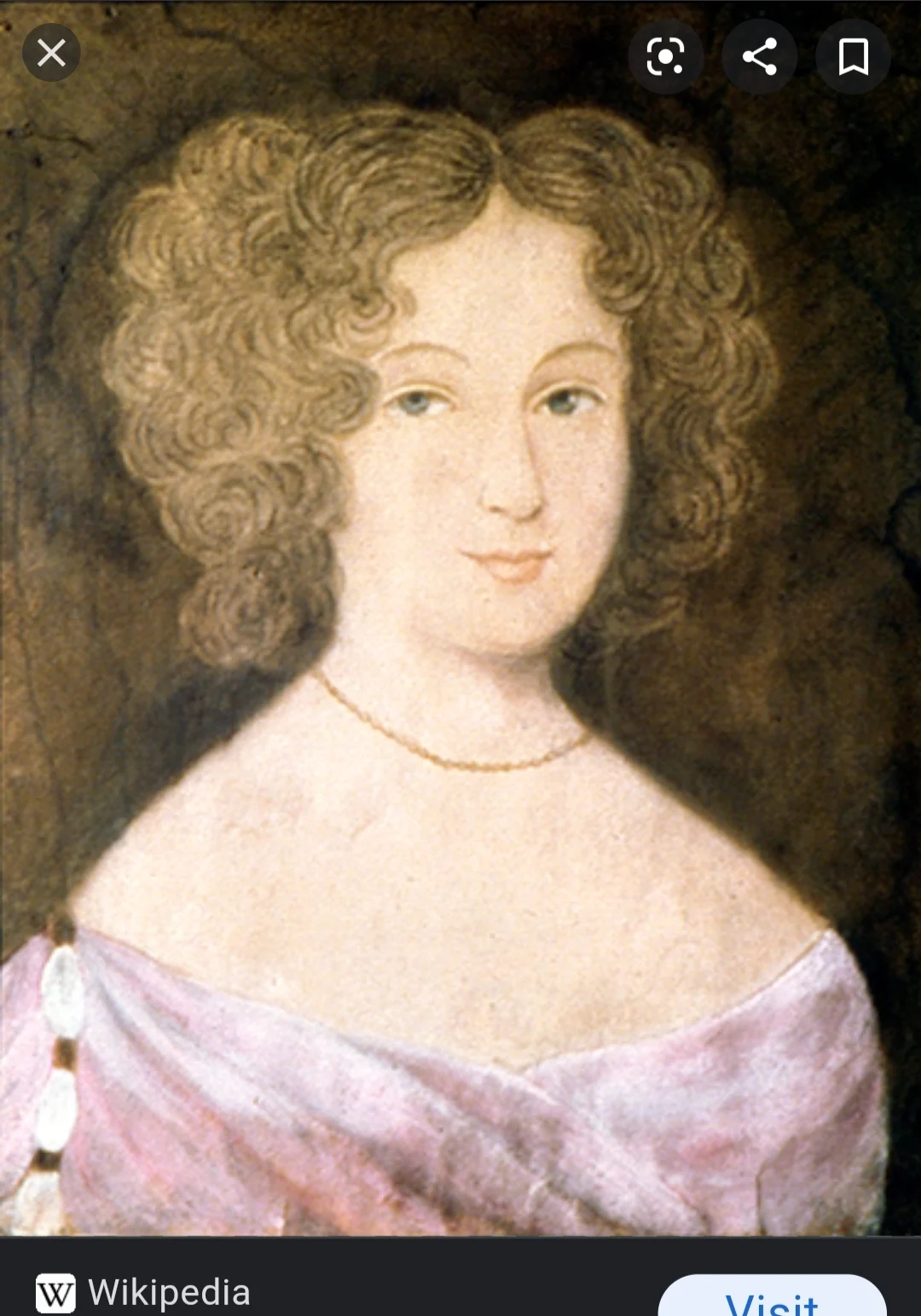 1162: Frances Culpeper Stephens Berkeley Ludwell
Wife of Three Colonial Governors
Born: 1634, Kent, England (Present-day Kent, United Kingdom)
Died: c.1695, Jamestown, The Colony of Virginia (Present-day Jamestown, Virginia, United States of America)
Also Known As: Lady Frances Berkeley
Frances was one of the leaders of the Green Springs Virginia Political Faction, which effectively controlled all but the governor's office of the Virginia Colony for two years.
Frances arrived in the New World with her family around 1650. She was the youngest of five children. Her first husband was Captain Samuel Stephens, the governor of the Albemarle settlements in what is today, North Carolina (although it should be noted he only became governor fourteen years after he and Frances married).
After Frances's first husband died, she inherited his wealthy estate, and because they had no children the entire inheritance went to her and her alone. Her next husband was the governor of Virginia, William Berkeley. Frances and her second husband lived together on his own large estate, Green Spring. They married during his second term as governor. Frances became stepmother to William's two children from his own first marriage.
She supported her husband during Bacon's Rebellion and argued his case before Charles II, King of England at the time. Bacon's Rebellion was a particularly trying time for Frances because her husband and her relative, Nathaniel Bacon, were on opposing sides of the debate. Sadly, France's pleading for her husband before the king ended in failure, and she returned to the colonies with her husband's replacement.
In the 1680's, Frances married for a third time after her second husband's death. This new husband, Philip Ludwell, was the treasury of the Virginia Colony and also served as deputy governor of the Carolinas. It was around this time that Frances reached the height of her political power, but this waned within a few years. At the height of her power, Frances, Philip, and several other men who made up the Green Spring Faction were the most powerful political group in Virginia, and they were often at odds with the governor.
Frances petitioned the House of Burgesses on her third husband's behalf, usually while he was working out various legal issues her second husband had left behind.
William Byrd, one of the most prominent figures in Virginia at the time, spoke of Frances's competence and entrusted documents with her. Frances was known for her sharp wit and intelligence and was one of the most influential figures in Virginia society at the time.
Debate continues to this day as to whether or not Frances had any children. No children have ever been definitively identified in the surviving documents from the time, however certain written accounts from the time of Frances's life indicate that she may have been pregnant several times. It is possible that Frances was pregnant, but that she either lost the children through miscarriage or still birth, or that the babies died so early on they were never named or written into the family papers.
Whatever the case of her potential children, Frances led a full and interesting life. She was married to three different colonial governors and was a woman involved in politics in an era when so few were. Frances more than made her mark on history to say the least.
Badges Earned:
Find a Grave Marked
Sources:
https://encyclopediavirginia.org/entries/berkeley-frances-culpeper-stephens-1634-ca-1695/
https://edu.lva.virginia.gov/changemakers/items/show/197
https://colonialvirginiaportraits.org/portrait/called-lady-frances-culpeper-stephens-berkeley-1634-ca-1695-woman-of-the-ludwell-family/
https://www.womenhistoryblog.com/2007/12/lady-frances-culpeper-berkeley.html