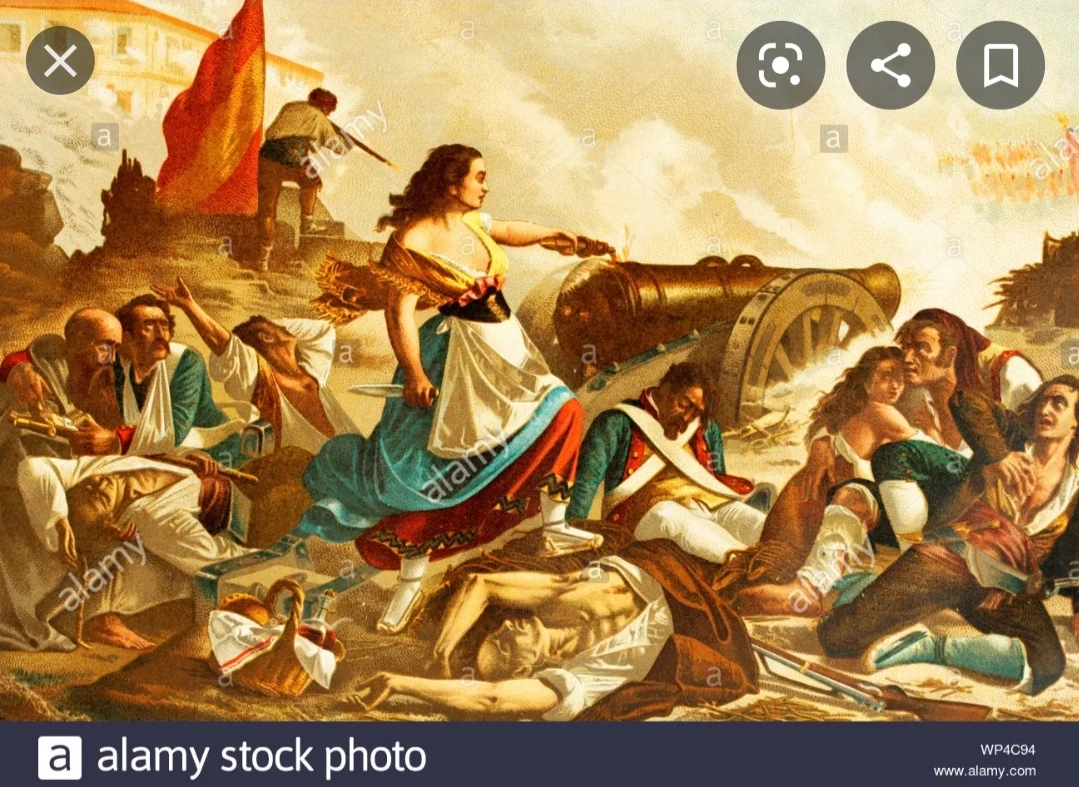 1148: Agustina de Aragón
Spanish Heroine who Defended her Country During the War for Independence
Full Name: Agustina Raimunda Maria Saragossa i Domènech
Born: 4 March 1786, Reus, Spain
Died: 29 May 1857, Ceuta, Spain
Agustina fought first as a civilian and later as an officer in the army, eventually reaching the rank of Second Lieutenant.
Agustina married at the age of only sixteen and followed her husband into battle. With this husband she had two sons, and after he died she married again to a man several years younger than her and had a daughter with him.
She has been dubbed the Spanish Joan of Arc.
Agustina saw her son die in front of her at the hands of the French. The pair were taken captive when Agustina's son was only five years old, and he died from effects of hunger and disease.
She is best known for her work in the Siege of Saragossa (also spelled Zaragoza). Agustina ran into the fray in order to light a fuse for the cannons to stop the oncoming French.
After the war's end, Agustina was granted a military pension for the rest of her life by the king of Spain. The king also awarded her the Cross of Distinction, a very high military honor for her work.
Unfortunately, except for her Wikipedia article, almost every source I was able to find for Agustina are written in Spanish, which is a language I can maybe form a spoken phrase in on a good day let alone read. Beware of that fact if you do your own research on Agustina.
Badges Earned:
Find a Grave Marked
Sources:
https://www.britishmuseum.org/collection/term/BIOG198352
https://dbe.rah.es/biografias/6525/agustina-zaragoza-domenech
https://www.biografiasyvidas.com/biografia/s/saragossa.htm
https://en.wikipedia.org/wiki/Agustina_de_Arag%C3%B3n
https://www.findagrave.com/memorial/19180016/agustina-de-arag%C3%B3n