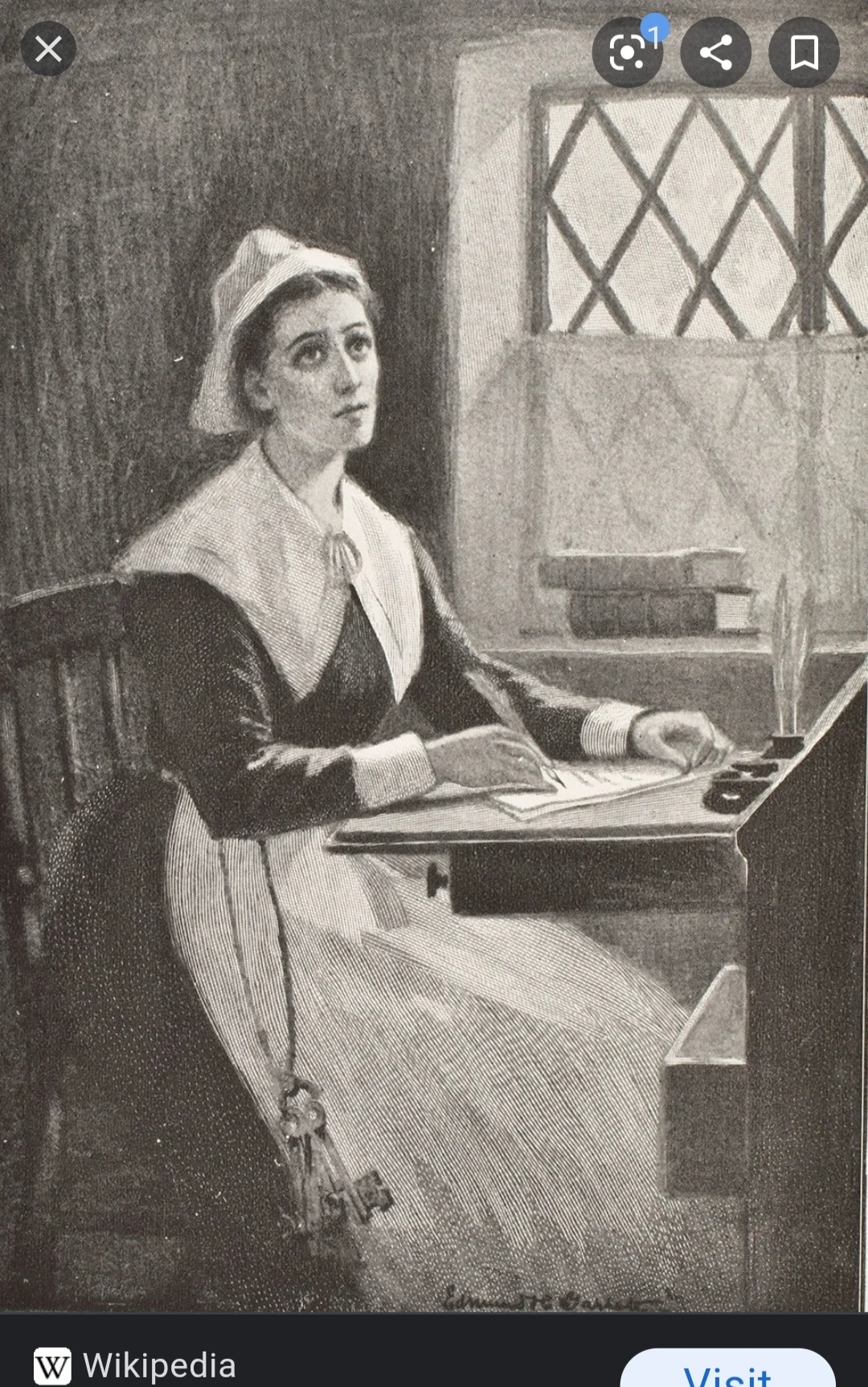 1146: Anne Bradstreet
The First English Poet to Have Their Works Printed in the American Colonies
Born: 20 March 1612, Northampton, England (Present-day United Kingdom)
Died: 16 September 1672, Andover, Massachusetts Bay Colony (Present-day Andover, Massachusetts, United States of America)
Anne was the most prominent of the early English colonial poets and has been recognized as the first female accomplished New World Poet (according to the Poetry Foundation).
Anne's poetry gained such acclaim her works were said to have been held in King George III's library.
She never attended a formal school but was instead tutored at home by her well-read father. Anne moved to the New World with her father, husband, and other family members in 1630 and gave birth to eight children in the subsequent years. Though she was a Puritan, Anne was dismayed by life in the primitive colony and missed the aristocratic manor she had been raised on in England.
For fourteen or fifteen years (sources differ), Anne and her family moved several times throughout the earliest cities in the Massachusetts Bay Colony, before they finally settled in Andover in 1645. Despite the fact that Anne would give birth eight times and care for the domestic household chores, Anne still found time to write. She used her poetry as an outlet, to contemplate and grapple with the many difficulties in her life, usually having something to do with her Puritan religion and earthly attachments to her family, which were often at odds with one another.
In 1650, Anne's brother-in-law took copies of her poems to England and published them without her knowledge. This collection would be the only poems of Anne's published in her lifetime, but others would follow in the centuries after her death. Surviving letters of Anne's have also been published, showing that she was a refreshing and groundbreaking woman for her time (Anne even told her children that she had had carnal thoughts and desires in her earlier life—shocking for her era!).
Unfortunately, according to Find a Grave, Anne's burial site has been lost to history. Her legacy and written works live on however.
Badges Earned:
Find a Grave Marked
Located In My Personal Library:
America's Women: 400 Years of Dolls, Drudges, Helpmates, and Heroines by Gail Collins
The Secret Library: A Book-Lovers' Journey Through Curiosities of History by Oliver Tearle
The Warrior Queens by Antonia Fraser
Sources:
https://www.poetryfoundation.org/poets/anne-bradstreet
https://poets.org/poet/anne-bradstreet
https://www.britannica.com/biography/Anne-Bradstreet
https://www.huffpost.com/entry/anne-bradstreet-the-first-published-poet-of-america_b_5876173fe4b0f8a7254483ba