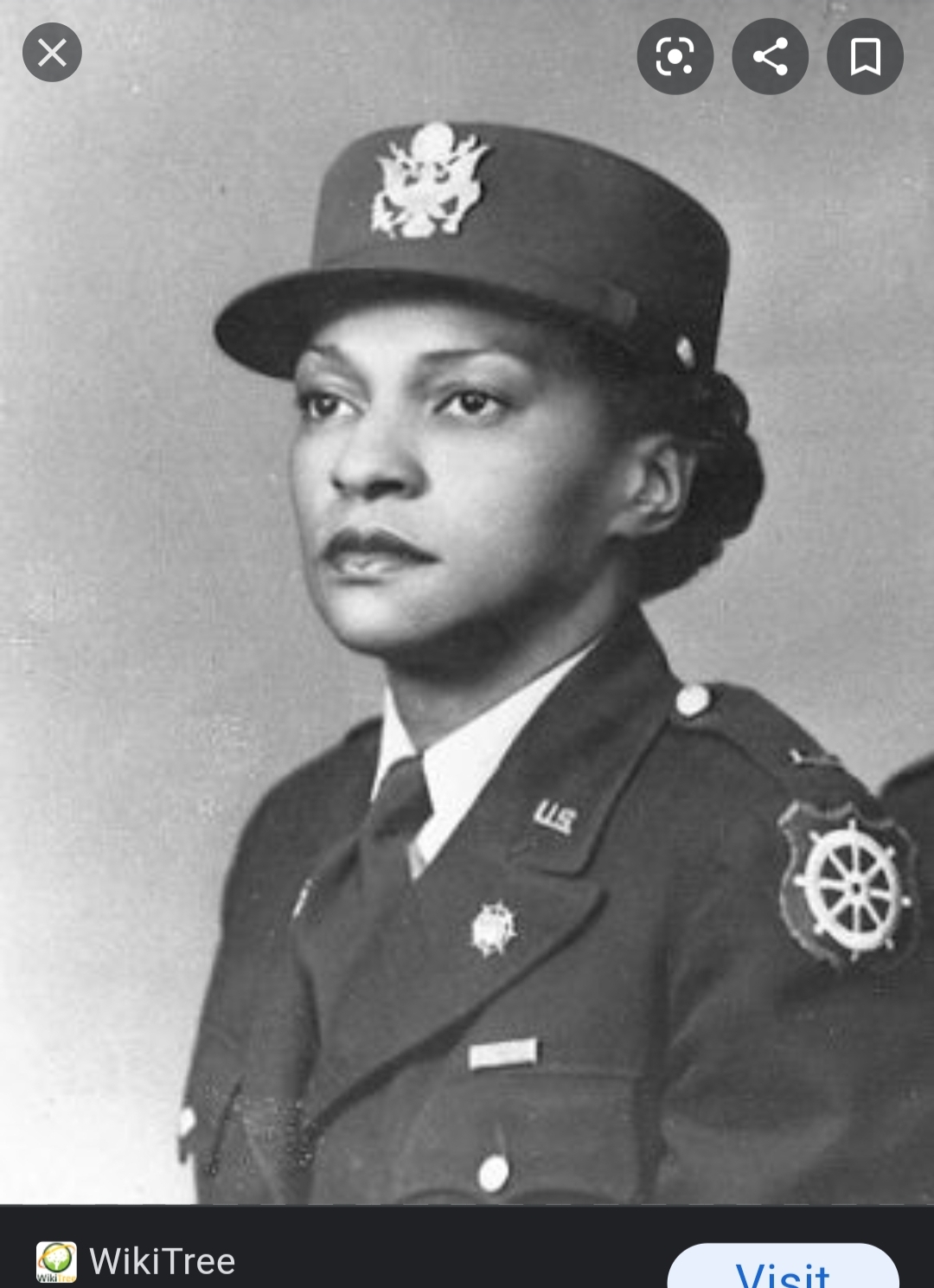 1094: Ltc. Charity Edna Adams Earley
The First African American Woman Officer in the Women's Army Corps
Born: 5 December 1918, Kittrell, North Carolina, United States of America
Died: 13 January 2002, Dayton, Ohio, United States of America
Charity was also a Commanding Officer of the first battalion of African American women to serve overseas during World War II.
Charity was well-educated for a woman of her time; especially a woman of color. Her father was a minister and her mother was a former teacher, and as such Charity's parents had encouraged all of their children to enjoy learning and earn an education. Charity went on to graduate valedictorian from her high school and move on to Wilburforce University in Ohio with a scholarship.
Charity graduated with a bachelor of arts degree in 1938 after majoring in physics, mathematics, and Latin, with a minor in history as well as taking additional education classes. She was devoted to learning to say the least, but also participated in the local NAACP chapter, Delta Sigma Theta sorority, and the Women's Self-Government Association.
After graduation, Charity spent the next four years as a junior high teacher. She taught science and math, and spent her summers taking graduate courses after settling on a vocational psychology major.
In July of 1942, Charity enlisted in the Women's Auxiliary Army Corps (WAAC)—later the Women's Army Corps (WAC). Charity was sent to Fort Des Moines as part of the first officer candidate school. At the end of August, Charity graduated and was commissioned as an officer. She remained at the training center until 1944, but was promoted to Major in 1943, making her the highest-ranking officer at the center.
At the end of 1944, Charity received word she was to command the first unit of African American women of the WAC to serve overseas. Charity's unit was tasked with identifying and delivering mail to US servicemembers that had not been delivered for whatever reason. This may not seem like a very exciting job, but to stray away from Charity's story for a moment—my own grandfather (me, the historian writing this website for clarification)—served overseas in World War II, also helping sort mail in Germany. My grandfather had a number of health problems that stopped him from serving on the front lines, but he did his part to serve, as did Charity and the women serving in her battalion.
Alright, back to Charity. Charity was given six months to sort through the major backlog of undelivered mail that had been gathered in Birmingham, England. The women worked constantly, finishing three eight-hour shifts per day. Within three months, all of the mail had been sorted and sent off to its rightful recipient. Charity and her soldiers were next sent to Rouen and Paris, also sorting through the backlog of mail. Charity later said she estimated her ladies sorted through approximately 65,000 pieces of mail per day!
In December of 1945, Charity was promoted once again, this time to Lieutenant Colonel (Ltc). The rank of Lieutenant Colonel was the highest an officer in the WAC could attain, and this placed Charity directly beneath the woman overseeing the entire operation. The following March, Charity asked to be relieved from active duty and was subsequently discharged from the Women's Army Corps.
Charity was asked to give many talks across the country and was also given many awards for her work. She finished her master's degree in 1946 and went to work for the Veterans Administration in Cleveland as a registration officer. Charity's job was to determine how much each veteran would be awarded for their education benefits or other accommodations under the GI Bill.
Charity left the Veterans Administration in 1947 and went on to work for several various colleges and schools throughout the American south. In 1949, Charity married and followed her husband to Zurich, Switzerland, where he was training to be a medial doctor. After studying for ten months to master the German language, Charity began taking classes at the University of Zurich but she did not pursue a degree.
Charity returned to the United States in the 1950's, and spent the rest of her life working and serving on various boards for several companies. Charity even founded the Black Leadership Development Company, which helps educate and train African Americans to take on leadership positions within their community. She had two children.
Badges Earned:
Find a Grave Marked
Sources:
https://www.womenshistory.org/education-resources/biographies/charity-earley
https://www.scencyclopedia.org/sce/entries/earley-charity-edna-adams/
https://www.nytimes.com/2002/01/22/us/charity-adams-earley-black-pioneer-in-wacs-dies-at-83.html
https://scafricanamerican.com/honorees/lt-col-charity-edna-adams-earley/
https://www.findagrave.com/memorial/61205558/charity-edna-earley