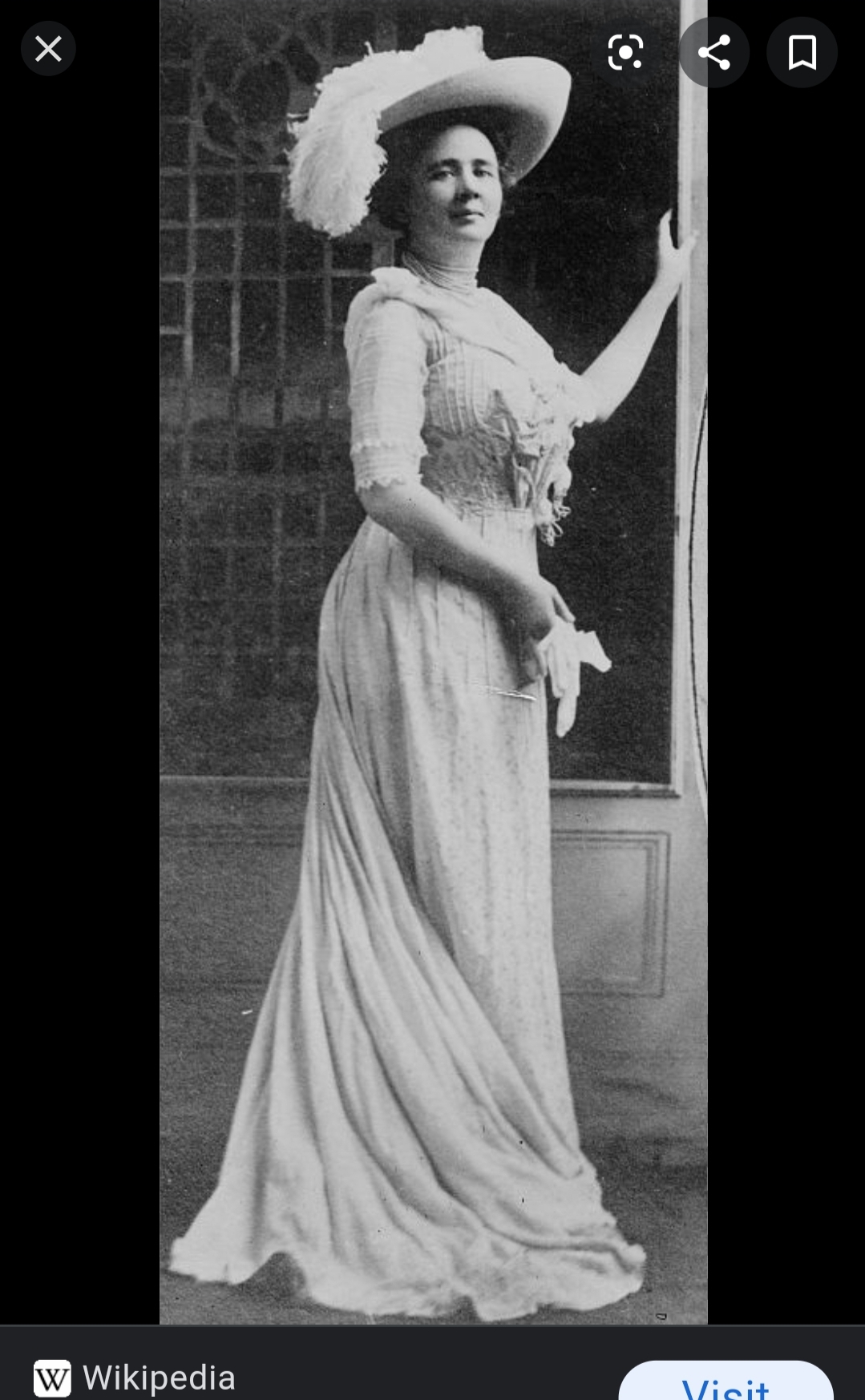 1089: Helen Dortch Longstreet
Wife of Confederate General James Longstreet
Born: 20 April 1863, Carnesville, Georgia, United States of America
Died: 3 May 1962, Milledgeville, Georgia, United States of America
Helen and James married when she was thirty-four and he seventy-six. This was only one of the many reasons for why Helen would earn the nickname "The Fighting Lady."
Before marrying the general, Helen was the first woman in Georgia to serve as Assistant State Librarian (appointed to the post in 1894). This made her the first woman to serve in a state office in Georgia history. Helen was the author of the Dortch Bill which became law in 1896—allowing a woman to serve as State Librarian. It was an important first step in giving Georgia women an opportunity to work for their state government. Two years later, Helen made history again by becoming the first female postmaster in her adopted hometown of Gainesville.
While in college, Helen became friends with a daughter or granddaughter (sources differ) of General James Longstreet, who had served as General Robert E Lee's second-in-command in the latter part of the War Between the States. Soon after the pair married, despite their significant age gap as mentioned above. General Longstreet passed away six years later, and the pair did not have any children; though the General's family from his first marriage were displeased with his marrying Helen to say the least.
Helen was always concerned (before and after her marriage) with ensuring General Longstreet and his history were remembered and recorded accurately. It was her persevering efforts that helped to change some opinions, swaying historians into believing her husband was not responsible for the Confederate defeat at Gettysburg. Today however, the General's reputation remains split, with some seeing him as a pioneer and a hero for his efforts to support Republicanism, serve with African-Americans in New Orleans, and try to heal a still-fractured country. During his lifetime, some veterans viewed General Longstreet's actions as traitorous, and that stigma remains in place today, despite Helen's efforts to change that.
When not focused on preserving her husband's reputation, Helen's passion lied with nature preservation. Her unsuccessful attempts to stop the building of hydroelectric dams was one of the first conservation moments in Georgian history. She lost her battle with the electric company in 1913, but in 1992, the company leased back several thousand acres of land to the state of Georgia in order to create a nature preserve and return the waterfalls located within the area to their previous state that Helen had been fighting to preserve.
During World War II, Helen worked at the Bell Aircraft Plant in Marietta as a riveter. She advocated widely, attempting to get women to go to work in the factories to free up men to fight. In case you've forgotten her birthdate by this point—yes, Helen was in her eighties at the time! Apparently the union tried to get her to quit but Helen refused, stating it was her patriotic duty to do what she could for her country.
And if all that wasn't impressive enough, Helen was also interested in several social campaigns as well. Everything from women's suffrage to civil rights received vocal support from The Fighting Lady.
Helen was a Progressive Party activist (serving as a delegate to their convention in 1912). She even supported President Theodore Roosevelt's campaign for the presidency that same year. In 1947 she became the first woman to have her portrait placed in the state capitol. Not to be stopped there, in 1950, she ran as a write-in candidate for Governor of Georgia but lost the election.
Helen's life was remarkable to say the least, and the fact that so few remember her today is a travesty. But articles like this one and others on the internet, and the fact that she was inducted into Georgia's Women's Hall of Fame in 2004 ensure The Fighting Lady will never be truly forgotten.
Badges Earned:
Find a Grave Marked
Sources:
https://www.georgiawomen.org/helen-dortch-longstreet
https://encyclopediavirginia.org/967hpr-30a1db10fa7504c/
https://www.georgiaencyclopedia.org/articles/history-archaeology/helen-dortch-longstreet-1863-1962
http://www.longstreetsociety.org/helen-dortch-longstreet.html
https://www.findagrave.com/memorial/25419227/helen-longstreet