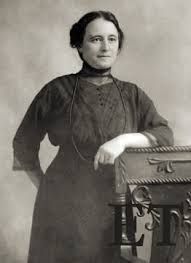 1083: Rhoda Abbott
The Only Female RMS Titanic Survivor to Have Been Pulled from the Water
Born: 14 January 1873, Aylesbury, Buckinghamshire, England, United Kingdom
Died: 18 February 1946, Surrey, England, United Kingdom
Also Known As: Rosa Abbott
Rhoda was traveling in third class with her two sons; both of whom would die in the sinking.
Rhoda's sons were Rossmore (sixteen when he died) and Eugene (thirteen at the time of his death). On the night of the sinking, Rhoda was offered a place on one of the lifeboats, but stayed onboard the ship after realizing her sons would not be allowed to escape with her.
Before the Abbott family earned their spot in history, they had been living in England and before that Rhode Island (where Rhoda had immigrated in 1894). Rhoda and her husband had divorced while living in the United States, and Rhoda decided to move her sons to England to live with her mother in 1911. Rhoda worked as a seamstress, Rossmore a bootmaker, in order to pay the bills. However, by the following year, Rossmore and Eugene were homesick and Rhoda agreed to move the family back to the United States. They had no idea that by booking passage on the Titanic, they had already sealed their fates.
As the Titanic began its final descent into the frigid Atlantic, Rhoda, Rossmore, and Eugene all jumped into the water. Rhoda was able to swim to the lifeboat known as Collapsible A, which was filling rapidly with water. Eventually the survivors in Collapsible A were transferred to nearby Lifeboat 14, where they waited and were eventually rescued with the other passengers by the Carpathia.
Rhoda's boys were never seen again.
Rhoda reportedly spent two weeks recovering in hospital upon reaching New York. Rhoda would remarry, but her second marriage was almost entirely loveless. The rest of her life was plagued by mental turmoil from all she had survived, as well as frequent times of unemployment and other financial struggles. She even suffered from Chronic asthma brought on by her night in the water.
Rhoda eventually found her way back across the ocean and she died in England thirty-four years after the sinking. Rhoda had spent the last few years of her life trying in vain to return to the United States, but thanks to the outbreak of World War II that was impossible to achieve. When she died, the only family she had left was a niece with whom she only had a distant relationship.
Rhoda is seen briefly in James Cameron's 1997 epic Titanic, however her story is slightly altered for the film. In the film, Rhoda is already seated in Collapsible A when she is handed a small girl by Cal Hockley (played by Billy Zane). Rhoda is next seen being helped back into the boat after the sinking when she is tossed out of it.
So many regular people know the history of the Titanic, at least somewhat anyway, but they do not know the story of what happened to the survivors after the sinking; how their lives were forever altered by one chance night. Some survivors went on to lead happy and productive lives, while many other remained trapped, at least mentally, on a lifeboat in the frigid North Atlantic waters, just wanting to go back to the way their life was leading on the morning of 14 April 1912. Rhoda was one such survivor, and she wasn't alone. When she sank, Titanic took over 1,500 lives with her, but in the decades after, many dozen more of the so-called "survivors" became victims of their past, unable to move on from the loved ones they'd left behind. And that is yet another aspect of the tragedy that is hardly ever considered.
Badges Earned:
Find a Grave Marked
Located In My Personal Library:
Centennial Presents The Titanic: The Shipwreck That Shocked the World, What Really Happened by Ben Harris and Sebastian Raatz
The Complete Guide to the Titanic by Julia Gastecki
Gilded Lives, Fatal Voyage: The Titanic's First-Class Passengers and Their World by Hugh Brewster
A Night to Remember by Sir Walter Lord (Seen on the Passenger List as Rosa Abbott)
How it Happened: Titanic by Geoff Tibballs (Seen on the Passenger List as S. Abbott)
Sources:
https://www.encyclopedia-titanica.org/titanic-survivor/rhoda-mary-rosa-abbott.html
https://www.encyclopedia-titanica.org/rhoda-abbott.html
https://titanic.fandom.com/wiki/Rhoda_Mary_Abbott
https://www.wikitree.com/wiki/Hunt-5911
https://www.findagrave.com/memorial/204890356/rhoda-mary-abbott