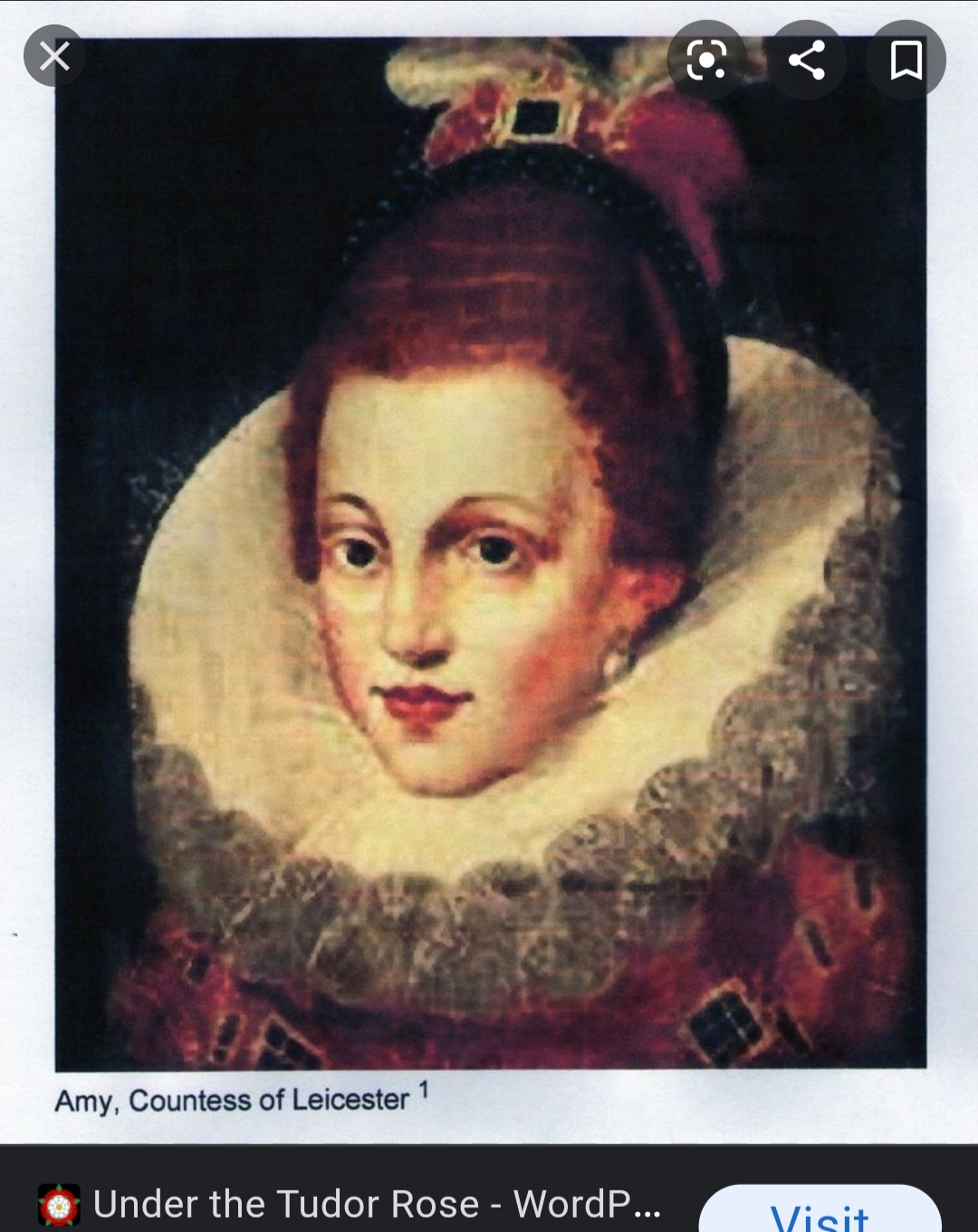 1076: Lady Amy Robsart Dudley
Accident or Murder Most Foul?
Born: 7 June 1532, Stanfield, Norfolk, England (Present-day Norfolk, England, United Kingdom)
Died: 8 September 1560, Cumnor, Oxfordshire, England (Present-day Cumnor, Oxfordshire, England, United Kingdom)
Amy was raised in a protestant family that was fairly well off, but very little else of her upbringing is known today. She was her father's only legitimate child and seemed to have had a comfortable upbringing.
Amy was the first wife of Sir Robert Dudley, a high-ranking courtier in Queen Elizabeth I's court. In fact, Robert Dudley was actually the only man Queen Elizabeth was said to have ever loved. As you can assume, his marriage led to a bit of friction between him and the queen.
Especially considering Amy and Robert's marriage might have been one of love and not just a contract like so many others in their day were. At the time, they were both only around eighteen years old. Their marriage lasted ten years, but they were unfortunately separated several times over the years. Robert was arrested and kept imprisoned in the Tower of London for a year after the fiasco surrounding his sister-in-law, Lady Jane Grey's, nine-day tenure as queen of England. A few years later, Robert was absent from his marriage once again as he was sent abroad to fight for Philip II of Spain in France (by then, Philip was married to Mary I, the queen regnant of England).
According to Tudor Society (article linked below): In November 1558, Mary I died and Elizabeth I, Dudley's childhood friend, became Queen of England. Elizabeth soon rewarded Dudley for his friendship and support by making him Master of the Horse. This role required him to be away from Amy at court, and to spend most of his time with the Queen. Just five months later, ambassadors and diplomats were repeating the gossip that the Queen was in love with her favourite, Dudley, and that the couple were planning to marry after Amy's death – Amy had some malady in one of her breasts, probably breast cancer.
Evidence suggests Amy's health had improved enough for her to visit her husband in May of 1859, but she would never see him again. When she died sixteen months later, her manner of death was extremely suspicious to say the least.
When Amy was only twenty-eight years old, she was found lifeless at the foot of the staircase in her home.
A jury of fifteen male neighbors decided her death was from an accidental fall resulting in two separate head wounds and a broken neck; and that she'd died instantly.
Copies of letters from the time indicate Amy may have had some form of mental instability or depression, leading others to conclude it may have been a suicide. However, others still think the queen had Amy done away with in order to bring Robert closer to her. If that was the case, the ploy didn't work, because Robert ended up remarrying someone else.
On the day in question, Amy reportedly sent away all of the house staff to go to a local fair. She also attempted to get the other women also staying with her to leave as well, but three of the ladies said they did not want to go to the fair because it was a Sunday. One of the women had a meal with Amy but the other two simply remained in the house. For reasons unknown, Amy was very upset and angry throughout the day, and only hours after eating the meal with the two other ladies, Amy was discovered dead.
Over four hundred and fifty years later, the true nature of Amy's death remains a mystery. Unfortunately for her, it seems to at least some that Amy has not been able to spend the ensuing centuries resting in peace either. According to an article I found, Amy's specter has been seen at three separate locations from throughout her life. She also reportedly appeared to Robert and warned him of his impending death; a week before he passed away.
Badges Earned:
Find a Grave Marked
Located In My Personal Library:
Amy Robsart: A Life And It's End by Christine Hartweg
Sources:
https://www.tudorsociety.com/4-june-1550-the-marriage-of-robert-dudley-and-amy-robsart/
http://www.berkshirehistory.com/bios/arobsart.html
https://www.tudorsociety.com/amy-robsart-really-know-christine-hartweg/
http://hauntedisles.blogspot.com/2014/09/the-ghost-of-amy-robsart-wife-of-sir.html
https://www.findagrave.com/memorial/209315914/lady_amy-dudley