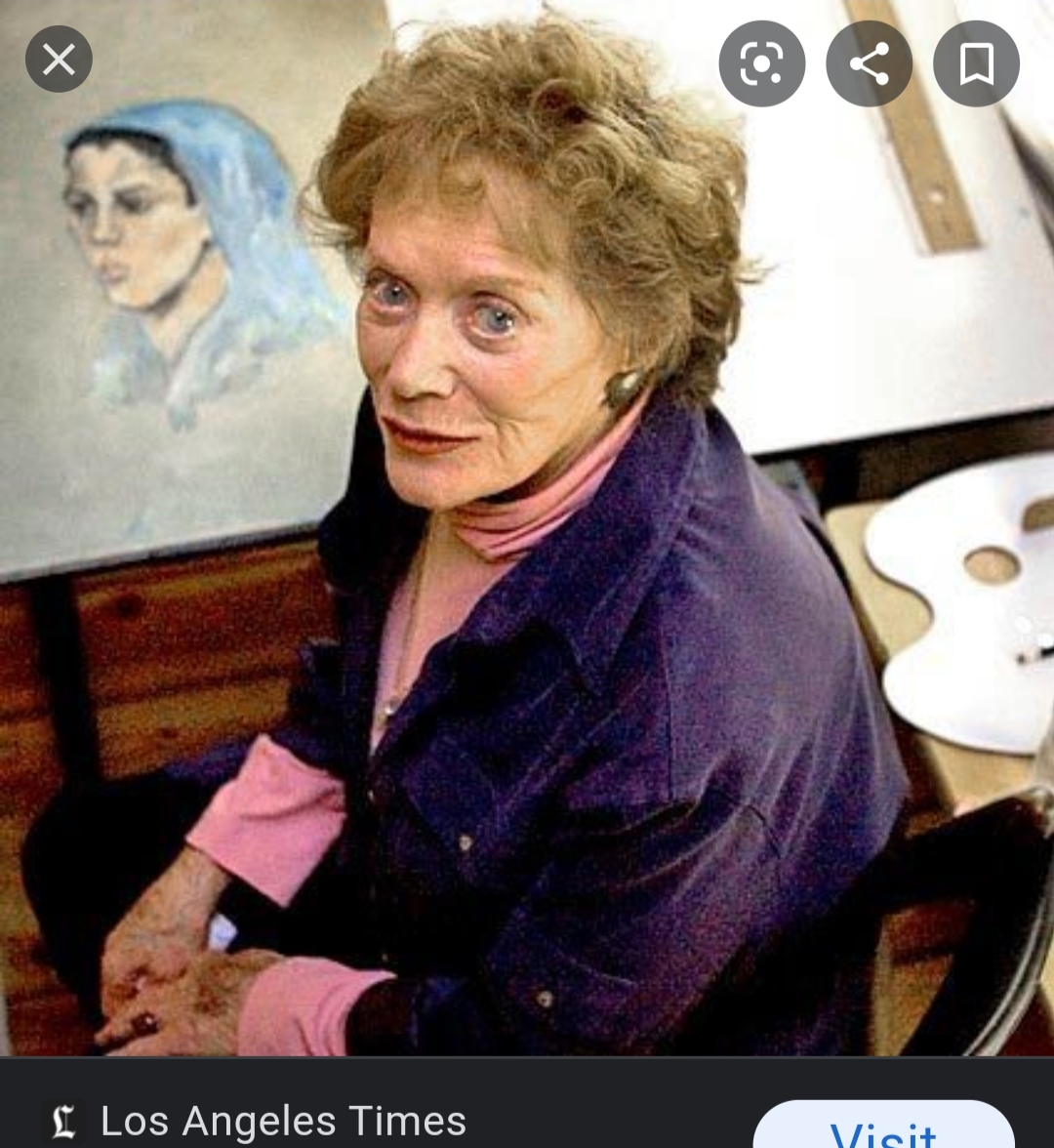 "I wouldn't be alive if it hadn't been for those paintings, and my kids wouldn't be here."
1074: Dina Gottliebova Babbitt
Shoah Survivor Whose Ordeal Didn't End with the Liberation of the Camps
Born: 21 January 1923, Brno, Czechoslovakia (Present-day Brno, South Moravia, Czech Republic)
Died: 29 July 2009, Felton, California, United States of America
Original Name: Annemarie Dinah Gottliebova
She had been an art student in her native country when she was deported to the concentration camp. Dina reportedly painted a scene from Snow White on the walls of the children's barrack to help the kids find some semblance of cheer in the dark times. After word got around, Dr. Mengele forced Dina to paint portraits of fellow inmates in order to prove their racial inferiority (in his eyes). Though Dina's father and fiancé died during the Shoah, she was able to save her mother's life by telling Mengele she would not paint for him unless her mother lived. In response, Mengele reportedly asked Dina, "What's her number?"
Dina was an assistant-animator in Hollywood after the war. She married and had two children, but later divorced her husband. She had her tattoo removed during an unrelated surgery at some point, but a scar in the spot remained. Dina quipped she sometimes used her tattoo (61016) as a lottery number.
In 1963, six of her portraits of Romani "gypsies" were discovered (a seventh was found in 1977) and Dina was notified by the museum of their existence after it was confirmed she was the original painter in 1973. Ever since, Dina and her family have been fighting to get those paintings back; which are currently held by the Auschwitz-Birkenau Memorial and Museum (who bought the paintings from survivors and therefore claim ownership of them). Dina wanted the paintings back, not to keep in a private collection in her own home, but because she saw them as her own. Dina wanted to be able to hold the paintings one more time, then donate them to a museum of her own choice. Sadly, she died before that dream could ever come true.
The US State Department and the Institute for Holocaust studies in Washington DC all tried to help the family but were unsuccessful. At one point, there was even a petition signed by over 400 comic book legends (including Stan Lee) to try and get the paintings restored to Dina.
In 2017, the paintings were part of an exhibit at the museum without the family's permission. The museum was also planning on copying the paintings into books to sell—again without the family's permission, and in violation of the permitted public use agreement the museum signed with the family, which states the museum is not allowed to profit off of Dina's artworks.
According to Dina's daughter Karin, "My mom was tortured, forced to draw for Dr. Mengele. Her work is being exploited. This is not an exhibit to say the Holocaust should never happen again. They are extorting the work of her hands. This is a public, intimate raping of Jews. If she was still alive, she would go and handcuff herself to the exhibit to be with her paintings and to make a statement… Ultimately, my mother got a letter saying if [the paintings] belong to anyone, they belong to Dr. Mengele and his heirs since they were painted under his employment. How do I feel about that? That they were 'commissioned'? She told them every day, 'I will hold onto the wire of the electric fence because life is meaningless.' This is commissioned?... The one dream my mother had was that she wanted her paintings to be displayed in America because she was an American and proud to be one. If my mother knew I was crying, she'd be furious. 'If you cry,' she would say, 'they win.'" (Courtesy of the JWeekly article linked below).
The Holocaust Museum continues to state the paintings' historical significance supersedes the family's right to them.
Dina was eighty-six when she passed away from cancer. Just before she died, the museum sent Dina and her family "reproductions" of her original paintings, but still refused to give up the originals. Dina never opened the copies.
Badges Earned:
Find a Grave Marked
Sources:
https://www.latimes.com/nation/la-me-dina-babbitt1-2009aug01-story.html
https://www.jweekly.com/2017/08/15/auschwitz-forced-paint-now-family-wants-art-returned/
https://www.nytimes.com/2009/08/02/arts/02babbitt.html
https://www.findagrave.com/memorial/40129244/dina-gottliebova-babbitt