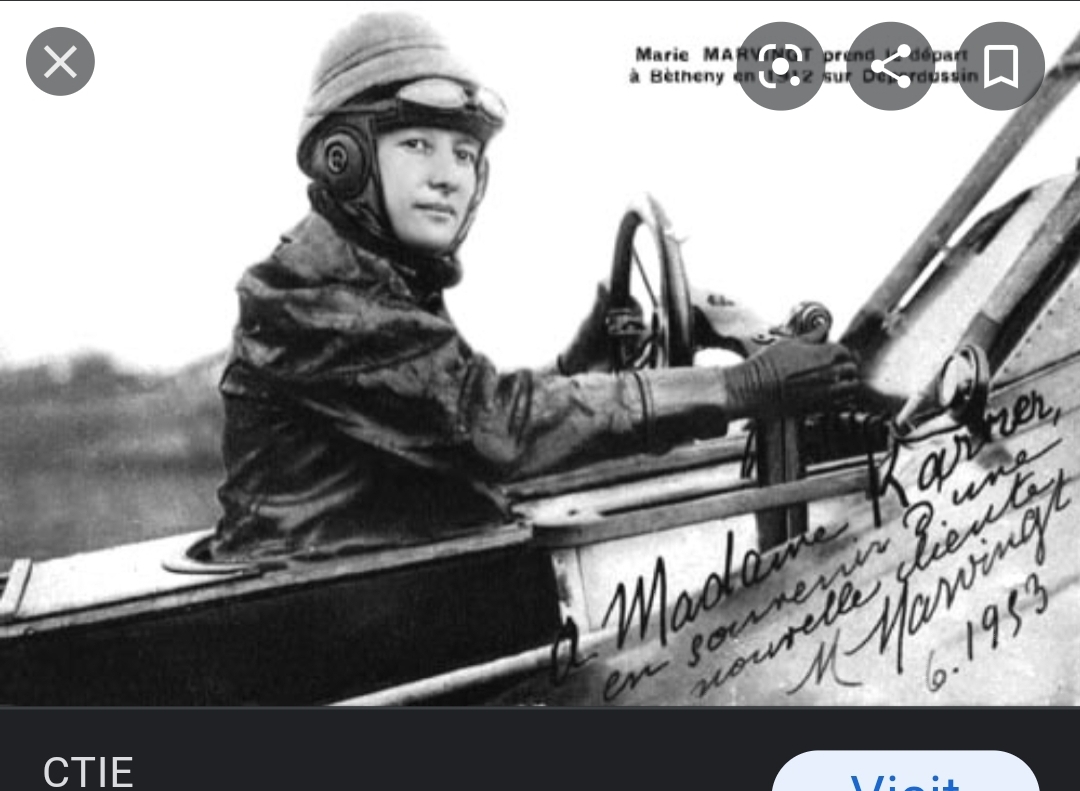 1061: Marie Marvingt
It Takes a Special Kind of Woman to be Nicknamed, The Fiancée of Danger
Born: 20 February 1875, Aurillac, Auvergne, France
Died: 14 December 1963, Laxou, Lorraine, France
Marie was a true athlete and was proficient in a number of sports including mountain climbing, cycling, swimming, fencing, shooting, skating, bobsledding, flying in various aircraft, and more.
Marie was the first woman to climb many French and Swiss mountains. According to one source, she earned her helicopter pilot's license when she was eighty.
Two years before she died, at the age of eighty-six, Marie bicycled one hundred and seventy-five miles across France, just because she could. That attitude was reflected throughout her trend setting, incredible life.
In 1908, for instance, Marie was denied entry to the Tour de France because of her gender. Undeterred, Marie decided to cycle the race anyway and finished it independently while two-thirds of the male competitors failed to complete the race.
She was also a record-breaking balloonist. In 1907 (or 1901, sources differ), Marie was the first woman in France to earn a balloon pilot's license. In October of 1909, she became the first person to pilot a balloon over the English Channel from England to France. The following year, she became the third woman in the world to earn a fixed wing pilot's license. That same year, Marie became the first woman to hold a flying record for women after a successful fifty-three-minute-long flight. Flight at the time was incredibly dangerous, yet Marie managed to fly nine hundred consecutive flights without a single crash.
In 1915, Marie was even the first woman to fly combat bomber raids in history. To put that into perspective; this was only twelve years after the Wright Brothers first flew at Kitty Hawke--twelve years. Marie was involved in at least two raids against the German lines during World War I. Some sources even claim she served on the front lines as an infantryman earlier in the war. For her efforts, Marie was awarded the Croix de Guerre.
She was a surgical nurse and the first trained and certified flight nurse in the world. As early as 1912, Marie had designed her first air ambulance and oversaw the deployment of flight ambulances in North Africa. Marie also helped establish the first training protocols for flight nurses.
In the 1930's, Marie even found time to help direct and star in two films.
Among her other awards, Marie was the first and only person in the world to ever be awarded the "For All Sports" French National Sports Federation award in 1910.
According to Women in Aviation International, Marie, "Was so successful in sports that she was named in a 1914 anti-feminist book as setting a poor example for young women, because she did not participate in sports for entertainment or health, but displayed unladylike characteristics in that "she competes fervently" and "really tries to win.""
Badges Earned:
Find a Grave Marked
Rejected Princess
Located In My Personal Library:
Rejected Princesses by Jason Porath
Sources:
https://www.wai.org/pioneers/2007/marie-marvingt
https://www.uh.edu/engines/epi2504.htm
https://www.ctie.monash.edu/hargrave/marvingt.html