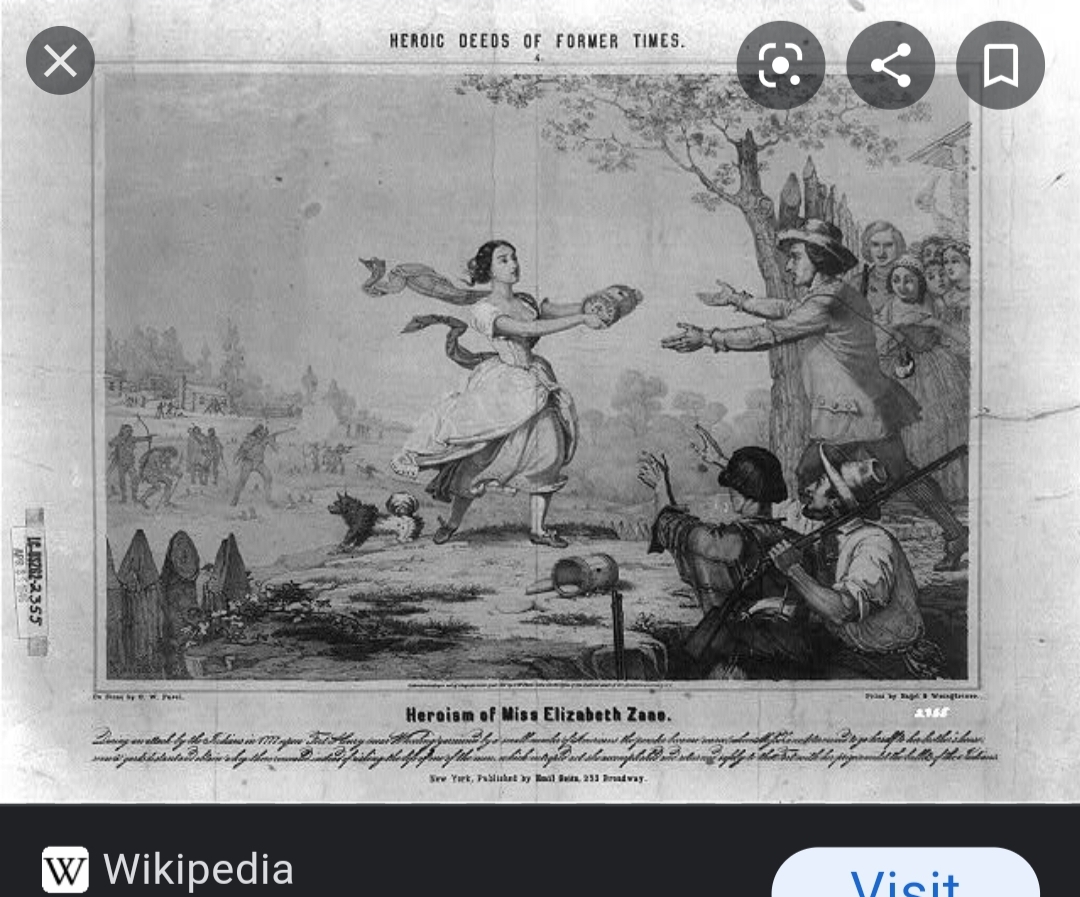 "You have not one man to spare; a woman will not be missed in the defense of the fort…'Tis better a maid than a man should die."
(Betty's supposed words when someone suggested a man go for the gunpowder instead of her)
1060: Elizabeth "Betty" Zane
Famed Revolutionary War Volunteer
Born: c.1759-1766, The Colony of Virginia (Present-day West Virginia, United States of America)
Died: c.1823-1831, Ohio, United States of America
Full Name: Elizabeth Zane McLaughlin Clark
Betty was present at the siege of Fort Henry in Wheeling, present-day West Virginia the day she entered the pages of history. The town and its nearby fort had been founded by Betty's older brothers several years before the siege occurred in 1782.
As the story goes, Betty had just returned home from school in Philadelphia when a band of Native Americans and British regulars attacked the town. The locals panicked and raced into Fort Henry, near the town, without grabbing enough gunpowder to adequately defend themselves.
Inside the fort they ran out of gunpowder in the midst of the fighting, so Betty ran to her brother's house, loaded the gunpowder into her apron, then ran back towards the Fort. The soldiers fired at her once they realized what she was doing, and supposedly pierced her clothes, but she managed to return to the fort unscathed. The amount of gunpowder she returned with was enough to ensure the inhabitants of the fort were able to fight off the Natives until more help could arrive.
While the story is quite imaginative and fun to listen to, there is little actual documentation about Betty's life to ensure the story is factual. All we really know about her is that after the war she married and moved to Ohio. Her story was fixed in American history after her descendant and famed author Zane Grey published an account of the battle and included his ancestor's story in 1903.
Today, a monument to Betty's courage is located in her adopted hometown of Martins Ferry, Ohio.
No known depictions of Betty from her life survive to present-day. The image of her shown here is an artist's interpretation of events that happened during the siege.
Badges Earned:
Find a Grave Marked
Located In My Personal Library:
Women Heroes of the Revolution by Susan Casey
Sources:
https://www.britannica.com/biography/Betty-Zane-American-frontier-heroine
https://www.ohiocountylibrary.org/wheeling-history/4226
https://rimcountrymuseum.org/who-was-betty-zane/