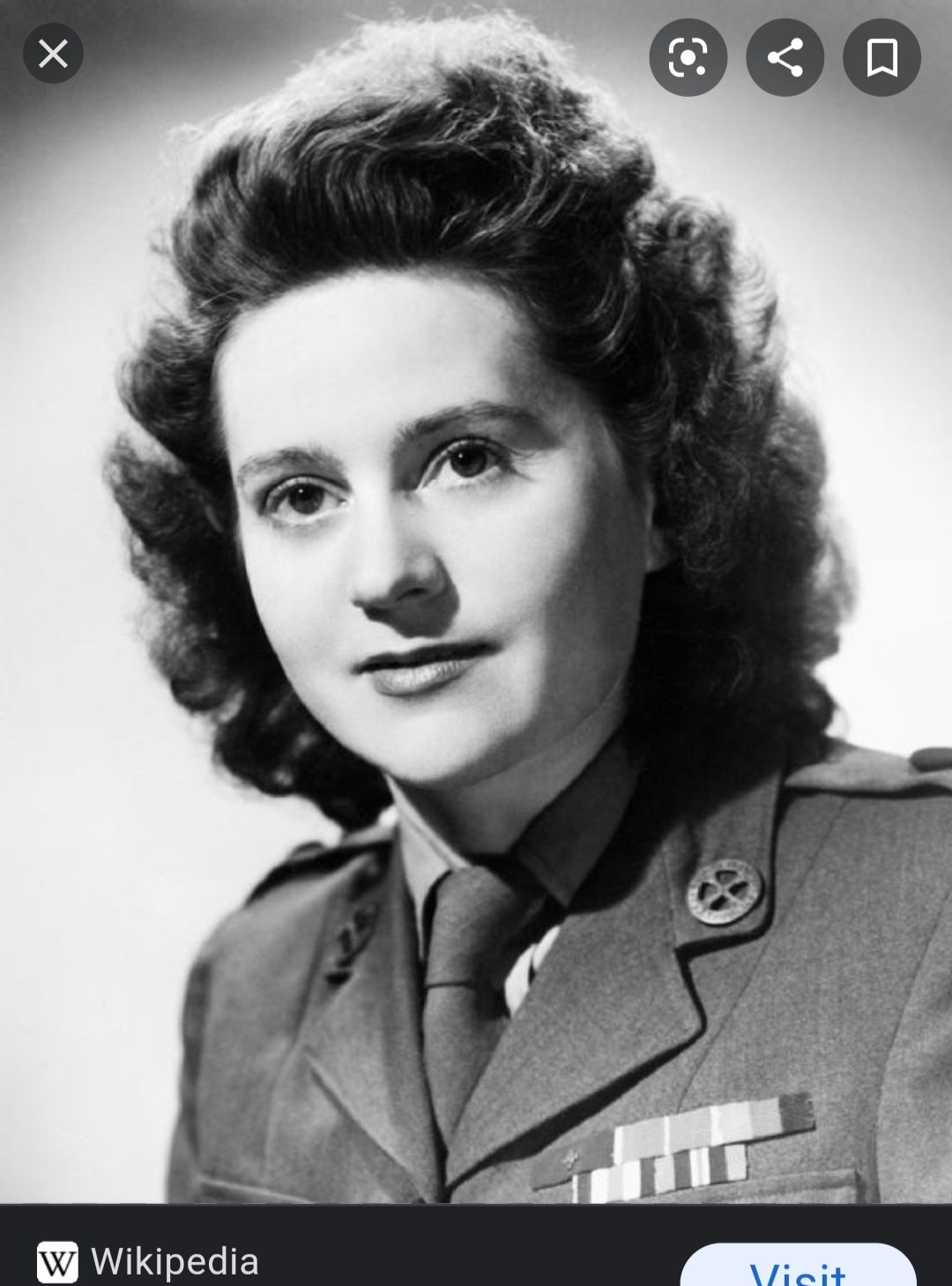 "How strong the reserves upon which you draw you never realize until you need them, but believe me they do not fail you." 
1050: Odette Sansom Hallowes
SOE Operative During World War II
Born: 28 April 1912, Amiens, Picardie, France
Died: 13 March 1995, Walton-on-Thames, Surrey, England, United Kingdom
Odette worked as a radio operative for the SPINDLE network in occupied France.
In 1942, Odette was a Frenchwoman living in England with an English husband. She had three young daughters at home, but when the SOE came knocking, she signed up straight away, prepared to do whatever it took to win the war. Odette didn't want to leave her daughters, but she did want to save her birth country and her family still living there from the Nazi occupying force.
At the end of October that same year, Odette arrived in France with her new codename "Lise" already in place. At the same time, Odette met another SOE Agent, Peter Churchill, codenamed "Raoul." The following April, Odette and Peter were both arrested. Odette swore to her interrogators Peter was simply a pawn who knew nothing. In order to protect him, Odette claimed she was the actual ringleader and took full responsibility for the SPINDLE network's operations. The Gestapo believed her, and decided to get every shred of information out of her they could possibly get.
Odette was repeatedly tortured, over and over again. Her toenails were pulled out, one by one, and hot pokers were placed on her bare skin. But to every question Odette was asked, she simply replied, "I have nothing to say." Her bravery saved the lives of countless other SOE operatives and resistance fighters from being identified and arrested.
In July of 1944, Odette arrived at Ravensbruck Concentration Camp, where the torture continued. For one stretch that lasted over three months, Odette was locked in a darkened room by herself and left there to rot. The area she was held was appropriately called "The Bunker" by the prison's staff.
In May of the following year, with American forces nearing, the camp commandant decided he wanted to survive his impending arrest. Odette promised to help him earn some leniency from the Americans by claiming she was related to Winston Churchill. She backed up this claim by reminding him she had first been arrested with one Peter Churchill (there was no actual relation between the two men).
The camp commandant took Odette with him, but when they arrived at the American camp, Odette told the Americans to arrest the commandant. The commandant was later hanged for war crimes, and Odette went on to testify against several other of the camp staff members at their own later trials.
In 1946, Odette was awarded the George Cross (the first woman ever so awarded) for her bravery and for refusing to break under torture. She earned several other accolades as well, including the Chevalier de la Légion d'Honneur from France in 1950. That same year, a film was made about her. But despite this, Odette didn't want fame or fortune. She simply wanted to be left alone, to go back to the life she had lived before the war.
Odette was married three times throughout her life. Her second husband was Peter Churchill. They wed after her first husband passed in 1947. After Peter and Odette divorced, Odette married another former SOE agent, but her only children were her three daughters she shared with her first husband.
Odette spent the rest of her life asking for the world to remember those who didn't make it home. In 2012, the UK's Royal Mail service honored Odette by placing her image on a postage stamp.
Badges Earned:
Find a Grave Marked
Located In My Personal Library:
Women Wartime Spies by Ann Kramer
Secret Heroes of World War II by Eric Chalene
Who Knew? Women in History by Sarah Herman
Sources:
https://www.iwm.org.uk/history/odette-sansom-gc
https://time.com/5502645/decorated-wwii-spy-odette/
https://www.nytimes.com/1995/03/21/obituaries/odette-hallowes-82-a-british-agent-tortured-by-nazis.html
https://www.findagrave.com/memorial/63293111/odette-marie_celine-hallowes