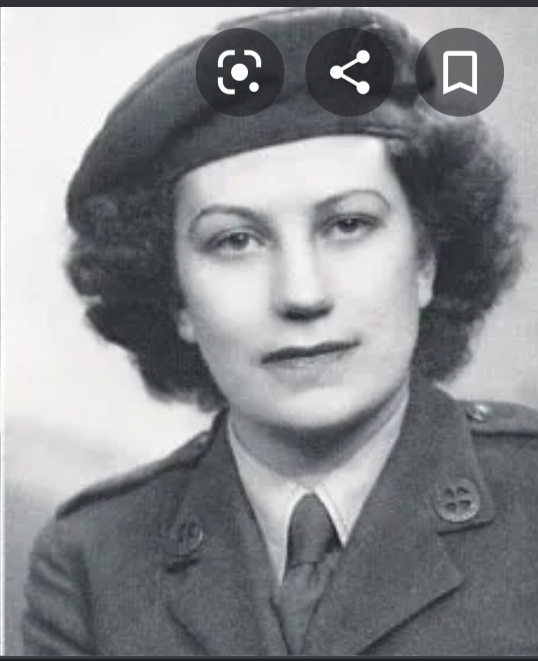 "The will to live. Willpower. That's the most important. You should not let yourself go. It seemed that the end would never come, but I always believed in destiny, and I had a hope."
"If you are a person who is drowning, you put all your efforts into trying to swim."
1049: Eileen Nearne
Special Operations Executive Agent During World War II
Born: 15 March 1921, London, England, United Kingdom
Died: 2 September 2010, Torquay, Devon, England, United Kingdom
Her Codename was Rose, but her family knew her as Didi.
Eileen was born in the United Kingdom, but her family moved to France when she was a child. Her father was English, her mother Spanish, and she was one of four children. As a result of the move to France, she was raised and became fluent in French and English both. In 1940, the family fled to Spain ahead of the Nazi invasion, where Eileen, her brother, and her sister were all recruited by Britain's Special Operations Executive.
Eileen worked as a radio operative, helping the Allies prepare for the D-Day Landings at Normandy. She initially received radio communications in London, but was eventually air-dropped into France in order to help set up the "Wizard" communication network; whose goal was to secure funding for the French resistance.
After being captured by the Gestapo in July of 1944, she was taken to Ravensbruck Concentration Camp, where the guards shaved her head for refusing to work. They also tortured her in an attempt to get her to reveal the secrets she knew. Eileen was stripped naked, beaten, and repeatedly dumped in ice cold baths, but she never broke. At the time, Eileen was twenty-three years old.
The story Eileen gave the Gestapo was that she was a gullible Frenchwoman named Jacqueline. According to her, a local businessman had asked her to transmit radio messages. How was she supposed to know they were secret coded transmissions?
In December of 1944, after being transported to several other camps, Eileen and two other Frenchwomen escaped. They were soon captured by the Americans who accused the women of being Nazi collaborators.
Eileen finally managed to convince the American GIs she was an actual SOE Agent after her story was confirmed by her bosses in London, and she was released. She survived the war, but the scars it left behind never went away.
After the war, Eileen often lived with her sister because of the lingering psychological effects of what she had seen. She also drew pictures to help deal with it all and trained to be a nurse.
Sadly, by the end of her life, Eileen was living alone. Her sister had died in 1982, and Eileen had never married or had children. When she passed away in her flat, her body went undiscovered for several days. After Eileen finally was discovered, local authorities originally planned to give her a civil burial; a more politically correct term for pauper's grave. Her neighbors remembered Eileen as an incredibly private little old lady, who loved cats and just wanted to be left alone.
As the police looked through her belongings, they discovered Eileen's Croix du Guerre, awarded to her by the French government for her actions in World War II. After this accidental find, Eileen's story was rediscovered and broadcast around the world, finally giving her the credit she'd long been due.
According to the New York Times:
"On Tuesday, the anonymity that Ms. Nearne had cherished in life was denied her in death. A funeral service in Torquay featured a military bugler and piper and an array of uniformed mourners. A red cushion atop her coffin bore her wartime medals. Eulogies celebrated her as one of 39 British women who were parachuted into France as secret agents by the Special Operations Executive, a wartime agency known informally as "Churchill's secret army," which recruited more than 14,000 agents to conduct espionage and sabotage behind enemy lines.
Funeral costs were paid by the British Legion, the country's main veterans' organization, and by anonymous donors who came forward after the circumstances of Ms. Nearne's death made front-page news in Britain."
Badges Earned:
Find a Grave Marked
Located In My Personal Library:
Women Wartime Spies by Ann Kramer
Secret Heroes of World War II by Eric Chalene
Sources:
https://www.nytimes.com/2010/09/22/world/europe/22nearne.html
http://www.theheroinecollective.com/eileen-nearne/
https://www.warhistoryonline.com/instant-articles/eileen-nearne-british-heroine.html
https://www.findagrave.com/memorial/58799231/eileen-mary-nearne