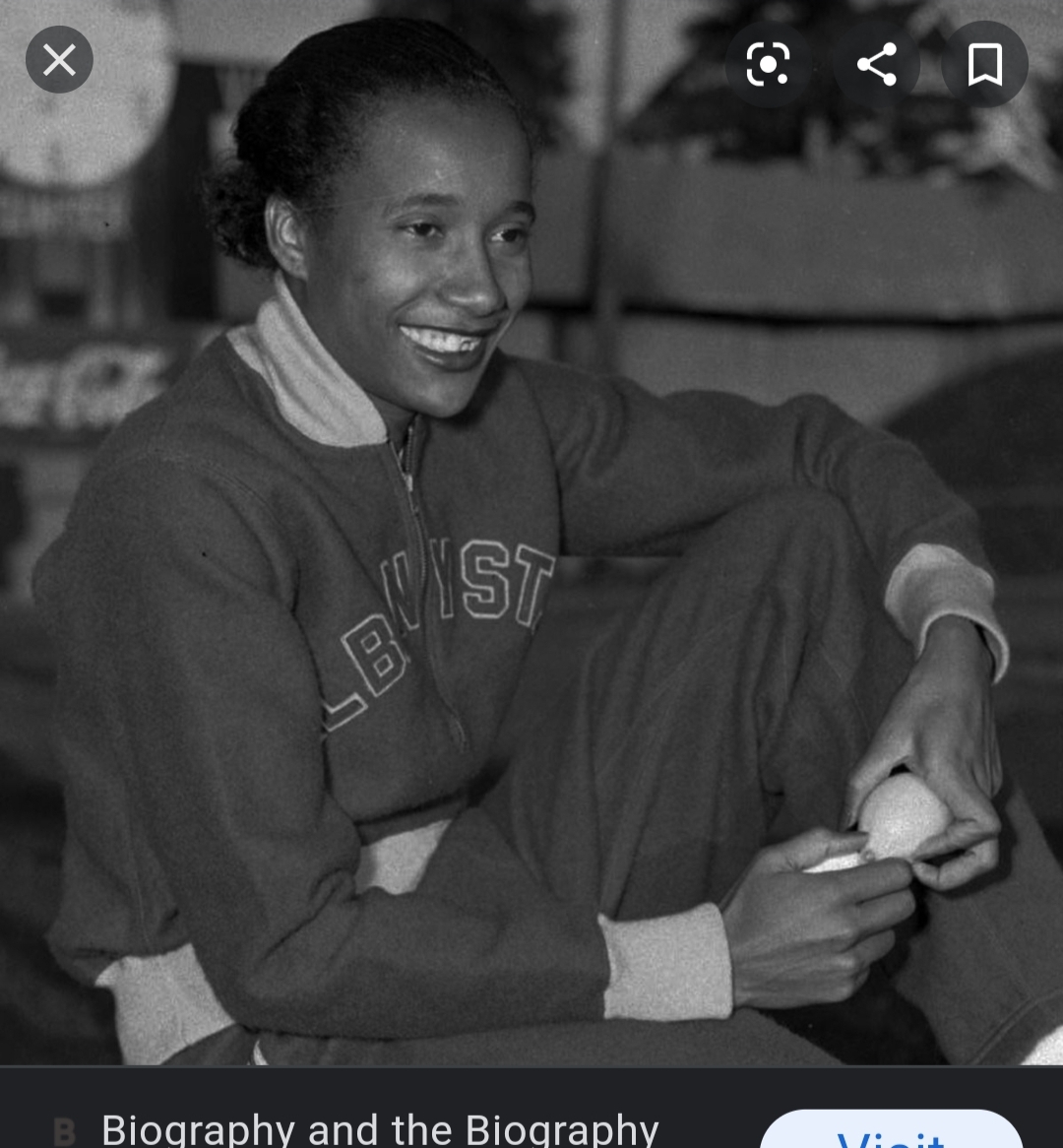 "I made a difference among the blacks, being one of the leaders. If I had gone to the games and failed, there wouldn't be anyone to follow in my footsteps. It encouraged the rest of the women to work harder and fight harder."
1036: Alice Coachman
The First African American Woman to Earn an Olympic Gold Medal
Born: 9 November 1923, Albany, Georgia, United States of America
Died: 14 July 2014, Albany, Georgia, United States of America
According to the official Olympics website, Alice was the first woman of color to earn a Gold medal.
Alice was one of ten children and grew up in the deeply segregated Southern United States. Being both a woman and African American meant Alice had to work three times as hard as other male athletes to achieve her goals. She often trained on dirt roads and had to create her own hurdles in order to practice. Compound that with the fact the 1940 and 1944 Olympic Games were canceled because of World War II, and all of Alice's achievements are even more remarkable than they seem on first glance.
Alice competed in track and field on the 1948 US Team. Her main sport was the High Jump, and Alice had held the American National Title in the sport for ten years before her Olympic win.
Alice's medal was personally presented to her by King George VI of the United Kingdom. She was the only American woman to earn a gold medal at the 1948 games, in all of the events, making her achievement even more remarkable.
When Alice returned to the states, she met President Truman in the White House and was honored with a parade in her hometown of Albany. The 1948 Games ended her athletic career; she was twenty-four years old at the time and graduated from college the following year.
Alice was also the first African American to endorse a major product when she was hired by Coca Cola in 1952. She went on to become a teacher and worked in her spare time to help those in need by creating a financial foundation.
By the time she died, Alice had been inducted into nine different Halls of Fame. In her personal life, she was married twice and had two children.
Badges Earned:
Find a Grave Marked
Located In My Personal Library:
The Book of Awesome Women: Boundary Breakers, Freedom Fighters, Sheroes, and Female Firsts by Becca Anderson
Sources:
https://www.olympic.org/news/alice-coachman-athletics
https://theundefeated.com/features/alice-coachman-became-the-first-black-woman-to-win-olympic-gold-1948-games-in-london/
https://www.teamusa.org/Hall-of-Fame/Hall-of-Fame-Members/Alice-Coachman#profile
https://usopm.org/alice-coachman/
https://www.biography.com/athlete/alice-coachman
https://www.findagrave.com/memorial/132815462/alice-marie-davis