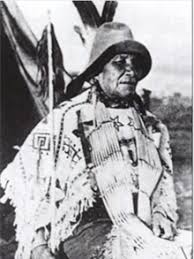 "I ran to a nearby thicket and got my black horse. I painted my face with crimson and braided my black hair. I was mourning. I was a woman, but I was not afraid."
1014: Moving Robe Woman
Helped Defeat General Custer at the Battle of the Greasy Grass
Born: 1854, Most Likely the Sioux Tribal Lands (Present-day South Dakota, United States of America)
Died: 1935, Standing Rock Reservation, South Dakota, United States of America*
Also Known As: Tȟašína Máni, Mary Crawler, Her Eagle Robe, She Walks with Her Shawl, and Walking Blanket Woman
Most readers will know the battle better by its alternate name; the Battle of Little Bighorn.
Moving Robe Woman was of the Hunkpapa Sioux band. Her father was a chief, Crawler. Moving Robe Woman was only twenty-three that day, but she fought valiantly, and was honored as a warrior until the day she died.
She fought at Little Bighorn to avenge her fallen brother One Hawk (also called Deeds, he was killed in the initial skirmish). Moving Robe Woman reportedly killed Isaiah Dorman during the battle. Isaiah was the only man of African descent killed in the battle and was working as an interpreter for the US Army at the time (another source says it was actually a group of women that killed him). Its important to note Moving Robe Woman never took credit for Isaiah Dorman's death, and instead said she did not boast of her actions that day. But in any case, obviously a woman or multiple women killed Isaiah Dorman; moral of the story? Don't mess with warrior women.
Moving Robe Woman's story is especially important, in that she actually recounted her story to be recorded many years after the battle. Her account is also heartbreaking to hear. Moving Robe Woman reminds us that after the battle ended, the Native Americans who had fought that day did not stage victory performances. They too were in deep mourning for all the people they had lost; their way of life, their culture, and their lands.
*Death date and place sourced from Wikipedia, however it should be noted that her Wikipedia article states the photo of her shown here in this article was taken two years after she reportedly died so...
Badges Earned:
Located In My Personal Library:
The Killing of Crazy Horse by Thomas Powers
Sources:
https://nickestes.blog/2017/06/25/lakota-victory-day-moving-robe-womans-account-of-the-battle-of-greasy-grass-june-25-1876/
http://www.american-tribes.com/Lakota/BIO/MaryCrawler.htm
https://www.astonisher.com/archives/museum/moving_robe_little_big_horn.html
https://www.geni.com/people/Moving-Robe-Woman-T%C8%9Fa%C5%A1%C3%ADna-M%C3%A1ni/6000000031182145889