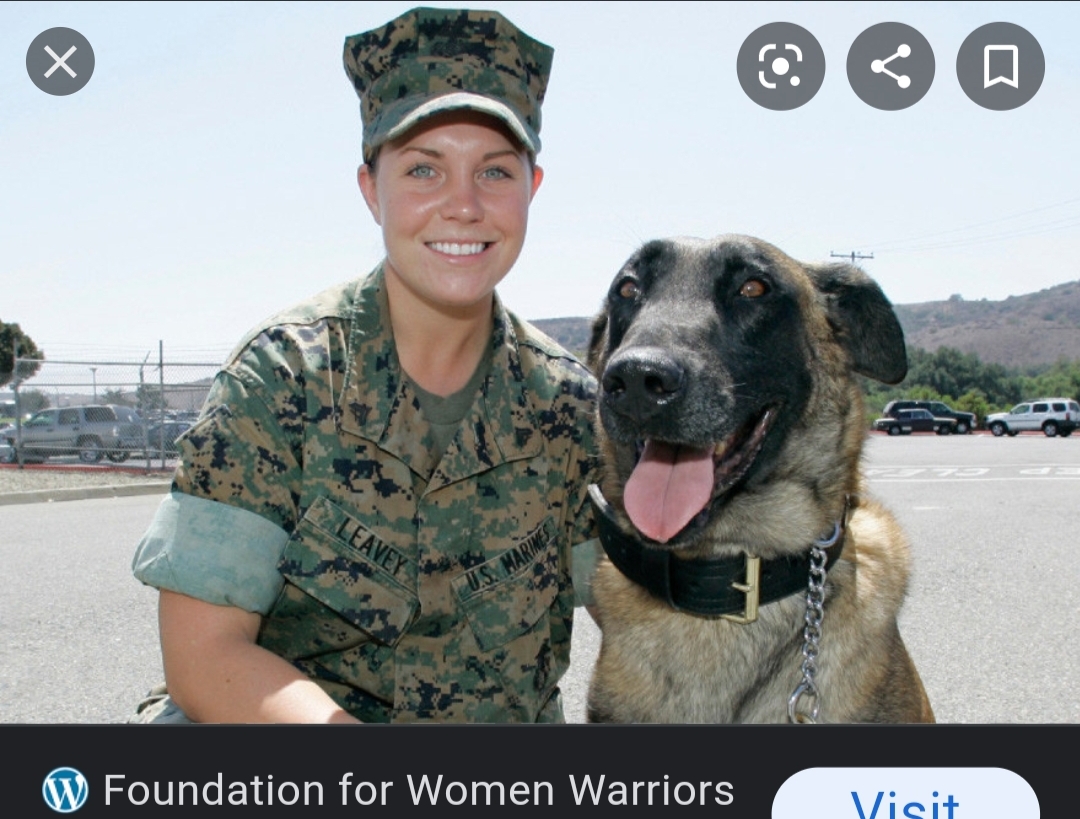 1005: Megan Leavey
Former United States Marine Corporal in a K-9 Unit
Born: 28 October 1983, Valley Cottage, New York, United States of America
Megan is famous for her fight to adopt her K-9 unit partner Rex after he was retired from the military.
Megan joined the US Marine Corps after the terrorist attacks on 9/11. Like so many other young Americans, Megan was inspired to join the armed forces after the horrible day that took so many innocent lives.
Megan's parents were less than pleased when they first learned of her plans to join the Marines. She was their only child, and they were understandably worried. However, Megan's parents soon flipped their tune and became very proud of her.
Megan officially enlisted in 2003. In 2004, at Camp Pendleton in California, Megan first met Rex (or more accurately, Sergeant Rex). Megan had been assigned to a K-9 unit and Rex became her partner. They landed in Iraq for their first enlistment in 2005. They returned for a second deployment in 2006.
K-9 Units, like the one Megan and Rex were a part of, are vitally important to the lives of soldiers in places like Iraq. Rex was specially trained to be able to sniff out IEDs (Improvised Explosive Devices), which are often used by insurgent groups. Rex and Megan would travel ahead of the other soldiers, and whenever Rex sniffed out a bomb, Megan would call it in. They would mark the site with a military grade glow stick to warn others while waiting for the EOD (Explosive Ordinance Disposal) Team to arrive.
In September of 2006, Megan and Rex were out on a patrol when things went wrong. Megan and Rex were approaching an intersection in an unfamiliar area when an explosion went off without any notice. Enemy insurgents had been watching from a nearby rooftop and detonated the device once Megan and Rex were within range. Enemy insurgents often target K-9 teams because of how successfully they are at spotting IEDs.
Megan and Rex both survived the explosion but were knocked unconscious. Megan received a severe concussion, was bleeding from her ears, and couldn't see when she first came to. Luckily, she felt for Rex and found that he was still alive and mostly unharmed.
Enemy insurgents began firing on Megan, Rex, and the other Army soldiers she was serving with that day. The US Army soldiers began firing back, and they urged Megan to return to safety. Megan refused, knowing the mission was far from over and that Rex's ability to sniff out bombs was still badly needed that day.
In all, Megan and Rex served side by side for approximately three years in total and completed around 100 missions together during two tours. Rex had previously served with another Marine, named Corporal Mike Dowling. Corporal Dowling wrote a book about his time working with Rex and was vocal in his support for Megan's efforts to adopt Rex.
Megan was eventually medevac'd to a hospital in Baghdad, while Rex was looked after by a military veterinarian, much to his dismay. Rex had an injured shoulder and had to undergo physical therapy for a year.
Megan stayed in the hospital for a week, and then went back to where she had been serving at the time of the explosion. Soon after, Megan returned to California. She had a year left in her enlistment contract and spent much of it in physical therapy and training new K-9 Marine recruits.
Megan was honorably discharged from the US Marine Corps in December of 2007. As a civilian, Megan began working for a security firm. She worked with another trained bomb sniffing dog, named Patriot, and patrolled places like Madison Square Garden and Times Square.
Megan first tried to adopt Rex when she was honorably discharged, but the Marine Corps refused the request. She was awarded the Purple Heart for her actions, but her original medal was stolen while she was still recovering at Camp Pendleton. Megan was eventually given a replacement in 2012. She was given other awards and accommodations as well.
The fight to adopt Rex became a national story after Megan learned Rex's health had begun to fail. After developing a palsy in his face, Rex could no longer perform his military duties. When Megan learned this, she started to fight for him all over again. Megan started a petition and eventually got around 20,000 signatures supporting her efforts to adopt Rex. Adopting a military dog is an extremely long and arduous process, and some military dogs are deemed unsuitable for adoption. Luckily this wasn't the case with Rex and Megan was finally able to take him home six years after they almost died on that road in Iraq. If Rex had been deemed unsuitable for adoption, then he most likely would have been put to sleep by the military.
Sadly, Rex died only eight months after Megan brought him home. He was twelve years old. Megan also adopted her other bomb sniffing dog, Patriot, after he retired.
Megan and Rex's story was made into a movie in 2017. Megan is portrayed by actress Kate Mara, but Megan herself also makes an appearance in the film as a drill instructor who gets in Kate's face.
Megan now works as a veterinary technician.
Sources:
https://www.purpleheartmission.org/stories-of-valor/megan-leavey-corporal-united-states-marine-corps
https://www.historyvshollywood.com/reelfaces/megan-leavey/
https://www.usatoday.com/story/life/nation-now/2017/06/07/megan-leavey-sgt-rex/377334001/