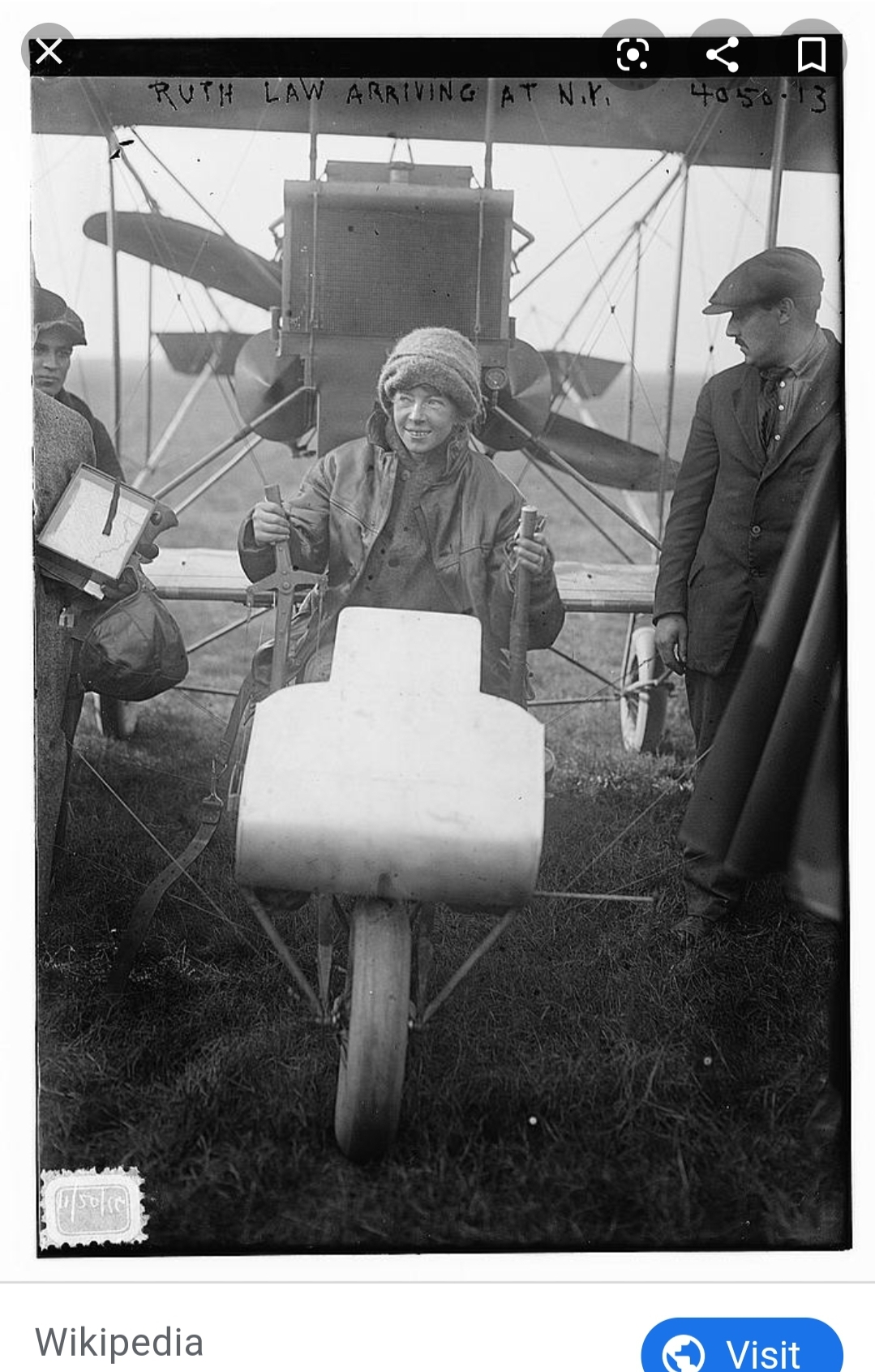 "I fly because I like to."
992: Ruth Law Oliver
Record Setting Aviatrix
Born: 21 March 1887, Lynn, Massachusetts, United States of America
Died: 1 December 1970, San Francisco, California, United States of America
Ruth is best remembered for breaking multiple flying records and for fighting to get women to be able to fly military planes during World War I.
Ruth bought her first plane from Orville Wright and received her pilot's certificate in 1912. That same year, Ruth became the first woman to fly after nightfall.
She set the aviation distance record flying 590 miles nonstop in 1916 (the first person to fly from Chicago to New York in a single day. Ruth flew continuously from Chicago to Hornell, New York, stopped for fuel and then flew on to New York City the next morning [making the total distance flown 884 miles]). By the following year, she was earning around $9,000 every week from her exhibition shows (according to Smithsonian). In 1919, Ruth became the first person to fly official airmail to the Philippine islands.
During World War I she was dubbed "Uncle Sam's only woman aviator." Though Ruth had been granted the right to wear a military uniform by the United States armed forces in 1917, she was denied the right to fly combat missions. Instead, Ruth spent the war years flying in exhibition shows to raise money for the Red Cross and other organizations.
After the war, Ruth spent a few years performing with the "Ruth Law Flying Circus." The circus was made up of three planes performing aerial stunts and other fun tricks. Ruth also became the first woman to fly the loop the loop.
However, in 1922 Ruth's flying career came to an end. According to Smithsonian, she woke to read the morning newspaper and learned her husband had announced to the world she was retiring; without asking Ruth if she really wanted to stop flying. He died in 1947, while Ruth lived on to the ripe old age of eighty-three; dying over twenty years after her husband.
Badges Earned:
Find a Grave Marked
Sources:
https://airandspace.si.edu/explore-and-learn/topics/women-in-aviation/law.cfm
https://www.ninety-nines.org/ruth-law.htm
https://www.nytimes.com/1970/12/04/archives/ruthlaw-oliver-79-pioneer-flier-dies.html
https://www.earlyaviators.com/eoliver.htm
https://www.findagrave.com/memorial/39047459/ruth-bancroft-oliver