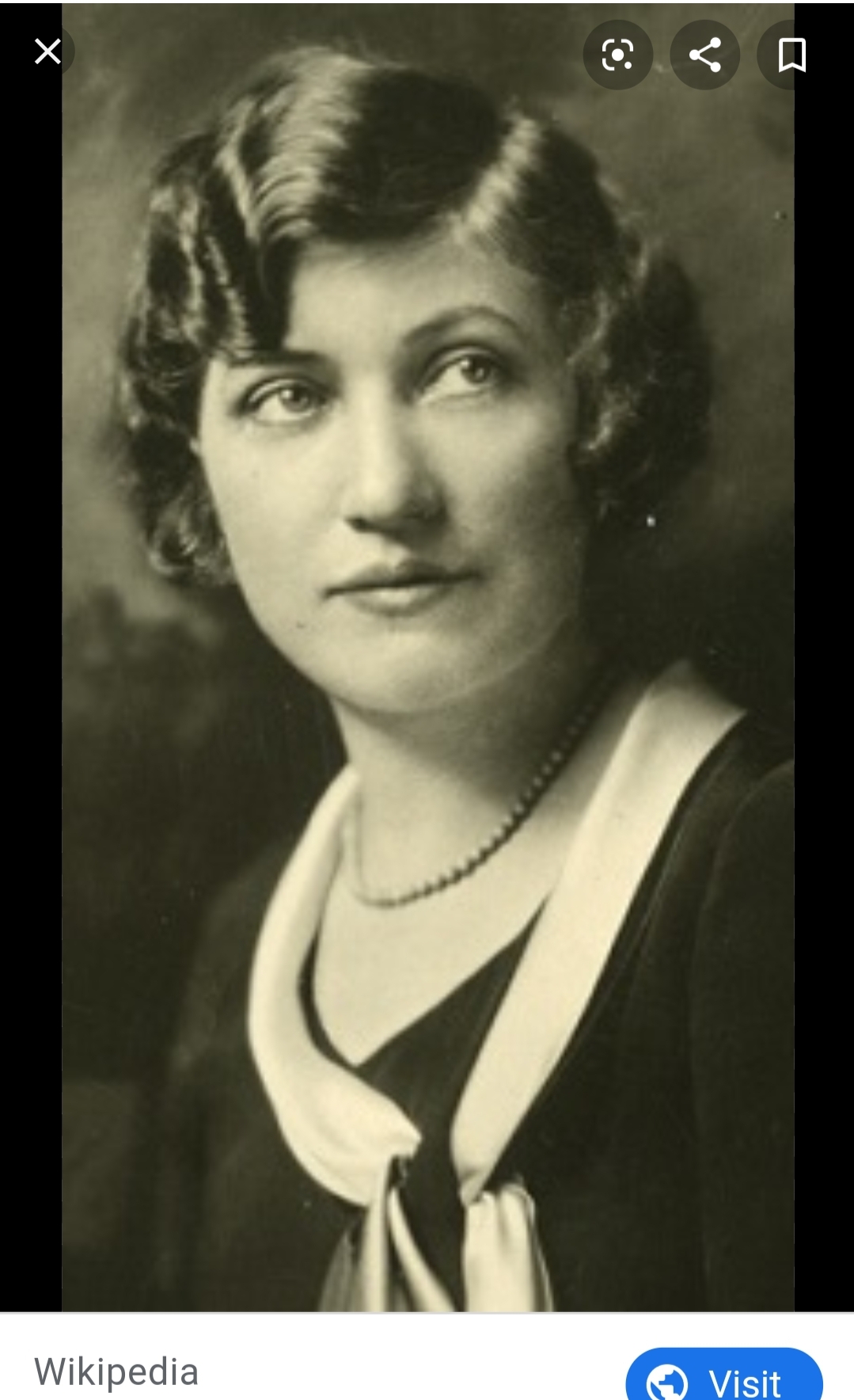 963: Nell Donnelly Reed
Founder of Nelly Don, an American Women's Clothing Line
Born:  6 March 1889, Parsons, Kansas, United States of America
Died: 8 September 1991, Kansas City, Missouri, United States of America
Original Name: Ellen Quinlan
Nell started sewing as a child to repair her family's clothes. To say her family was large and had plenty of clothes to fix was an understatement; she was the twelfth of thirteen children. Nell also made dresses for her dolls.
In 1916, Nell started making her own dresses and selling them at a local store in Kansas City. Three years later, she started Donnelly Garment Company.
The following information on Nell's business practices are skewed in several directions. The main source I used for this article, the chapter about Nell from the book Wild West Women, states the following information about Nell:
By 1931 Nell had over 1,000 employees and over $3.5 million in sales. Nell provided a pension plan, onsite medical care, a cafeteria, a recreation center and paid for group hospital care and life insurance for her employees. She also set up a scholarship fund for the employees' children to go to local colleges and paid for her employees to attend night classes if they wanted. While at work, the employees were also provided with coffee and donuts in the morning and lemonade and snacks in the afternoon; all while working in the comfort of an air conditioning building in the summer and a heated factory in the winter. Nell always ensured her employees were paid on time and had high wages. She also had both a farm and three-story clubhouse for the employees to vacation at whenever they wanted.
When the Great Depression broke out, Nell realized her female workers needed help. The majority of their husbands had been laid off from their jobs en masse. Nell rectified this by switching her business practice entirely. Before, Nell had hired seasonal workers, employing larger amounts of workers in the busy seasons while laying them off during the summer. After the Depression struck, Nell kept her workers year-round; having them work on her aprons during the summer months so they could keep taking a paycheck home.
In 1937 when the Ladies' Garment Workers Union came knocking the Nelly Don employees said No Thank You (In 1968 the workers finally joined long after Nell Retired). The fight between Nell and her employees and the Union eventually made its way to the Supreme Court, and the court sided with Nell and her workers in 1947. That same year, Donnelly Garment was the largest ladies ready-to-wear clothing manufacturer in the world.
During the fighting with the union bosses, Nell and her executives decided to ask their employees to sign an oath of loyalty, to stay with Nell Donnelly and not join the union. Out of 1,300 employees, only six chose not to sign the oath.
All of that information, to a lesser extent, is also cited and written in the article on Historic Missourians about Nell (linked below), as well as her New York Times obituary, published at the time of her death (also linked below).
Now, a fourth source (Pendergast Years) says pretty much the exact opposite of everything stated above. I'll admit it now; I have a bias towards the first two sources because, in my own personal opinion, unions are horrible for everyone involved. The Pendergast source, in my opinion, was written by someone who highly favors unions and probably has a negative opinion of Nell because she chose to fight unionization. Its up for you to interpret and decide, but the math says three against one; just saying. In any case…
The Pendergast source states Nell's workers were overworked and underpaid, and that she refused to allow the unions in because she knew it would increase costs and decrease production. According to this source, several workers actually took Nell to court over her harsh business practices.
The one thing Wild West Women and Pendergast Years agree on? How Nell managed to increase her production. In a time when Henry Ford was innovating the assembly line to manufacture his cars, Nell chose the same route for her own factory. Instead of having one woman make an entire dress, she had women creating pieces that were stitched together at the end. The way Nell's dresses were designed meant that, instead of the typical one size fits all, Nell's dresses were adjustable to fit women of all shapes and sizes.
Back to Nell's personal life; since everyone seems to agree on this end.
In December 1931, Nell was kidnapped and held for a ransom of $75,000 but after thirty-four hours she was located and released with no ransom being paid. The kidnappers, despite initially fleeing, were caught charged, and sentenced. At the time, Nell was married to a Mr. Donnelly. They fought all the time and were less than happy together. Nell's husband reached out to their attorneys after receiving the ransom note. The attorneys reached out to United States Senator Reed, who held a little more clout and used to be an attorney himself.
Reed was able to get Nell back safe and sound because; I kid you not, he contacted the local mafia boss and made him use his goons to find Nell. I mean hey, if it works right? I should note Historic Missourians uses the term "allegedly" alongside this fact, but Wild West Women states it as definitive fact.
Now, the plot gets a little thicker, because a year before, Nell had "come home from Europe" toting a baby boy with her. Nell's husband, Mr. Donnelly, hadn't wanted kids, but Nell did. The true story wouldn't emerge until 2006. Nell didn't actually go to Europe, instead she headed up to one of the Northern states and gave birth in secret; not to her husband's baby, but instead to the aforementioned Senator Reed's. Yeah, turns out they'd been having an affair for a while.
In 1932, Nell divorced her husband, Mr. Donnelly, and bought out his entire share in Donnelly Garment. Nell was now the majority owner of her company for the first time. The following year, Nell married Senator Reed and he adopted their son. Nell was forty-four at the time. Senator Reed was seventy-two.
By 1953, Donnelly Garment were the largest dress manufacturer in the world. It was estimated at the time that one in seven women wore Donnelly dresses.
Nell sold her share in 1956 and that's when the company was renamed Nelly Don. Sadly, the company filed for bankruptcy in 1978.
Nell spent the rest of her life working for various nonprofits and local organizations. She died exactly forty-seven years to the day after her husband Senator Reed. Nell was one hundred and two years old at the time.
So, whether she was a cruel crackdown factory owner or a kind hearted mother figure to her employees, what cannot be denied is that Nell rose from the very bottom all the way to the top, and she did it all with a smile and good old hard-working American innovation. According to her New York Times obituary, in 1935 Nell was described by Fortune Magazine as "possibly the most successful businesswoman in the United States."
Badges Earned:
Find a Grave Marked
Located In My Personal Library:
Wild West Women by Erin Turner
Sources:
Wild West Women by Erin Turner
https://pendergastkc.org/article/biography/nell-donnelly-reed
https://historicmissourians.shsmo.org/historicmissourians/name/r/reed/
https://www.nytimes.com/1991/09/11/us/nell-donnelly-reed-102-pioneer-in-manufacture-of-women-s-attire.html