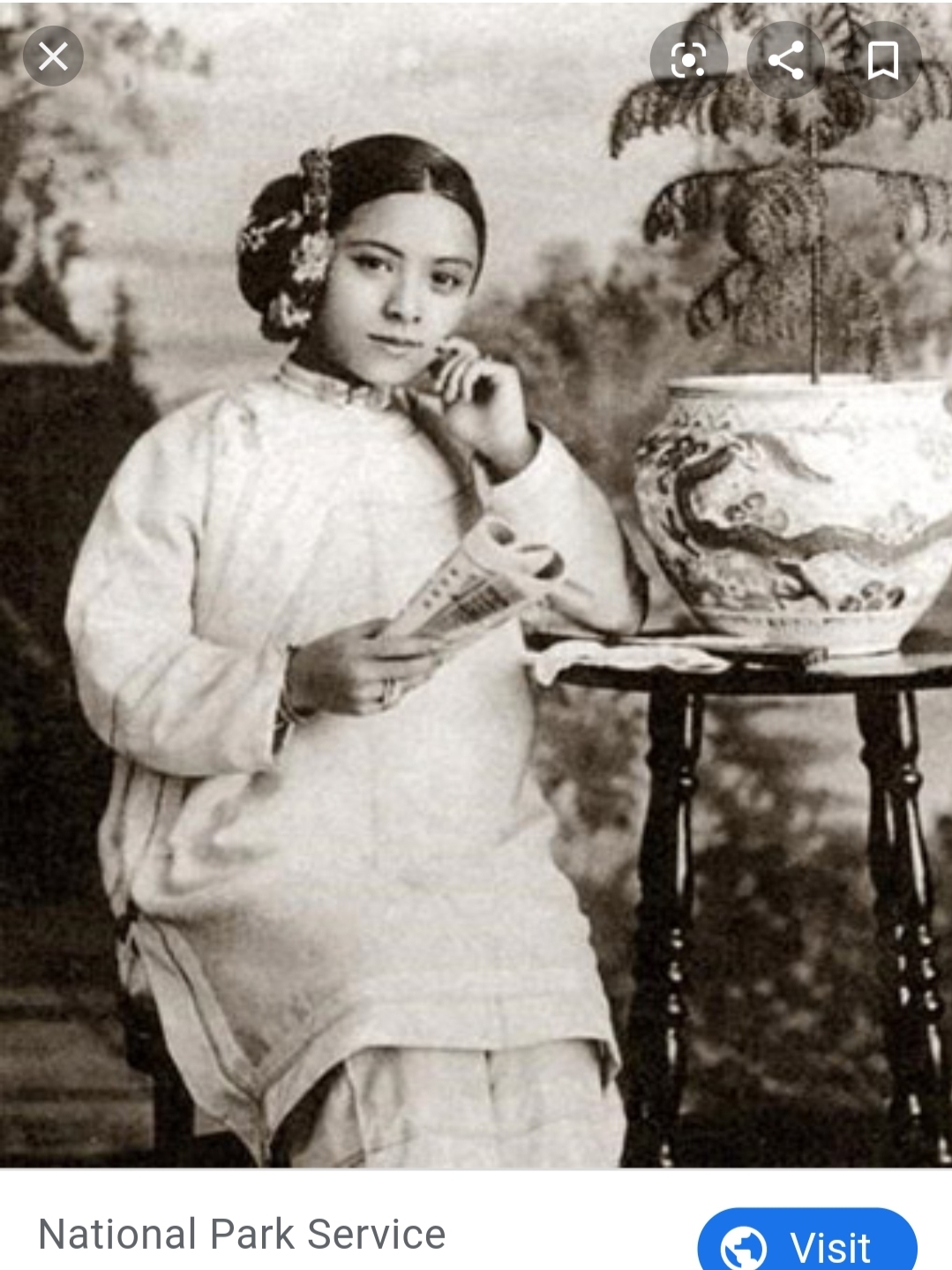 "My first vote? - Oh, yes, I thought long over that. I studied; I read about all your men who wished to be president. I learned about the new laws. I wanted to KNOW what was right, not to act blindly...I think it right we should all try to learn, not vote blindly, since we have been given this right to say which man we think is the greatest...I think too that we women are more careful than the men. We want to do our whole duty more. I do not think it is just the newness that makes use like that. It is conscience."
952: Tye Leung Schulze
The First Chinese American Woman to Vote in the History of the United States
Born: 24 August 1887, Chinatown, San Francisco, California, United States of America
Died: 10 March 1972, California, United States of America
Also Known As: Leung Schulze
Leung worked as an Interpreter at Angel Island Immigration Station (becoming the first Chinese American woman to work in a federal civil service job).
Leung was also friends and worked closely with Donaldina Cameron to help stop the Chinese Slave Trade in San Francisco.
Leung started her anti-trafficking work after arriving at the Church Mission as a teenager after running away from an arranged marriage. At the time, Leung was only twelve or fourteen, and her would-be husband lived in Montana. Leung's older sister was originally supposed to marry him, but she ran away with her boyfriend. Instead of letting the marriage fall through Leung's parents turned to their other daughter instead.
After gaining a higher education thanks to Donaldina, Leung began to work as an interpreter and translator in San Franciscan courts for other Chinese women who were trying to escape sex slavery. In case you have no idea what I'm talking about, I highly recommend reading my more in-depth article on the subject with Donaldina or researching it yourself. Basically, all you need to really know is the Chinese slave trade in California was horrible, with a capitol H, and is severely underplayed if its taught in American schools at all.
In 1910, Leung began working at Angel Island (which again, in case you don't know, was basically the Ellis Island of the west coast and can be visited today. Angel Island is within sight of Alcatrez Island). On 19 May 1912, Leung became the first Chinese American woman to vote in the United States and may have been the first Chinese woman to vote in a modern election in the world. Leung voted in the presidential primary election, one of many Californian women who took the opportunity to vote for the first time since they had been enfranchised the year before.
Leung was forced to resign from working at Angel Island after falling in love with and marrying a man named Charles Schulze. Charles was also an Angel Island employee; in fact, he was an Immigration Service Inspector. So, what was the problem? Well, Charles was white. And Leung was obviously not. In 1913, interracial marriages were illegal in California; but Leung and Charles were determined. They headed north to Washington State and got hitched there.
Upon returning to California, both Charles and Leung lost their jobs at Angel Island. It took a while, but both were able to find other work in the state. They lived in wedded bliss until Charles died in 1934 or 35 (sources differ).
After he died, Leung was left to raise their four children alone. She managed by working as a bookkeeper and a night-shift operator for a telephone exchange. Leung also continued to provide her services as a translator, making her a well-known member of the Chinese community in San Francisco.
Leung managed to keep her name out of the news except for one more incident. In 1948, Leung was arrested and charged with the crime of driving women to abortion clinics to receive illegal abortions. The charges were later dropped. The next time Leung's name appeared in the newspapers was when she died in 1972. She was eighty-four years old.
Leung had lived a truly remarkable life, and yet today very few know her name. Let's rectify that, shall we?
Badges Earned:
Located In My Personal Library:
Wild West Women by Erin Turner
The White Devil's Daughters: The Fight Against Slavery in San Francisco's Chinatown by Julia Flynn Siler
Sources:
https://www.nps.gov/people/tye-leung-schulze.htm
https://www.immigrant-voices.aiisf.org/stories-by-author/988-tye-leung-and-charles-schulze-an-untold-angel-island-love-story/
https://unladylike2020.com/profile/tye-leung-schulze/
https://sos.oregon.gov/archives/exhibits/suffrage/Pages/bio/schulze.aspx