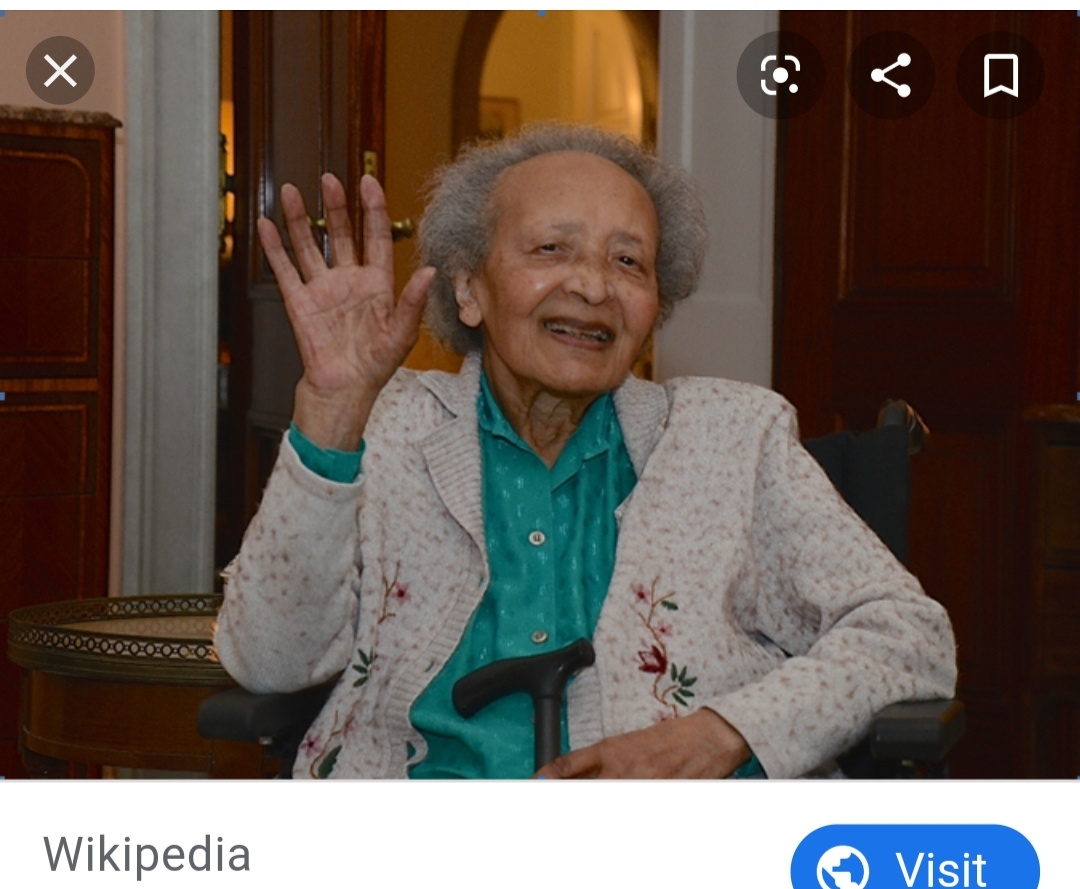 "A black face in all that white snow was a pretty easy target. Those Germans must be terrible marksmen."
917: Augusta Chiwy
Volunteer Nurse During the Siege of Bastogne in World War II
Born: 4 June 1921, Belgian Controlled German East Africa (Present-day Mubavu, Burundi)
Died: 23 August 2015, Brussels, Belgium
Augusta was born to a Burundian mother during King Leopold II's reign of terror on the continent. Her father was a Caucasian Belgian who worked as a veterinarian in the Belgian colonies of Africa.
Augusta moved to Belgium aged nine, and at age nineteen went to school to be trained as a nurse. During her youth in Bastogne, Augusta often faced questions and other racist remarks towards her skin tone and texture of her hair.
While volunteering near the front she went so far as to don an Army uniform, so she'd be able to collect the wounded under fire. Had she been captured, this action meant Augusta could have been executed. She is credited with saving hundreds of lives, even though a colored nurse serving white soldiers was against army regulations of the time. The American doctor who had requested her help reminded the soldiers under their care, "You either let her treat you or you die."
Augusta bravely served during the Battle of the Bulge; helping treat American soldiers in a basement during the harsh bombardment. She splinted, dressed, and tended to various ailments. On Christmas Eve, the building next door was bombed. Augusta was blown through a wall but managed to survive the blast. Among the dead was Augusta's friend and fellow nurse Renée.
After the war she worked as a nurse treating spinal injuries. Though Augusta rarely spoke of her war experiences, she did marry and have two children.
Augusta did not receive any credit for her heroism until seventy years later, when the King of Belgium awarded her the highest honor a Belgian can receive. Augusta's story was also turned into an Emmy award winning documentary entitled Searching for Augusta.
She is briefly referenced in the book and television series Band of Brothers under the name Anna.
Badges Earned:
Find a Grave Marked
Sources:
https://liberationroute.com/belgium/biographies/a/augusta-chiwy
https://www.dallasnews.com/news/obituaries/2015/08/29/belgian-nurse-augusta-chiwy-who-saved-hundreds-of-gis-in-wwii-dies-at-94/
https://www.independent.co.uk/news/people/augusta-chiwy-nurse-who-tended-wounded-amid-carnage-battle-bulge-and-was-tracked-down-60-years-later-10495940.html
https://www.findagrave.com/memorial/151154493/augusta-marie-chiwy