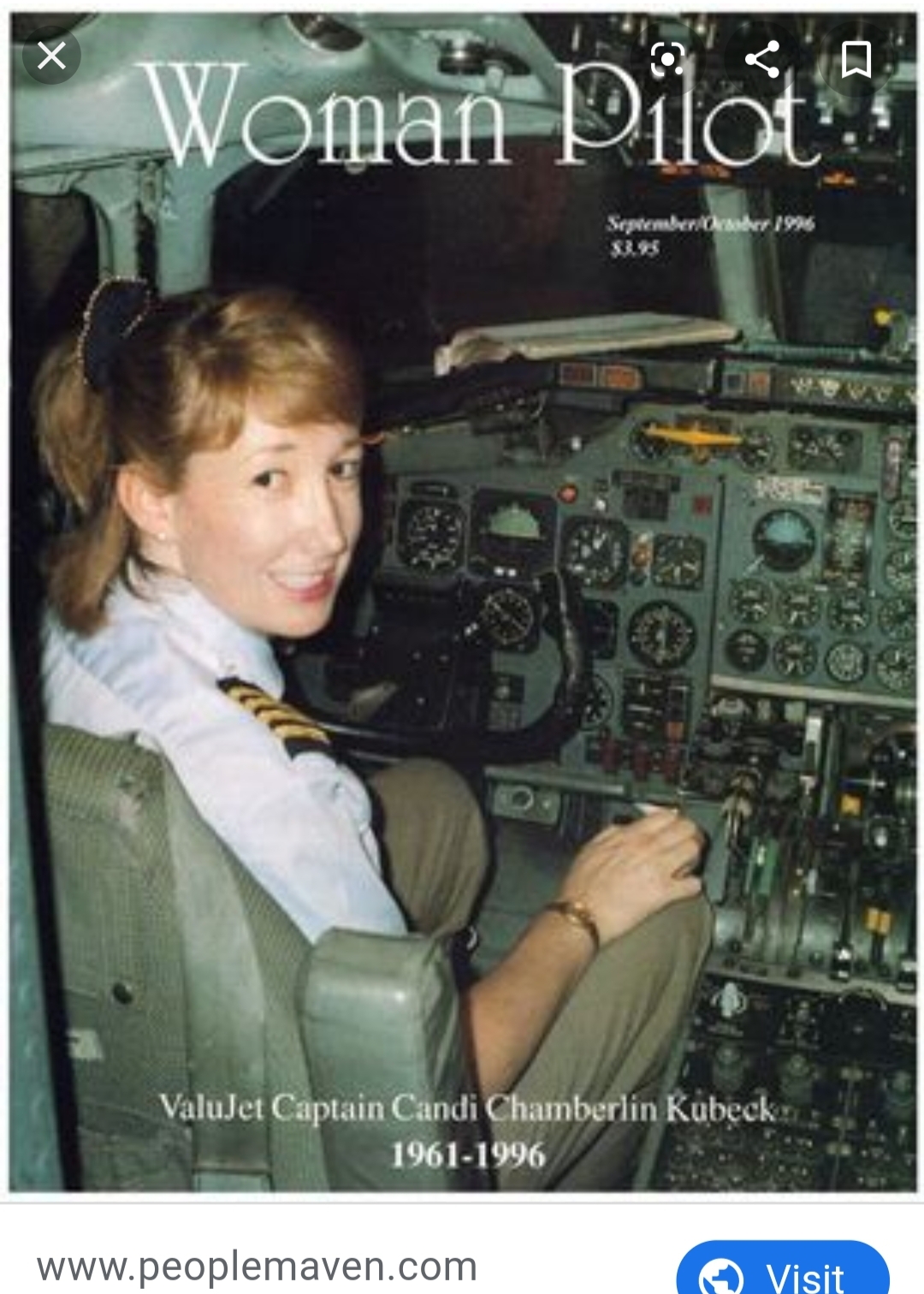 "She was harassed.They beat up her car. They threatened her with rape. They threatened to burn her house down. After she would land, they were always there waiting."
(Candalyn's mother's account of what happened to her daughter after taking the Eastern Airline job).
908: Candalyn Kubeck
One of the First Female Commercial Airline Pilots
Born: 10 May 1961, Hollywood, California, United States of America
Died: 11 May 1996, Florida Everglades, Florida, United States of America
Also Known As: Candi
Unfortunately, Candalyn was captain of Valujet Flight 592, which crashed in the Florida Everglades due to mislabeled oxygen canisters catching fire in the cargo hold. The fire damaged the flight controls of the aircraft from the intense heat causing it to crash with all lives on board lost. The investigation into what caused the crash of Flight 592 was chronicled in an episode of Air Disasters entitled "Fire in the Hold."
Candalyn took her first flying lesson at the age of fifteen and went on to earn a degree in aerospace science. She wanted to fly from the time she was a child, inspired by her grandfather and uncles who had served in World War I and the Vietnam War.
Before becoming a commercial jet pilot, she worked as a flight instructor. Candalyn also worked as a non-union pilot who flew for Eastern Airlines during the time their union pilots and machinists went on strike. This has led many commercial pilots, who were and are a part of a union, treat Candalyn and her memory with venom, if not outright hatred, for "crossing a picket line" and flying against the union's wishes.
Candalyn took the job with Eastern Airlines because she had limited flight experience and other companies had already turned her down. She wanted to be a pilot, and that's what mattered most to her. Candalyn's husband was a pilot for America West and a member of the union, so he asked her not to take the job because it would force him into an awkward place. Also, the job was based out of Atlanta and at the time Candalyn and her husband lived in Phoenix. But again, Candalyn wanted to fly, and so she took the job.
Candalyn's mother was afraid for her daughter's safety after Candalyn made her decision. The machinist union for Eastern Air had been court ordered to stop the violence they showed to non-union employees (they had thrown rocks and other objects at them), and in the 1920's, Candalyn's great-grandfather was shot by a striking mine employee. He would later die from his injuries. So Candalyn's mother feared for her daughter and wanted her to be safe, but again, Candalyn was determined to fly for a commercial airline.
After graduating from the flight training program, Candalyn was assigned to fly an Airbus A-300. Unfortunately, two years later, Eastern Air went bankrupt. Even worse, Candalyn was blacklisted from most major airlines because she had chosen to cross the picket fence. Eventually she was hired by ValuJet, a non-union company. She was the thirty-third pilot hired and eventually went on to become a captain. She even appeared in a ValuJet training film.
Sadly, as you read above, Candalyn's story did not get any better. All she wanted was to fly, and though she did achieve her dream for a few years, that dream was tragically cut short.
Candalyn was the first female airline captain to be killed in a commercial crash in the United States (a female co-pilot died in 1991). One hundred and ten lives were lost that day in the Everglades, and because of Candalyn's previous history, her family received next to no sympathy from the airline community at large.
On that fateful May day, Candalyn was flying a DC-9, a much older and less technologically advanced plane than the Airbus she had flown for Eastern Air. The dials and switches are harder to read, and there are so many inside the cockpit you might be mistaken to think you've stepped into a NASA Space Shuttle as opposed to a commercial jet liner.
The first six minutes of the flight were completely routine, but then Candalyn and her co-pilot heard a sound, now believed to have been a tire exploding in the cargo hold from the intense heat.
Electrical power started to fail next. Then, Candalyn and her co-pilot heard the passengers and other member of the flight crew screaming about a fire from the back section of the plane. The smoke overtook the cockpit next. The co-pilot immediately requested they be allowed to routine to Miami International Airport, which Air Traffic Control accepted.
Candalyn and her copilot turned the plane around, but before they could reach the airport, they had to make a decision. Though it isn't known for certain, some aviators and other researchers believe Candalyn decided to ditch the plane in the Everglades instead of trying to make it back to the airport. It was a last-ditch attempt to save the lives of the people onboard, but sadly, it couldn't be done.
When the plane crashed into the Everglades, some believe parts of the plane had already started to break up from the fire damage. There were several witnesses who saw the plane came down, but sadly, none of the passengers and crew were able to walk away. Most were already dead, or at least unconscious from the smoke inhalation before the plane hit the water, a small mercy for the one hundred ten souls on board.
At the time of the crash Candalyn had nearly 9000 Flight Hours logged.
She was later cleared of any wrongdoing by the NTSB investigation into the crash.
In 2018, the FBI released an update on the Flight 592 case. They have decided to provide a $10,000 reward for anyone able to help capture a fugitive mechanic who "had a role" in mislabeling the oxygen canisters that later took down the flight. He disappeared in 1999 after being indicted on criminal charges. Two coworkers who were also charged were later acquitted.
So, I'll ask you. Have you seen Mauro Ociel Valenzuela-Reyes? He is believed to be living under a false identity in Chile but also has family in Atlanta, Georgia. If you have information on Maura, contact the FBI immediately. The victims of Flight 592 and their families will thank you if you do. I've included his photo and the age progression picture the FBI released in 2018 at the bottom of this article.
Badges Earned:
Find a Grave Marked
Sources:
https://www.sun-sentinel.com/news/fl-xpm-2001-05-21-0105200322-story.html
https://www.sun-sentinel.com/news/fl-xpm-1996-12-22-9612200308-story.html
https://www.chicagotribune.com/news/ct-xpm-1996-05-14-9605140232-story.html
https://www.nytimes.com/1996/05/14/us/the-crash-in-the-everglades-the-victims-at-the-helm-a-pilot-who-lived-to-fly.html
https://www.news-press.com/story/news/crime/2018/04/08/new-10-000-reward-fugitive-1996-valujet-crash-everglades-killed-110/497044002/
https://www.findagrave.com/memorial/102024091/candalyn-kubeck