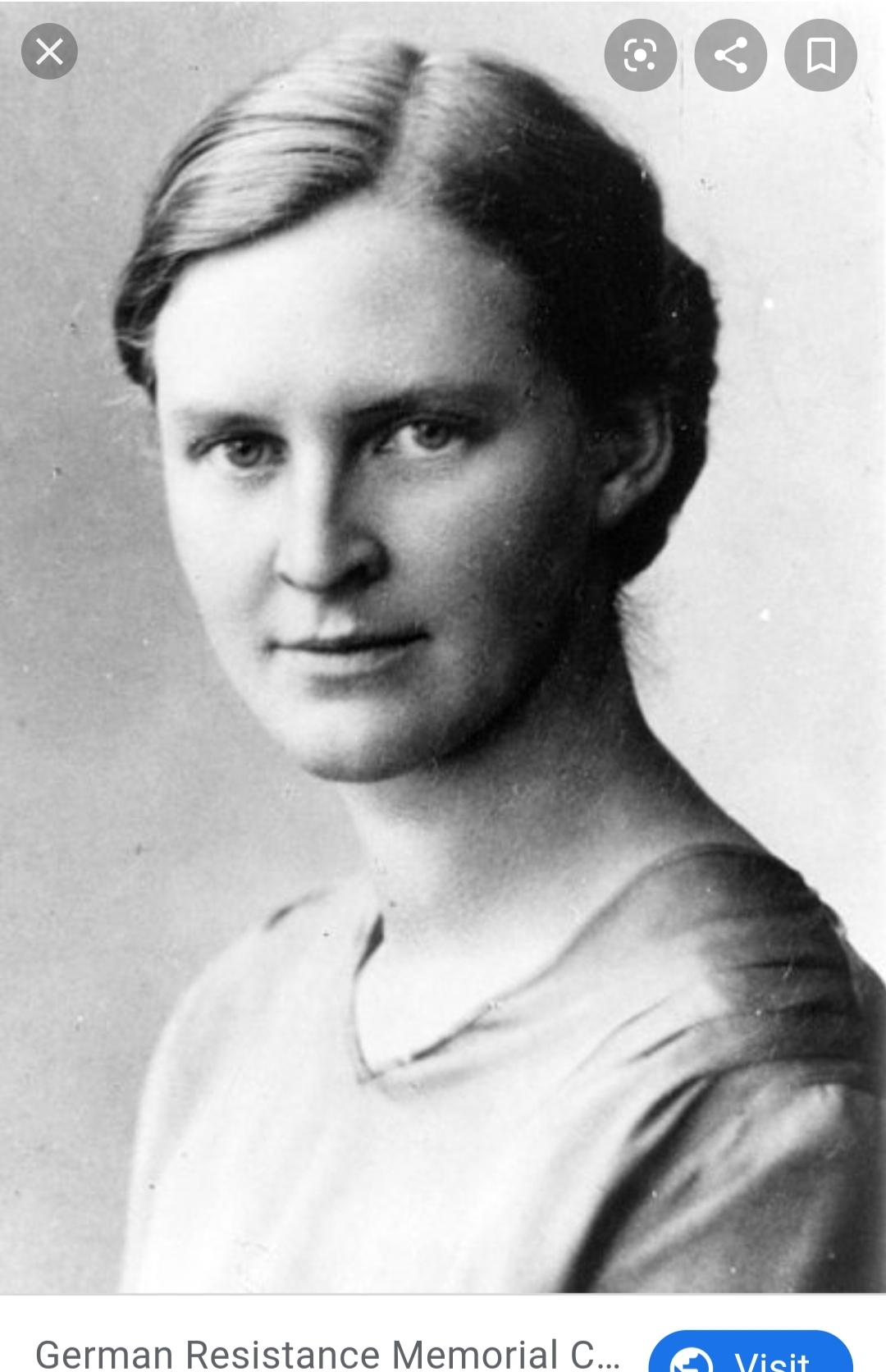 "It can be assumed that I am widowed. I haven't however received an official letter informing me of the death of my husband, who was supposed to be executed."
907: Mildred Fish-Harnack
The Only American Woman Executed by the Germans in World War II
Born: 6 September 1902, Milwaukee, Wisconsin, United States of America
Died: 16 February 1943, Charlottenburg-Nord, Berlin, Germany
Milldred was a resistance fighter, literary historian, and translator.
Mildred wasn't ethnically German but began to learn about the German language and culture as a child. She quickly was able to read, write, and speak German (though she was far from fluent). In her senior year of high school, Mildred played for the basketball and baseball teams, starred in the school play, and worked as an editor for a school paper. She graduated from high school in 1919 and then went on to George Washington University for two years before transferring to the University of Wisconsin at Madison.
While at UW-Madison, Mildred joined the Wisconsin Literary Magazine in the hopes of becoming a writer. She earned her bachelor's in 1925 and her master's in 1926. Mildred also taught English while attending graduate school at UW-Madison.
That year, 1926, was one that changed the course of history for both Mildred and the world. Arvid Harnack was a German student studying at UW-Madison in the hopes of earning his second doctoral degree. As the story goes, he went to the wrong building and wandered into a random classroom. After stepping inside, his eyes fell on Mildred.
It was love at first sight. They began to speak, both apologizing for not being fluent in the other's language. They decided Arvid would learn English from Mildred and she learn German from him. We know Arvid fell hard and fast for Mildred thanks to the letters he wrote home to his mother back in Germany. Those letters survive today and show the budding and tender romance between the American girl and the German boy.
Almost immediately the pair became engaged, and by August of 1926 they were married. At the time, Mildred took a bold step in asserting her rights as a woman. She hyphenated her name, instead of losing her maiden name entirely, officially becoming Mildred Fish-Harnack.
After the wedding, the pair moved to Germany. Mildred worked on getting her doctoral degree and Arvid went to work for the German government. While she worked, Mildred went back to teaching. As one of the few Americans teaching on her campus at the time, Mildred worked alongside the likes of Albert Einstein, albeit in different buildings on campus. Mildred taught modern American Literature at Berlin University; I doubt those classes were held in the same building as the physics classes!
However, after fifteen months of teaching, the university fired Mildred, reportedly for not being pro-Nazi enough. Mildred and Arvid were horrified by the rise of Nazism in Germany, and they joined one of the first resistance groups in the country. Arvid, Mildred, and the others fed information to the Soviet Union and American embassies on the economic policies in Germany. After Germany invaded the Soviet Union, their group would hold "concerts" over the radio to feed the Soviets military information on the German advance. These so-called concerts led the Gestapo to call Mildred's group The Red Orchestra.
In September of 1942, The Red Orchestra were caught and arrested by the Gestapo. Mildred was taken to Charlottenburg Women's prison, where she was noted to have the following assets available to her: $8.47 in her pocket, some money from Deutsche bank, a ticket to the United States estimated to be worth $127, and some furnishings for an apartment including some carpets. Sounds about right for a university professor.
Arvid was sentenced to death for espionage and treason. He was executed on Christmas Eve in 1942. Unfortunately, it wasn't an easy or good death. Arvid was hung from a foot-long rope, meaning his death was a slow and agonizing way to die. He went to his death believing Mildred would serve a prison sentence and be released.
Mildred was also found guilty of treason and espionage. At first, she was sentenced to six years hard labor in prison. The months she spent in prison were hard, backbreaking even. Her beautiful blonde hair had turned white, and she was so weak she could no longer stand by the time the end came.
At the personal behest of Hitler, Mildred's case was re-reviewed, and she was sentenced to death. Mildred was beheaded by guillotine. She was the only American civilian to be executed on direct order of Hitler.
Sadly, Mildred's story was buried in the United States after the war. In the years of McCarthyism and the Cold War, the United States government did not want to advertise the story of an American martyr who also happened to possibly, maybe have been connected to Communism. It is true that Mildred was interested in the Soviet Union, which in its earliest days allowed women into higher positions of power and afforded them greater rights than contemporary countries (see Alexandra Kollontai). Does this mean she was a Communist? Maybe, but that doesn't diminish her incredible accomplishments and bravery.
But the story finally began to change as the decades passed. Every September 16th, Wisconsin celebrates Mildred Fish-Harnack day, to honor their hero. Every year, the University of Wisconsin at Madison holds their Mildred Fish-Harnack Human Rights and Decency Lecture, which strives to further the understanding of human rights, democracy, and enable a richer understanding of international studies.
Wisconsin Public television also released a documentary about Mildred's story. It can be viewed online, with German subtitles even, here.
In July of 2019, a memorial obelisk was unveiled in Mildred's honor in her home state of Wisconsin. A similar memorial has been planned to be one day dedicated at the University of Giessen in Germany, where Mildred earned her doctoral degree in literature.
Badges Earned:
Find a Grave Marked
Sources:
https://news.wisc.edu/mildred-fish-harnack-honored-as-hero-of-resistance-to-nazi-regime/
https://www.gdw-berlin.de/en/recess/biographies/index_of_persons/biographie/view-bio/mildred-harnack/?no_cache=1
https://womeninwisconsin.org/mildred-fish-harnack/
https://www.findagrave.com/memorial/13198506/mildred-harnack