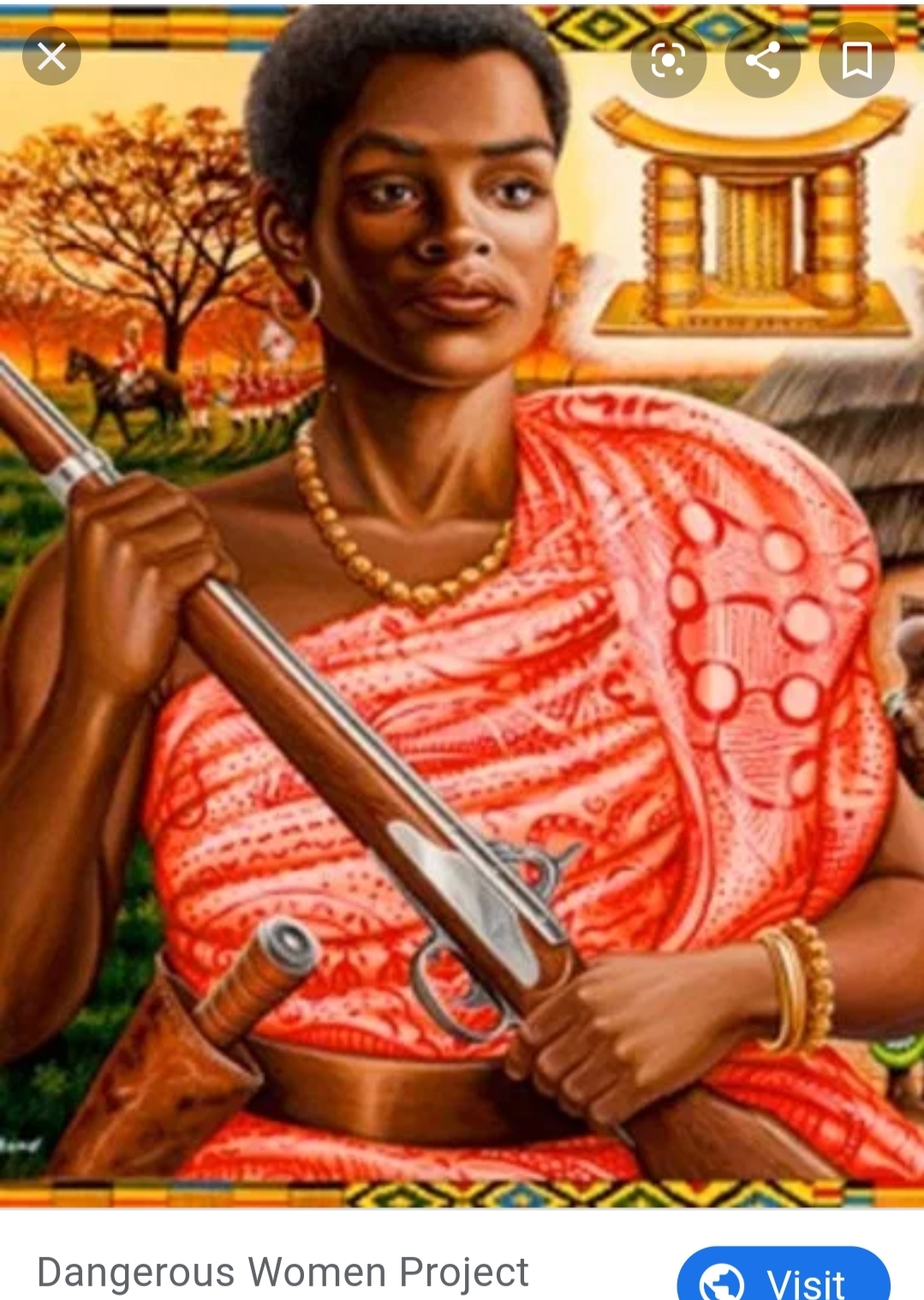 889: Yaa Asantewaa
Led Soldiers During "The War of the Golden Stool"
Born: c.1840-1860, Ashanti Confederacy (Present-day Ghana)
Died: 17 October 1921, British Controlled Seychelles (Present-day Republic of Seychelles)
Also Written: Nana Yaa Asantewaa
Yaa was also Queen Mother of the Ejisu (an ethnic group within the Ashanti [also spelled Asante] Confederacy) in modern day Ghana. It is believed Yaa was elevated to the position of Queen Mother thanks to her brother, who gave her the title. After he died, Yaa nominated her grandson to become king. Before becoming a queen, Yaa was interested in both farming and administration in the local government.
As Queen Mother, one of Yaa's principal duties was protecting the Golden Stool. The Golden Stool is representative of the Ashanti culture, its people, and their power. When the stool becomes vacant (meaning the ruler of the confederacy is gone), the Queen Mother presents candidates to take the vacant place. The Queen Mother protects the stool because she is the main advisor to the king, and therefore the second most powerful person in the Confederacy.
In 1899, many Ashanti leaders were captured and exiled, but Yaa's bravery and refusal to let the British continue to mistreat her people led to Yaa becoming the leader of the Ashanti army. In March of 1900, the fifth and final war for independence from the British finally broke out. This one would be called two names: "The War of the Golden Stool" or "The Yaa Asantewaa War for Independence." This war broke out after a British guy decided he wanted to sit on the Golden Stool, and possibly capture it altogether. Big mistake.
By the end of the war, 1,000 British and their allies lay dead alongside 2,000 Ashanti. Sadly, Yaa herself was captured during the conflict and exiled to Seychelles, where she died in 1921. But her bravery inspired her people to continue fighting, and finally in 1957 they were finally made free of Britain. Ghana was the first sub-Saharan African nation to have independence in the post-Colonial era.
In 1930, twenty-nine bodies of Ashanti men and women who had died in captivity in Seychelles were returned to the Golden Coast, including Yaa. She was buried in her hometown of Edweso.
Ghana was only the first in a quick succession of other African countries to achieve freedom. By 1960, Nigeria, the Benin Republic, Cameroon, and Côte d'Ivoire all became free of Britain and France.
In 2000, a museum in Ghana was opened to honor Yaa and her story. Today she is remembered for being a fighter for gender equality and women's emancipation. She fought for her fellow women, and her people as a whole.
Badges Earned:
Find a Grave Marked
Sources:
https://www.blackpast.org/global-african-history/yaa-asantewaa-mid-1800s-1921/
https://www.libertarianism.org/columns/african-heroes-freedom-queen-mother-yaa-asantewaa-ejisu
http://nanayaaasantewaa.de/who-is-nana-yaa-asantewaa/