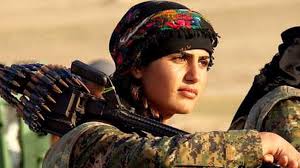 878: Asia Ramazan Antar
Teenage Warrior
Born: 1997, Al-Quamshili, Syria
Died: 30 August 2016, Near Manbij, Syria
Also Known As: Viyan Antar
Asia served with the YPJ (Women's Protection Units Fighter), a Kurdish group primarily known for fighting to eliminate the Islamic State from the world (and fight to see the Kurds have a country to call their own, for full transparency). The YPJ's other main focus is securing equality between men and women in the Kurdish culture.
Asia partook in five battles as a team-leader and machine gunner before dying in battle. It is believed Asia was wounded after the YPJ deployed a bomb that killed other IS fighters. Asia's family released a statement saying they believed she was killed instantly by the blast.
She joined the YPJ in either 2014 or 2015 (sources differ), and lost six cousins and uncles who were also fighting to defeat IS.
Before she died, Asia's photo went viral on the internet after various media agencies labeled her the "Kurdish Angelina Jolie" because of her looks. To say Feminists everywhere were pissed was an understatement. The YPJ also released statements saying they were equally disappointed. The YPJ pride themselves on their modesty and simplicity, and the fact that Asia was continued to be nicknamed after a Hollywood actress after her death continued to spark outrage amongst women's groups everywhere. Asia was more than her looks, and we should honor her for the things she fought and died for.
Badges Earned:
Find a Grave Marked
Sources:
https://www.bbc.com/news/world-middle-east-37337908
https://www.india.com/news/world/face-of-rojava-revolution-asia-ramazan-antar-known-as-kurdish-angelina-jolie-killed-in-gunfight-with-isis-1478692/
https://feminisminindia.com/2020/01/23/kurdish-women-patriarchy-independence/
https://www.findagrave.com/memorial/194621062/asia-ramazan-antar