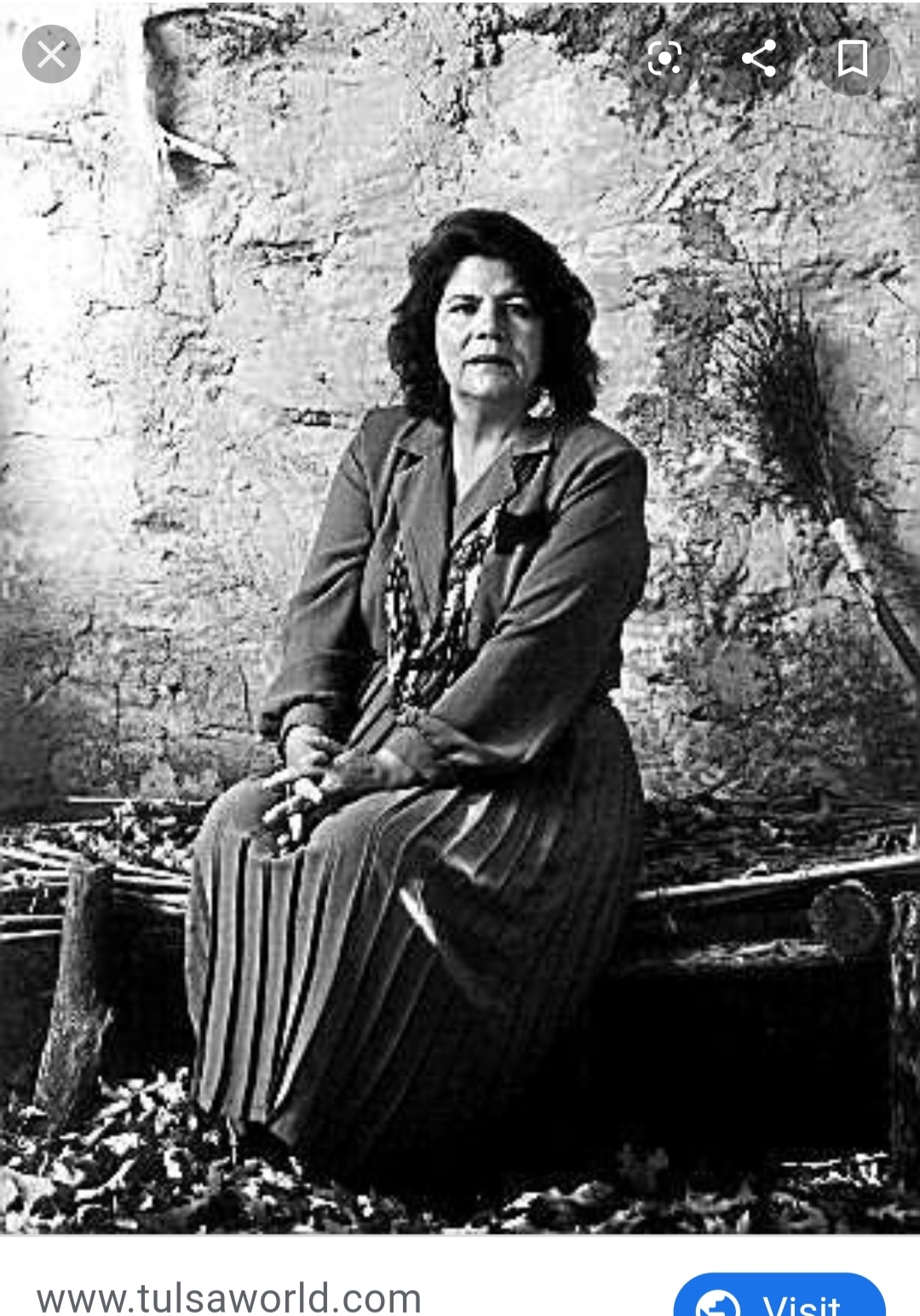 "Prior to my election, Cherokee girls would have never thought that they might grow up and become chief." 
851: Wilma Mankiller
The First Female Chief of the Cherokee Nation
Born: 18 November 1945, Tahlequah, Oklahoma, United States of America
Died: 6 April 2010, Stilwell, Oklahoma, United States of America
Wilma was born dirt poor on a farm in what used to be the "Indian Territory," but is today a part of the Cherokee Reservation and tribal land. She had no telephone, no indoor plumbing, and no electricity. Wilma's father was full-blooded Cherokee, but her mother was European, and Wilma was the sixth of eleven children born to their family. Her great-grandfather had survived the infamous Trail of Tears march, in which the president of the United States, Andrew Jackson, forced thousands of Native Americans, including the Cherokee, to march thousands of miles across rough terrain in the middle of winter with no food or supplies to their new reservation lands.
In 1963, Wilma married an Ecuadorean man and had two daughters. Around that same time, she became involved with Native American activism that was sweeping the nation, most notably in the Occupation of Alcatraz Island in San Francisco Bay. Wilma became inspired by the activists and also began attending night school for higher learning. As Wilma watched the occupation of Alcatraz, she realized she needed to step up and fight for her fellow Native people. Her husband disagreed. After her divorce came through in 1977, Wilma and her girls returned to Cherokee land to live for the first time since Wilma's family moved away over twenty years before. Wilma remarried to a full-blooded Cherokee man, who was fluent in their language and knew their culture and customs well.
In 1983, Wilma became the first female deputy-Chief of the Cherokee nation after joining the ticket of the incumbent chief in his reelection campaign. Wilma worked hard to improve sanitation and water conditions across the reservation. Two years later, when the chief was called to head the US Bureau of Indian Affairs, Wilma stepped into the role of Chief (and two years later was elected in her own right).
Wilma was the first elected female chief of a Native American nation in modern times. She served as Chief Principal of the Cherokee for ten years from 1985 to 1995 (Stepping down because of health concerns). During her second campaign in 1991, Wilma secured 83% of the vote. Wilma urged and encouraged her people to be self-sufficient and also hang on to their customs and traditions. She tripled enrollment into the tribe and oversaw vast improvements to her people's welfare and way of life on the reservation. Wilma also oversaw the signing of a piece of legislation in which the Bureau of Indian Affairs turned over control of millions of federal dollars for the tribe to use at their own discretion. In total, the Cherokee Nation encompasses 300,000 members, and Wilma watched over them all. The Cherokee are the second largest tribe in the United States.
Wilma was awarded the Presidential Medal of Freedom for her activism work in the cause of Women's Rights and Native American Rights. She was also inducted into the National Women's Hall of Fame, the Oklahoma Hall of Fame, and the Oklahoma Women's Hall of Fame. Wilma also published an autobiography and worked as a guest lecturer at Dartmouth College in the years after she stepped down as chief.
When asked how she got the surname Mankiller Wilma would tell people, "I Earned It."
Badges Earned:
Find a Grave Marked
Located In My Personal Library:
Malinche, Pocahontas, and Sacagawea: Indian Women as Cultural Intermediaries and National Symbols by Rebecca Kay Juger
Time Magazine's 100 Women of the Year (Wilma appears in the 1985 article, "Wilma Mankiller")
Sources:
https://www.womenon20s.org/wilma-mankiller
https://www.womenshistory.org/education-resources/biographies/wilma-mankiller
https://www.okhistory.org/publications/enc/entry.php?entry=MA013
https://www.findagrave.com/memorial/50707945/wilma-pearl-mankiller