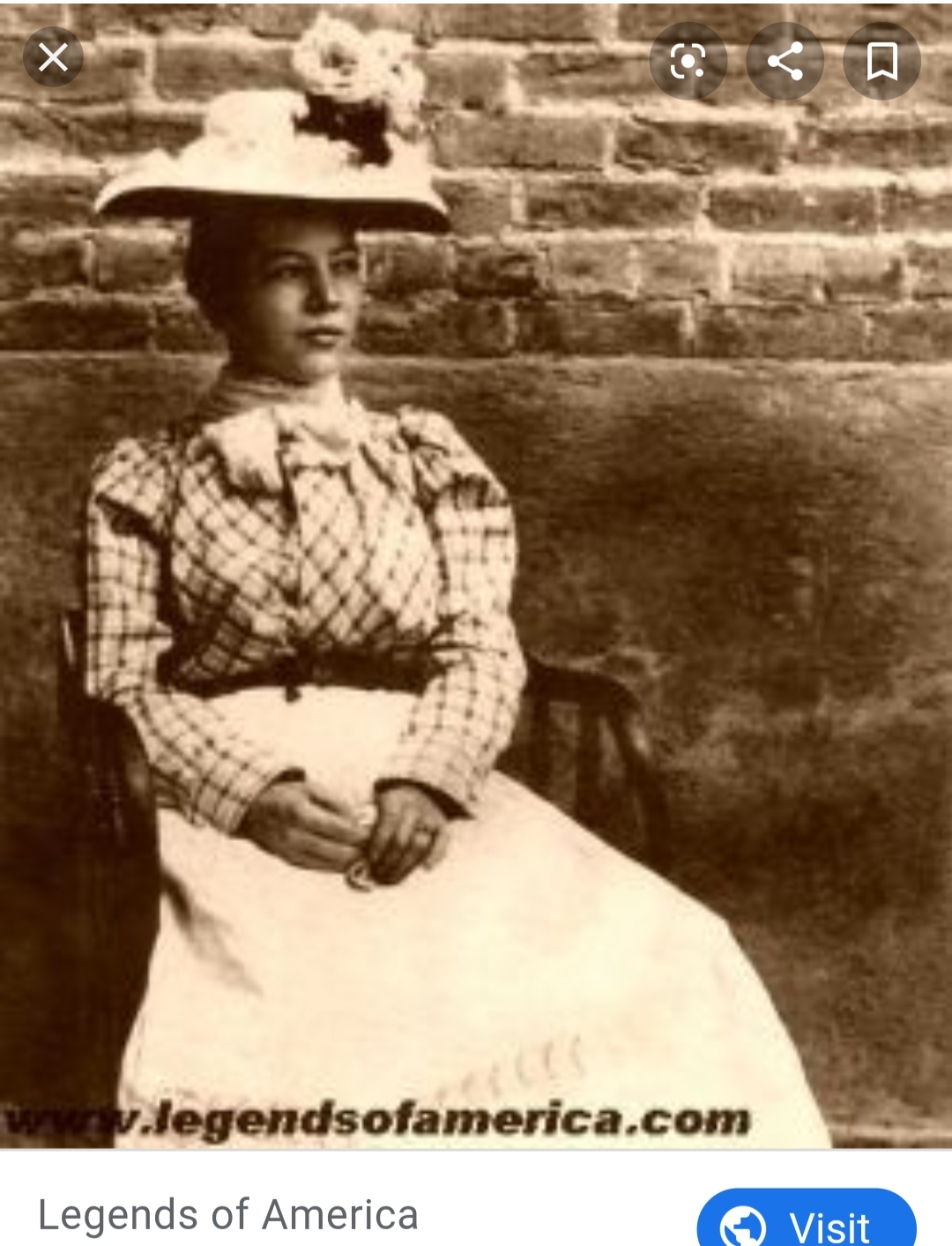 "I shall not consent to be tried under a law in which my sex had no voice in making."
754: Pearl Hart
Stagecoach Robber and Bandit Queen of Arizona
Born: 13 November 1871, Ontario, Canada
Died: 28 December 1956, Arizona, United States of America
Pearl was raised in a well-to-do middle-class family in her native Canada. She received a good education and, for everyone on the outside looking in, Pearl was expected to live a good and wholesome life. That didn't happen.
After eloping at the age of sixteen or seventeen (sources differ), Pearl left her husband and reconciled with him a few different times while having two children with him. Frederick was both an alcoholic and a gambler and lost whatever money he managed to earn as a bartender. On top of those less than delightful problems, Fred was evidently also abusive, and Pearl was looking for a way out.
Pearl decided to head West after seeing Annie Oakley and others performing at the Chicago World's Fair. Pearl and her husband both worked various jobs at the fair, and this exhibition gave Pearl the chance to escape. The first time she left, Pearl returned to her husband after finding out she was pregnant. However, after the child was born, Pearl left once again and wound up in Phoenix, Arizona.
After a while, Fred caught up with Pearl (maybe, I'll elaborate below) and they reconciled for a time. However, things weren't any better than before. Pearl gave birth to a second child, this time a girl, but also learned to smoke and drink. During this time, Pearl finally found her taste of the old west she'd been looking for, only it wasn't glamorous like she'd hoped, it was rough, dirty, and fraught with danger.
In 1898, Fred knocked Pearl unconscious and took off to join the Rough Riders in Cuba—possibly, keep reading for more information.
Pearl returned to her parents' home in Canada, bringing along her daughter. However, she soon grew bored with the domestic Canadian countryside and returned to the Old West, leaving her children behind.
According to different sources, Pearl's marriage was over while she was still in Canada and both her children were most likely born there. According to some other sources, Pearl's boyfriend, a man named Dan, left to join the Rough Riders, and not her husband. These other sources also don't say anything about Pearl being knocked unconscious. Basically, the sources are split, half and half. Some say her husband left, and others say it was her boyfriend. The important thing to take away from all of this: Pearl was alone by the time she returned to the Arizona Territory at the turn of the century, and whichever male companion she had at the time had left for Cuba.
After returning to the Arizona territory, Pearl started working odd jobs in the mining camps and began to struggle with drug issues, and according to one source, mental health problems. Also around this time, Pearl met her next boyfriend, Joe Boot.
Pearl is most known for her daring stagecoach robbery; and her official reason was to send money home for her ill mother. The idea was all Joe Boot's. They only robbed the stagecoach after Pearl and Joe scammed several men out of their money, but the scheme didn't earn enough cash. When the time came, Pearl cut off her hair and dressed in her boyfriend's clothes. The pair were able to collect around $400 in cash and a revolver, before forcing the driver and passengers to continue on their way. The exact amount of money changes from source to source.
Pearl and Joe were caught a few days later, after getting lost in the wilderness. The pair were placed in two separate jails in the Arizona Territory. While staying at the jail, Pearl's fame as a Bandit Queen quickly grew. However, she escaped with another male prisoner a few weeks later.
She was quickly caught again and brought to trial. Pearl was acquitted after she told the jury why she had stolen the money; however, she was immediately rearrested and found guilty of possessing an illegal firearm and was sentenced to five years in prison. Joe was not so lucky and earned himself a thirty-year stint for his part in the stagecoach robbery. Joe escaped prison in 1901 and was never heard from again.
After being paroled eighteen months later, Pearl moved to Kansas City, where she tried to capitalize on her "Lady Bandit" fame. This time her scheme didn't work, and Pearl disappeared from history for a few years. The next time she cropped up, Pearl was arrested under a fake name for trying to buy stolen goods. She disappeared again until 1924, when she returned to Arizona to visit the courthouse in Florence where she was tried all those years before.
How and where Pearl died is also up for debate. Some claim it was Kansas City, 1925, others say San Francisco in 1952. The most widely accepted end for Pearl is a third story. Some say in 1955 or 56 Pearl died after marrying a rancher and living under the name Pearl Bywater, somewhere in Arizona. I personally believe she died in Arizona because that's where her gravesite lay today.
And speaking of her gravesite...