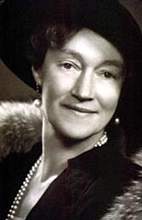 727: Charlotte von Nassau-Weilburg
Grand Duchess of Luxembourg
Born: 23 January 1896, Berg, Luxembourg
Died: 9 July 1985, Fischbach Castle, Luxembourg
Charlotte became Grand Duchess after her sister Marie-Adélaïde resigned from the same position. Before their father's death, women were not allowed to rule Luxembourg, however, the Grand Duke changed the laws of succession to allow his daughters to succeed him. The Grand Duke had six daughters and no sons, and so, after his death in 1912, the oldest Marie-Adélaïde became grand duchess, the first ruler of Luxembourg to be born in the country since the thirteenth century.
Marie-Adélaïde abdicated in 1919 after her citizens and the world saw her as being too pro-German during World War I. Charlotte became Grand Duchess, but instead of staying in the position indefinitely, she called for a referendum to ensure her citizens would accept her rule. Three-quarters of voters were in favor of Charlotte continuing on as Grand Duchess.
Charlotte's position as Grand Duchess was a Constitutional one, and she saw her country move from a small dot on the map to a social-democratic country ripe for expansion onto the world stage.
During World War II, Charlotte and her family were forced to flee Luxembourg after the Germans occupied her country. Though Charlotte and her children were safe, not all of her sisters could say the same. Princess Antonia was placed first in Sauchsenhausen and later Dachau concentration camps, and though she survived, her health was never the same.
Forced from her home, Charlotte first settled in France, then Portugal, then Great Britain, before making her way to the United States. Charlotte spent the first years of the war traveling the United States, making speeches and urging the American public to support the war effort, and help her people get their freedom back. Charlotte also made radio speeches that were broadcast over BBC radio frequencies in Luxembourg, allowing her people to hear her and know she was still thinking of them. In September 1944, Luxembourg was liberated from their German occupiers, with Prince Jean, Charlotte's son, serving as one of the soldiers who helped save his country. In April 1945, Charlotte returned to Luxembourg triumphant.
Charlotte oversaw sweeping reforms across her country. Under her reign, Luxembourg and her citizens saw universal suffrage new labor laws, new social security provisions, and trade agreements that ensured Luxembourg had a place in the European landmark after World War II.
Charlotte married and had six children. In 1961, she began the process of abdicating her seat, and by 1964 her oldest, Jean, took over as leader of the country. He passed away in 2019 (at the time of his death he was the longest living monarch—passing away at age ninety-eight). Jean's sister Princess Alix also died in 2019. Three of Charlotte's other children died previously, and as of April 2020, Princess Marie Gabriele was still alive, Charlotte's last living child.
The home Charlotte purchased in Washington DC during World War II remains the Luxembourg Embassy.
Badges Earned:
Find a Grave Marked
Sources:
https://www.britannica.com/biography/Charlotte-grand-duchess-of-Luxembourg
http://www.unofficialroyalty.com/grand-duchess-charlotte-of-luxembourg/
https://www.historyofroyalwomen.com/charlotte-of-luxembourg/charlotte-the-grand-duchess-who-saved-the-monarchy/
https://www.findagrave.com/memorial/20427/charlotte-von-nassau_weilburg