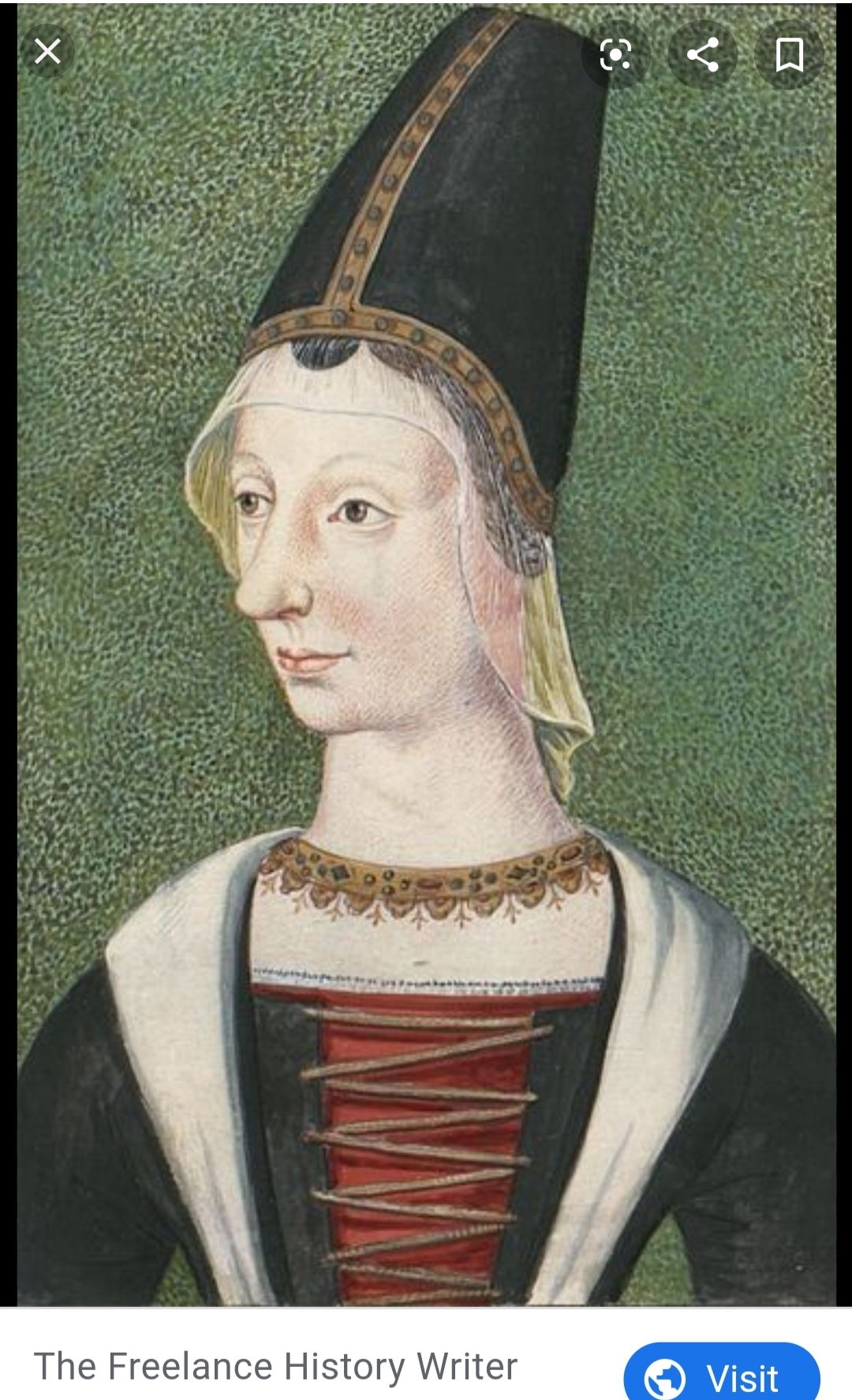 "We have not nurtured and cherished [Charles the Dauphin] for you to make him die like his brothers or to go mad like his father, or to become English like you. I keep him for my own. Come and take him away, if you dare." -Reportedly Yolande's Letter to Isabeau of Bavaria
723: Yolande of Aragon
Queen Consort of Naples, Duchess of Anjou, Regent of Sicily, Countess of Maine, Countess of Piedmont, & Countess of Provence & Forcalquier
Born: c. 1383, Saragossa, Kingdom of Aragon (Present-day Zaragoza, Spain)
Died: 14 November 1442, Chateau de Tuce-de-Saumur, Kingdom of France (Present-day Saumur, France)
Yolande was the regent of Provence during her son's minority and claimant to the throne of Aragon, meaning she had ties to the present-day countries of France, Spain, and Italy. Her husband was tied to even more countries.
Even though Yolande's cousin Ferdinand becoming King of Aragon she started calling herself the Queen of Aragon in protest. To be fair, Yolande was arguably the legitimate claimant to the throne. It was just her bad luck that A) of course—Yolande was a girl and B) her, male, cousin was also available for the job. Yolande would never legitimately reign Aragon, but as stated above, continued to call herself Queen.
When Yolande was set to be married to Louis II the Duke of Anjou, she at first refused. Their families had been historic enemies and the wedding was supposed to bring a sense of peace between them. Finally, Yolande agreed to the match, and grew to love her husband. They had five children and were aligned politically and intellectually. When Louis died, Yolande became regent for her son as Queen of Anjou. Yolande also became very protective and loyal to the French royal family in the final years of the Hundred Years' War.
After the Battle of Agincourt, Yolande made the decision to move her children and the Dauphin Charles, who had been betrothed to her daughter Marie of Anjou, to Provence. After the move, Isabeau of Bavaria in her capacity as Queen of France, tried to insist Charles return to the French Court. Yolande would have none of it, suspicious of Isabeau and her courtiers. She also backed Joan of Arc to lead Charles's army despite Charles's skepticism. Yolande's instincts would pay off, and she got to sit back and watch as Charles defeated his enemies and retook the throne. Yolande's daughter became Queen of France.
Around 1435, Yolande decided to retire, and left for Paris. However, she continued to serve as an advisor to her children until her death. Though she had never ruled as queen regnant in her own right, Yolande was known as the queen of four kingdoms: Queen of Aragon (explained above), Queen Consort of Naples and Sicily thanks to her husband, and Queen of Jerusalem, again thanks to her husband.
Badges Earned:
Find a Grave Marked
Located in My Personal Library:
Blood Sisters: The Women Behind the Wars of the Roses by Sarah Gristwood
Sources:
https://www.encyclopedia.com/women/encyclopedias-almanacs-transcripts-and-maps/yolande-aragon-1379-1442
https://www.brooklynmuseum.org/eascfa/dinner_party/heritage_floor/yolanda_of_aragon
https://www.monstrousregimentofwomen.com/2019/08/yolande-of-aragon-queen-of-four-kingdoms.html
https://www.findagrave.com/memorial/91859834/yolande-of_aragon